Every company is different and so does its needs. Even when there are so many companies selling their products/services online, it is never the same set of requirements applicable for any two of the stores. So, basically, we need to eCommerce system to be flexible enough to fit the needs of every store. Thus Magento stands out to be the best platform for all huge eCommerce businesses.
Magento Platform is known for its Scalability, Versatility, and Flexibility
When discussing Magento 2 eCommerce store development for your online store, it directly implies it to be the right platform that offers 100% flexibility to meet your business needs provided you hire Magento Developers to do the job instead of handling the complicated tasks on your own.
This article will help you understand the reasons why Magento is the right platform to reap more profits.
Wide range of eCommerce Product Details
 It becomes easy to define almost all product features you wish. You can manage or set the attribute as per your preferences without having much to do with the admin panel. You will find the discount pattern to be convenient to use too.
Highly Trained Magento Certified Staff to offer Technical Assistance
The Magento platform comprises of simple admin section that helps you edit almost anything you want according to your requirements like product categories, features, content, or content designed for a specific group. Magento is well equipped to deal with a lot of things and thus it is known as a powerful eCommerce platform.
 The platform lets you create and define customer groups like wholesalers, retailers, etc, and view different prices on different pages of the eCommerce store. This customization feature makes Magento stand out from the crowd. It means you can set up an online store that showcases the products as well as divert them to conversions.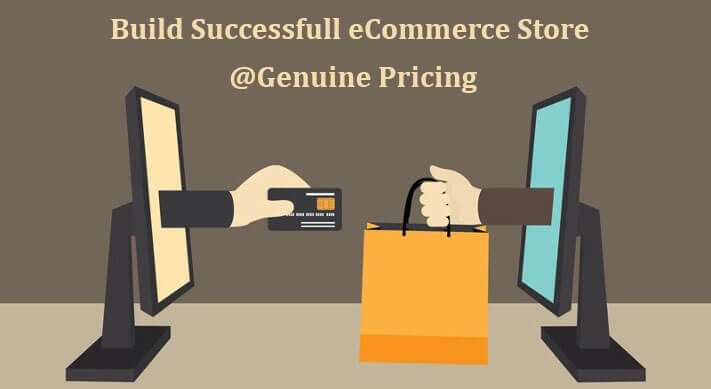 The system designed to set up discounts is filled with features that let you take care of all discount offers without the intervention of an expert programmer. It makes the process effortless.
E-Commerce SEO-Friendly Platform
The Magento platform lets you explore a series of default options so that you can set up an SEO-friendly portal. With the help of default options generating URLs, sitemaps, defining Metadata, etc becomes flawless. Magento also lets you search for any item within the online store easily, which otherwise is a task.
Catchy and Responsive Website Design
 You can customize or design the appearance of your Magento store according to your preferences. Of course, you can seek help from professional Magento eCommerce Development to do the job if you don't have expertise in web designing. Remember, Magento has plenty of customizable templates available for free. Certainly, you need an expert to carry out the installation.
An online store is an ideal platform with a responsive design that allows the shoppers to access a user-friendly interface for shopping and is compatible with all devices like tablets, smartphones, etc.,
 Data is the Backbone
 Well, you know that data is the backbone of any business and without data, your business is like a room without furniture. Irrespective of the type of website you own, your main goal is to make money through the site. In order to do so, you need to analyze the database and then create databases and reach conclusions.
You need to find out the relevant information like the number of visitors you coming to your store, how they found you, the time spent on your site pages, and other factors. There are many aspects to check upon to optimize the website as per your preference and user behavior. Magento helps you combine important data into the system so that it's available when you need it without any confusion.
Magento offers detailed reports that help the experts in your team find the root cause for the poor performance of your business.
 If possible you can also ask your Magento solution partner for an automated testing system service that can help resolve a problem at a different level altogether.
Incredible Security
Security is a must when it comes to any software platform. To prevent hackers' attack on your databases that happens almost every single minute. Fortunately, Magento is constantly tested by a number of Magento developers.
The Magento experts keep a check on the framework for flaws and remove them by uploading patches.
E-commerce pack
User Account
Shoppers can view their orders, purchase history, save orders, check orders, or that they wish to purchase later. The information can also be stored to be used next time to save time and head to the checkout process faster.
Marketing
You can operate different tasks like creating sales deals, running promotions, special bargains, giving out free shipping, etc.
Also, you get the chance for
up-selling
cross-selling,
preset opinions
display lists items viewed recently
Shopping Cart
Magento provides a flawless shopping system to customers. Whether you are registered to the site or just a guest user you get multiple payment options to choose from.
Product Management
It is easy to import/export a range of products plus edits their attributes simultaneously, upload images, determine what to hide/show define custom pricing rules, and display in the "shop window".
Multiple Websites
Magento has the power to manage countless websites at the same time. It means you can easily run multiple sites simultaneously with just one user account. So, the entire management comes easy, isn't it?
When you have several brands to manage, you can just manage all through one primary site and one admin section.
Management
It is easy to carry out transactions via the admin panel, begin and complete the entire shipping activity/ solve complaints. There are certain tasks that need you to pay a premium for a Magento subscription because Magento 2 development consumes a little more time and since there are a number of developers involved in working out to encounter Magento 2 development challenges, there is a fee.
Available Options
Currently, there are 2 versions of Magento
 Magento Open Source (earlier termed as Community Edition)
Magento Commerce (earlier termed Enterprise Edition).
Magento Open Source comprises 2 crucial characteristics free & open-source.
Open source doesn't offer staunch technical assistance but has a big community with a lot of experts and beginners discussing Magento on different discussion forums.
If you are planning to set up a little complicated enterprise e-store, then Magento Commerce – Enterprise Cloud Edition would be the ideal solution. It is because it has the strength to manage multiple websites smoothly and comes along with the latest technology solutions that give the users a great experience. Magento offers a rapid and genuine platform.
Both the editions offer incredible speed and are a plus point to both editions. Magento Open Source allows you to improve speed using custom developments.
Why Magento Commerce -Enterprise Cloud Edition?
Magento Enterprise Edition runs on AWS and assures merchants of improved Magento Web Hosting, for enhanced security and performance. It helps manage huge databases, guarantees faster page loading time, etc. Looking at its scalability, reliability, and expandability, it is the ideal platform for your online store and meets all your business needs.
Misconception about the Magento Platform
Diverse retailers have a misconception that the Magento 2 platform speed is lower than that of other eCommerce platforms. But the fact is that Magento is the most responsive platform for eCommerce development. It is the most versatile and feature-rich software platform available today. It may be used for almost any form of company. The issues of low speed and performance arise due to faulty implementations by retailers. Choosing the right Magento development company can help you with the speed and performance optimization of your store.
VIHA Digital Commerce Company offers competent services to diverse retailers around the globe for eCommerce development solutions. Retailers can rely on our Magento experts for the speed and performance optimization of their stores. Our in-house Magento Team is capable of providing eCommerce solutions and can help you in increasing the conversion ratio of your store by driving more traffic to your website.
Magento Speed Optimization
Why choose Magento for speed and performance optimization
The website page in the Magento store loads in about 3-4 seconds. However, this does not stop you from optimizing its speed. The Magento platform includes an eCommerce development solution. So there's no need to be concerned; simply use the three extensions listed below to optimize your store.
SEO extension for increasing Magento2 performance
Optimize Check out process
Improved Layered Navigation
The Magento platform is open source and can be used to create eCommerce stores. It requires expert help to efficiently manage the Magento store. Our expert Magento team will assist you in developing a Fast Magento 2 store by efficiently handling eCommerce issues. Our team can assist you in managing the design, development, and customization of your eCommerce store. So don't wait more and reach us @ (Contact US or Call on +917096620202)
Magento 2 Guide to Speed UP eCommerce Store