According to eCommerce experts and market research, the eCommerce sector will see a double-digit boost by the year 2022. Not many industries can actually see such huge growth and that's the reason, Ecommerce is becoming the most preferred domain for many consumers and marketers.
Of course, the eCommerce trends will benefit both retailers and wholesalers in the coming years
Let us have a look at how these current eCommerce trends can change the entire business strategy.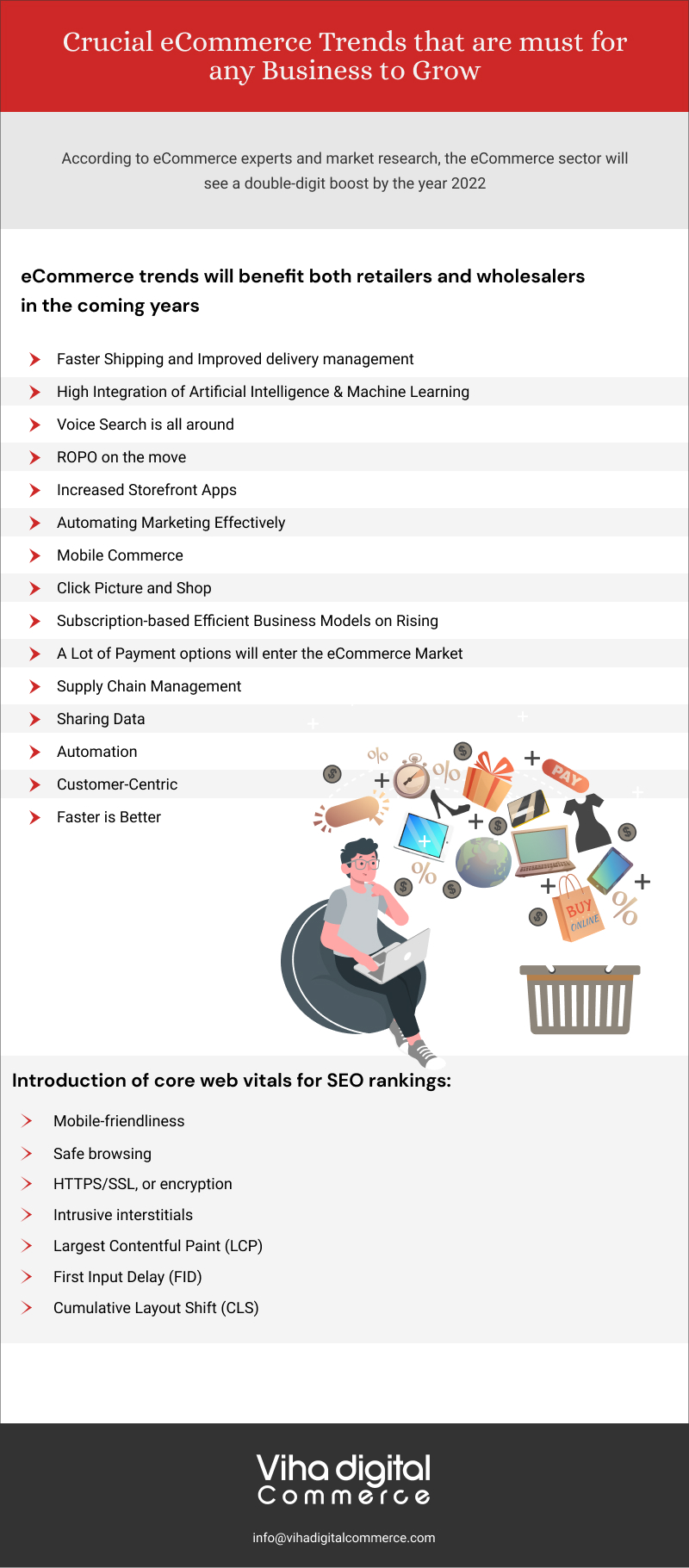 Faster Shipping and Improved delivery management
The most important factor related to the eCommerce sector is shipping time and management. When it comes to unmatched eCommerce delivery, you cannot ignore the giant in the eCommerce sector – Amazon. They have maintained the fastest deliveries and even offer a 1-hour delivery service. They are now working towards cutting down the time between each click & delivery which is truly going to give tough competition to its competitors in near future.
High Integration of Artificial Intelligence & Machine Learning 
Out of the many eCommerce trends adopted by the eCommerce industry, the main trend is machine learning technologies. It is already incorporated into a lot of ECommerce systems for example to enhance the search functionality and product recommendation engines. Of course, in the coming years, there will be a drastic increase in making these use of the technologies where eCommerce for retailers will come out as a boon to provide their customers exactly what is expected and searched by them in very little time and effortlessly.
Voice Search is all around
Today, the discussion of mobile will not be completed without talking anything about voice search. The use of smart appliances like Google Home or Amazon's Echo is quite common for voice search, especially in the eCommerce sector.
Amazon Echo units' sale is increasing and is used as an important trend of eCommerce for Wholesale as well as retailers.
ROPO on the move
ROPO which means- research online, purchases online is noticed as the shopping behavior of consumers for a while now followed by sharp shoppers with close eyes on bargains, etc to get the best deal. In the coming years, there will be a boost seen in ROPO, especially in eCommerce trends.
Increased Storefront Apps
Well, with an increase in demand for executing eCommerce trends many companies have started giving affordable eCommerce SEO services to attract clients. With the significant shift recorded from PC to mobile, online shopping will see a transformation wherein there will be many more storefront apps coming in. As many popular retailers have already brought in such apps long back the shoppers are already used to making use of storefront apps to search and shop using their smartphones.
In the coming years, even smaller businesses would join the race and would launch their storefront apps to attract more customers and boost sales.
Automating Marketing Effectively
Here automating marketing actually means automation of email marketing as well as scheduling different posts on social media.
Of course, automating marketing has become the new eCommerce trend these days and it is just going non-stop. It includes customizing your landing pages and comprises easily accessible shopping carts.
When automated marketing is implemented properly you can send customized emails to all the customers. You can show and promote your new products considering the shopping behavior of visitors. You can also re-target your customers to boost product sales.
The automation process enables customization of store offerings too for every customer.
Mobile Commerce
When you plan a marketing solution for your eCommerce store you need to understand that most of the transactions carried out every year by the customers are via their mobile phones. This boosts during the holiday season. So, it becomes important to have a mobile responsive website so that you can attract customers who are more inclined to their mobile phones rather than their desktops.
Click Picture and Shop
It is one of the new eCommerce trends that are gaining momentum these days. Users tend to use their cameras to capture the product they want to buy from an online store. Also, with the availability of many photo apps such as Cam finder it has becomes an easy job to capture product images. Also, there will be more photo apps that will hit the market and join the trend which is also beneficial for affiliate products via photoshopping.
Subscription-based Efficient Business Models on Rising
Of course, no one wants to spend cash when everything is digital and even digital payments are common now. In that race, subscription-based efficient business models are on rising. It helps attain returning sales on a yearly/monthly basis.
A Lot of Payment options will enter the eCommerce Market
Today, a range of payment options are available which includes cryptocurrencies and digital payment. Certainly, there will be a range of payment options that will enter the eCommerce market.
Supply Chain Management
It plays an important part in the eCommerce sector. It is certainly not easy to handle as there are 3 important components you need to keep in mind to have consistent improvements like
Sharing Data
This includes details of shipping, inventory, and customer details. It should be constantly available all throughout the supply chain management.
Automation
Everything here is automation as process building helps entrepreneurs to transmit transparent information of the entire flow.
Customer-Centric
Here the targets need to be identified, check the tendency of the customers, etc. It helps improve the overall efficiency of your business.
The world is changing and with Digitalization present everywhere eCommerce is getting bigger. Advanced technologies are helping eCommerce trends change. It is also helping the users enjoy a better experience online. It helps users enjoy a great shopping experience and get value for their money. Now buying the products they want through an online store is much easier than before. It saves time and no need to step out of your house to make a purchase. You just need to spend some time online, choose the product you want to buy, and place an order. Just make payment online if you wish to in just a few clicks.
Faster is Better: 
It is a fact that "slow websites are the silent killer for e-commerce businesses". In the 21st century, speed, connectivity, and great user experience are the keys to e-commerce success. About 80% of adult visitors find slow websites frustrating, according to reports. More than 50% of customers leave a slow website and buy the same product from a different website. A slow website cannot provide the best user experience to visitors and creates a negative brand impression in the minds of customers. It is important to analyze and optimize every element of their online presence to ensure it is working as efficiently as possible. Slow websites reduce customer engagement and increase bounce rates. A slow website can reduce the conversion rate and thus affect the overall revenue of an e-commerce business.
Longtime e-commerce player Amazon estimates that "A one-second delay in loading a web page could lead to more than $1.6 billion in lost revenue each year". It has now become imperative for eCommerce platforms to optimize their store speed and performance in every way. Faster stores provide a better user experience and thus increase brand loyalty and credibility of the e-commerce business. So don't wait any longer and optimize your store by analyzing every element of your online presence. You can analyze the performance of your website using third-party tools like Google Page Insights, GTmetrix, Pingdom, and others. This tool not only helps you in identifying issues in your eCommerce store but also provides recommendations for your store's speed and performance Optimization.
The Ecommerce Subscription Model:
"The eCommerce subscription model is a business model in which a company provides on-going services in exchange for regular payments from the consumer."
According to McKinsey, subscription-based businesses generated $2.6 billion in 2016, up from $57 million in 2011. This dramatic surge can be attributed to the fact that nearly half of all consumers have signed up for subscription services. Companies in the fashion, entertainment, and even food industry are now taking this approach. Some reputed companies like Amazon, Flipkart, Netflix, and Spotify are able to generate higher revenues by adopting the Subscription model. There are four benefits of the Subscription eCommerce Model
Subscription increase Retention:

 
Your business approach will assist you in keeping customers for a long duration of time. Various businesses seek regular input from their clients in order to provide value and enhance their services. 
Ecommerce retailers will find it easier to forecast future sales and revenues. Customers are more inclined to buy items and services from firms if they subscribe to the services. Although real sales cannot be forecasted, the corporation will be able to identify clients who will remain on board for a set amount of time.
More Engagement Opportunities:
When customers subscribe to your ongoing services, you'll have plenty of opportunities to interact with them during their subscription period. It will assist you in determining the clients' demands and requirements. Subscription-based businesses such as Netflix and Amazon Prime have been successful in maintaining customer connections.
Easier Customer Management Opportunities
Finally, having your customers sign up for a subscription implies that as long as you deliver value to them, you won't have to worry about keeping them on board during the subscription time. The subscription business model also aids in lowering the overall cost of customer acquisition and retention.
Any Ecommerce Business can be successful by adopting the Subscription model. Three important aspects are important for achieving success through the subscription model i.e. identifying the needs and requirements of the customers, differentiating itself from competitors, and maintaining good relations with the customers.
Introduction of core web vitals for SEO rankings:
On May 20, 2021, Google launched core web vitals for SEO rankings. For SEO rankings, core web vital indicators take into account page experience and website loading speed. Ecommerce shops are already using mobile-optimized themes, Insights and Analytics tools, page titles, meta descriptions, and image alt text fields, a content delivery network, and Akamai Image Manager for SEO optimization. However, essential web vitals have also incorporated the criterion for your store's page experience. It is true that Retail Merchants must make changes to improve the page speed of their eCommerce stores. Google has revealed some signals to get your store on Google's top articles.
Mobile-friendliness

Safe browsing

HTTPS/SSL, or encryption

Intrusive interstitials

Largest Contentful Paint (LCP)

First Input Delay (FID)

Cumulative Layout Shift (CLS)
 By considering the above signals, Magento and Shopify merchants will be able to upgrade their stores for Magento SEO ( search engine optimization) and Shopify SEO.
Thank you.