The Magento 2 platform is gaining popularity around the globe because it is an improved version of Magento. According to the research, Magento has around 250k users. Diverse users have a misconception that the Magento Platform is quite slow compared to other eCommerce platforms. But this is not the case. You just need to apply a complete Magento Speed Optimization process by utilizing diverse tools. One of the reliable tools that help with the speed and performance optimization of the Magento Platform is Pingdom.

Why should you upgrade your slow website?
Whether you believe it or not, the success or failure of your e-commerce store is directly related to the speed at which your page loads. People no longer visit the stores that take a long time to load because of high-speed internet connectivity. As a result, it can be noted that speed is the most important factor to consider because it directly influences user behavior and so does your store's revenues. A faster page speed of your eCommerce store will also improve your store's search engine rankings.
How to measure your Magento store performance at Pingdom?
Pingdom allows you to track the uptime, performance, and interactions of your Magento store for a better end-user experience. Pingdom offers a 14-day free trial. So, even if you don't subscribe to Pingdom's paid services, you can try out this premium tool for 14 days to investigate the speed optimization of your Magento 2 Store.
Pingdom currently allows you to check the performance of any website from seven different locations spread across five continents:
Asia – Japan – Tokyo

Europe – Germany – Frankfurt

Europe – the United Kingdom – London

North America – USA – Washington D.C.

North America – USA – San Francisco

Pacific – Australia – Sydney

South America – Brazil – São Paulo
To measure your Store performance at Pingdom, You need to visit https://tools.pingdom.com/
To start a test,
Enter your site's URL
Choose a location near your target audience
Click the Start Test button.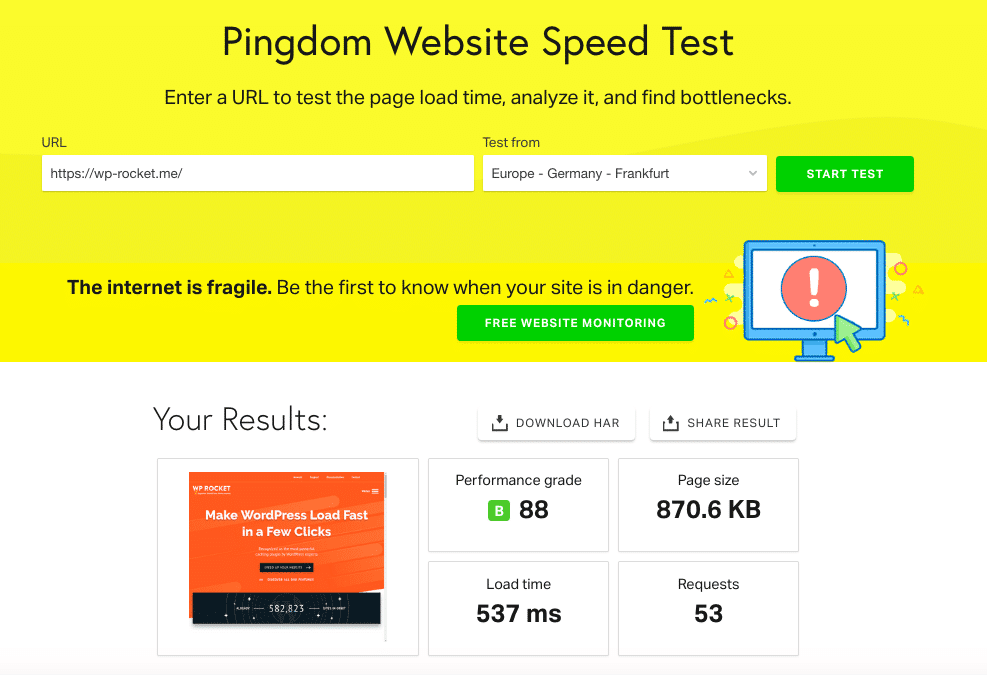 Pingdom will summarize your web page performance at the top with 4 metrics:
Performance grade

Requests

Load time

Page size
From all the above metrics, load time is the important metric for identifying the performance of the website. All the above metrics help in the following ways for effectively tracking the website performance
Each element of the Website is tested:
The page speed test examines each element to provide an accurate picture of load times. HTML, CSS, JavaScript, images—every asset on the page is tested and evaluated to exhibit where load times are affected and where development efforts should be focused.
Continuous monitoring of homepage performance aids in distinguishing between transient network issues and genuine page design issues. This ensures that development time and resources are not diverted away from improvements that result in higher performance of the websites.
Endpoint Performance Tests

:
Endpoint performance tests are used to accurately examine the performance of websites and web applications for users throughout the world. Pingdom uses probe servers in the United States, Europe, Asia, and Australia to measure global website performance.
Automated Monitoring Tests:
Pingdom will conduct automated site performance monitoring tests every 30 minutes for your website. Pingdom also offers a comprehensive website uptime monitoring solution. If your site performance goes down, you will get notified. 
Filmstrip and timeline metrics:
This test gives you a clearer idea of how quickly your page loads during a speed test. The filmstrip function captures a screenshot every 500 milliseconds for as long as it takes to load the entire webpage, showing all items available on the site. It is possible to see how long it takes to reach the first byte and to load DOM (Document Object Model) content while using the timeline metrics.
Detailed reports and dashboard visualizations from the page speed performance tool highlight anomalies that need to be addressed. Every element of every test is recorded to create detailed, drill-down reports. And with a two-week data retention period, you can analyze performance trends. Simple, intuitive graphics ensure even non-technical users can understand the importance of improving website load times and reliability.
Diverse ways to boost speed in Pingdom
The monitoring of the speed is essential to see the bottlenecks and solve them quickly for Magento. An improvement in the page speed in these areas is a must to provide the desired results to the online website. 
1. Enable Content Delivery Network (CDN):
A Content Delivery Network (CDN) is a powerful tool that speeds up the loading time of your website. CDN integration in Magento 2 is necessary if your site gets a lot of traffic from users who are located far away from your server or if you have a lot of large files.
2. Minify JavaScript, CSS, and HTML
Minifying JavaScript, CSS, and HTML reduce the size, bandwidth, request count, and server load of a page. The speed of the website will be improved by reducing the size of the code and language.
3. Compressed image formats:
By compressing image formats, the speed of the Magento online website will be boosted. Image compression in Magento 2 can be accomplished using several different tools and extensions. These extensions allow you to compress photographs without sacrificing quality.
4. Decrease the number of plugins and third-party scripts:
You should cut down the number of plugins and third-party scripts in your store to improve page speed. Third-party scripts consist of a variety of elements that have a negative impact on website performance. As a result, Magento Adobe Commerce Developers advise limiting the use of third-party scripts to enhance store performance.
5. Upgrade your Hosting services:
The amount of Magento store traffic increases by selecting the right hosting package. Shared hosting services are quite affordable but lead to low speeds for your website. So, if your budget is high and you can afford independent hosting services, then you should go for it.
Magento page speed can be improved in several ways thanks to Pingdom. It is possible to keep track of performance in order to improve your internet rankings. It can help your Magento store achieve its overall goals. 
 We wish to serve you better, please contact us at info@vihadigitalcommerce.com and Viha Digital Commerce.