While native apps are incredibly useful, they are not the only way for users to interact with services/applications on their mobile devices. Despite the fact that there are many apps available, research suggests that users may only use a few of the apps they download.
Progressive Web Apps (PWAs) on the web are becoming a more viable solution for many mobile-based applications. They are less expensive and take less time to develop, and they are more widely available.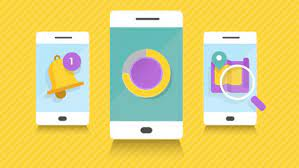 Magento 2 PWA, like native apps, has many modern features, such as working with or without an internet connection, generating push notifications, and being able to be added to the home screen, enhancing the user experience.
Magento Merchants should consider PWA while developing their websites because they are written in HTML or JavaScript.
Why should you integrate PWA in your Magento store?
After implementing PWA platforms for their web applications, Magento PWA studio has increased total conversions by approximately 76 percent. Magento will provide its users with tools for creating eCommerce stores that provide app-like experiences.
The rise of PWAs has highlighted the importance of designing websites and apps to perform well on mobile. The speed of the internet is all about size – the smaller the size, the faster the download. Twitter iOS app, for example, is over 122Mb; the PWA is only 0.6Mb. This helps the Magento Merchants in Magento Speed Optimization.
Important Reasons for utilizing PWA for Magento Store: 
According to Google developers, PWA should be utilized by the Magento Merchants for the following listed reasons:
Cost-Effective 

Enhance User Experience

Faster to Load

Increase SEO rankings

Push Notifications
Provides a Cost-Effective Way to reach out to the mobile users
It is a fact that more leads are converted through mobile phones when compared to desktops, tablets, and other devices. Mobile phones account for 70% of the website traffic. This establishes the need for mobile commerce. 

Native apps, while efficient, can be expensive for businesses to build, maintain, and update. They must be built separately for iOS and Android systems before being published on the Google Play or iOS app stores, where they must compete with millions of other apps.
While

Magento 2 PWA Themes

is the most cost-effective solution for Magento Stores. PWAs can be created by simply converting an existing website into a PWA. They are written in a single code that works on all browsing platforms, so no structure segregation for different operating systems is required.
Enhance User Experience:
Traditional web applications require downloading and installation and consume a significant amount of memory on your phone.

PWAs, on the other hand, run in browsers on demand and use less space and data than native apps.

The

Magento 2 PWA

can be added to the user's home screen, making it easier for the user to access the data.
PWAs are faster to load
Users are more likely to abandon websites that require more time to load. This can have a negative impact on your conversion rates and the overall revenue of your Magento Store.
However, with PWAs, this risk can be reduced. PWAs prioritize speed by using Google Mobile-first indexing. The faster loading reduces the server's burden.

PWA is known for providing an uninterrupted user experience by efficiently managing web traffic. It also aids in data security because traffic must be routed through HTTPS.

A complete relaunch of the application is not required when implementing Magento 2 PWA development process. The URL will only cause data to be retrieved, reducing browser loading time.
Helps in increasing SEO Rankings of the E-commerce Stores:
PWAs can help boost your web page's search engine ranking.

PWAs prioritize speed and are responsive to multiple channels. This significantly improves your web app's search engine rank, as more people will be able to find it

PWA's are also gaining popularity as they provide an excellent user experience on both desktop and mobile web browsers.
Keep the customers in the loop with push notifications
Push notifications are one of the most important features of Progressive Web Apps. Even after the customer has exited the mobile app, they continue to receive notifications about the company's offers and services.

When a customer subscribes to notifications on your website, they will receive push notifications about new product launches, shipping discounts, offers, and any other extra services.

PWA helps Magento Merchants in marketing the eCommerce store in an efficient manner. It also aids in the nurturing of leads, which will increase the overall conversion ratio of the firm.
To sum up:
Progressive Web Applications outperform Native Applications in terms of user experience.

They are smaller in size and load more quickly on mobile and desktop websites.

As it provides an excellent user experience to mobile users, PWA aids in increasing the conversion ratio of e-commerce stores.

Through their incredible features, they provide the best solutions to Magento Merchants.
So, what are you waiting for…
Integrate PWA for your Magento store and take advantage of its incredible features.