By 2023, the ratio of branded: unbranded jewelry would become 40:60 from its current 10:90, according to McKinsey's analysis. I have done good research on how to design jewelry websites.
And I won't like you to re-work.
So, I am presenting here important aspects to consider in the development of a jewelry website with the Shopify software framework.
Our journey starts with the understanding importance of Website & SEO/Digital Marketing for a Jewelry Business of the 2010s/2020s.
And then we will quickly look into the extra mile advantages that come if you use Shopify for making E-commerce Site
Techniques to Market Jewelry Business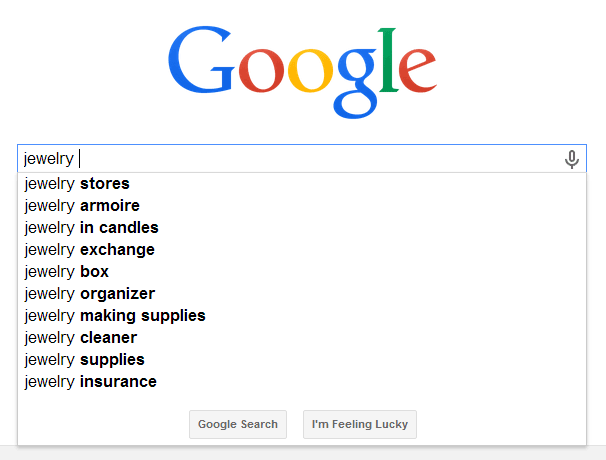 In recent years, the advances and affordability of mobile technologies have changed the way we deal with businesses.
From banking to automobiles, NGOs to enterprises, to healthcare, to entertainment, organizations around the world from all industries are transforming to adopt mobile and web-friendly setups.
And jewelry domain is no exception. Brick-and-mortar devoted businesses are gradually fading up their existence.
As a 21st-century jewelry shop, any professional unit equally should improvise its internal as well as external processes to accept diamond orders from the internet/online.
Quintessentially, today, the mobile-ready website is a necessity to survive, and not a luxury item. A nicely crafted website brings jewelry customers right to your front door.
If you want to utilize an additional source of income on top of jewelry physical storefront, then
collaboratively help you gain the same.
As we know, at the heart of all these efforts lies business visibility. And it is obtained via internet marketing.
Customers are already there, buying millions of ornaments every day. All you need is to create trust, that you are reliable and competitive, and make sure that your website is authentic and that it will not be cheated or over-priced. As soon as you become visible in the eyes of purchasers, conversions start happening.
You may be selling artful handmade pieces or luxury diamond jewelry.
Depending on your exact business activity, you need to select one or more related, focused SEO keywords to take the website on 1st page of Google/Bing/Yahoo.
Oftentimes, it is achieved simply by inserting selected SEO words in each jewelry product web page's TITLE and META tags (HTML).
To succeed as a jewelry business website owner, think about
1. Your Target Audience
2. Start as an Internet-only Shop to Reduce Possible Losses(if you hold actual inventory, it is even good)
3. Explain to Customers the Benefits of Buying Jewelry Products from You
4. Accurately Design Website and Push up Digital Marketing
5. Add Customer Reviews
6. Publish Your Product Sales Facts, like Tax-free, Number of Units Sold Until Date, Easy Return Policies, etc.
2. Why Use Shopify for Making Jewelry Ecommerce Site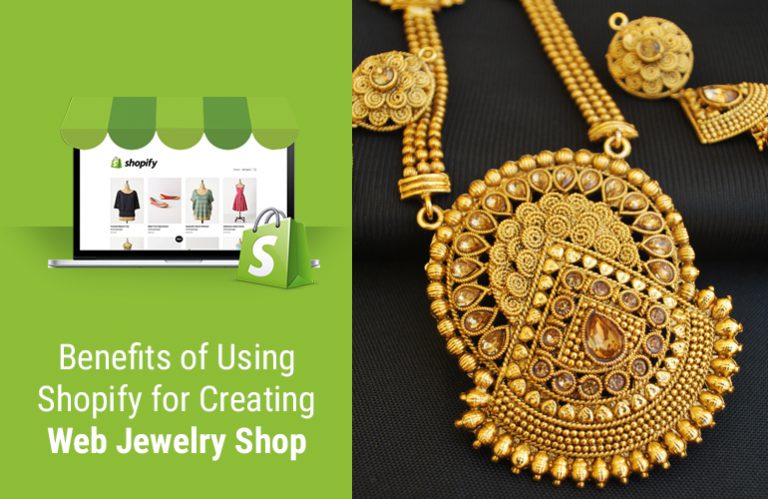 First, its basic features/trial version is free.
Compared to its main rival – Magento, which costs USD $2,000 per month for the full-fledged enterprise edition, Shopify delivers most of them for just $300/month.
In brief, the benefits of making jewelry websites using Shopify are:
Lots of choices, the source from 10sof readymade themes offered by Shopify
Shopify is suitable for jewelry vendors of all sizes and shapes, it caters to unique theme layouts for jewelry stores selling
Decorative items
Brooches
Rings & Necklaces
Bracelets & Earrings
Pure Diamonds Business
Pendants
Gems and Gemstones
Gemstones
Sapphire
etc. so that goldsmith/jewelry designers do NOT have to involve in details of how to create a website.
————————————————————————————————————-
1 MINUTE BREAK
What do you get in the VDC Shopify Jewelry Website Development contract?
– 3D Jewelry Viewer
Advanced Diamond Search based on GIA, AGS, IGI, and EGL certifications
Gridview of data points that displays color, polish, carat, clarity, depth
New Arrivals section
Featured Videos
Live Gold Price Integration
Connected CRM
Faster Loading Site & Webpages
Assisted Mobile App
Sales Tax Calculator
Jewelry Personalization
RAPNET API Integration for fair trade of diamonds
Live Chat
Login, WishList & Shopping cart
Social Media Integration
etc.
If you are seeking a long-time partner to maintain a jewelry website that does not incur any recurring costs every month, come to us. We have budget-bound schemes.
---
3. Shopify Theme is Easily Customizable for Jewelry Store with Its Website Builder Component
The result is clear, you can precisely display jewelry items with organized content sections, with a DIY (Do It Yourself) approach
Take for example,
The advanced filter allows website visitors to look into interesting products only
Slide-show presents big, attractive pictures of diamonds
etc.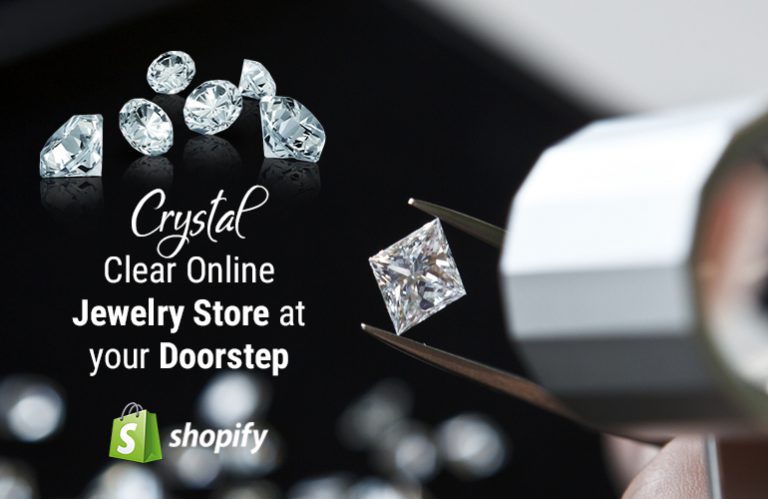 Crystal clear and multi-views of jewelry increase the chances of sales.
You don't need to be a programmer or technical person if making a Jewelry webshop using Shopify.
4. Shopify Language Editor supports internationalization, i.e.
it enables merchants to translate their storefront easily into other languages
This means you can sell jewelry products cross-region overcoming cultural barriers.
5. Wide range of 3rd party apps integrate with the Shopify theme, including
etc. – to name just a few.
More integrations facilitate an excellent user experience when on the website.
6. Shopify gives 100% (financial) information protection with a Free SSL certificate
Therefore, real prospects feel comfortable interacting with your jewelry website over competitors.
The lock symbol put on the browser bar gives confidence to a buyer that his bank/credit card/debit card information will not be leaked and will not be misused.
7. Shopify offers 90+ Countrywise Payment Gateways

No matter that buyer is in
Europe
Africa
Asia
North/South America
Australia
or anywhere in the world, you can sell jewelry items 24×7 – as far as
you can accept cross-currency through customers' choice of payment method.
8. Shopify offers Automatic Jewelry Tax Calculation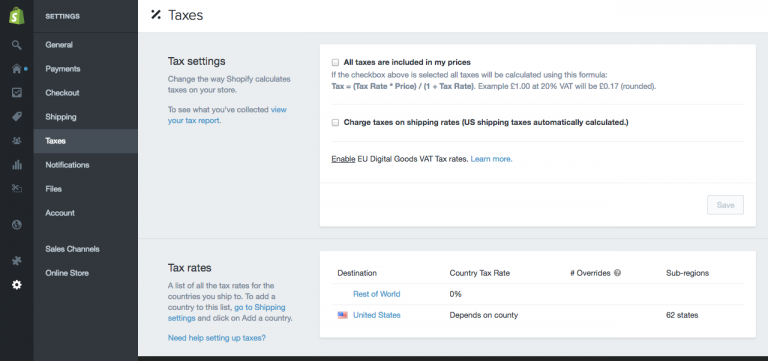 Based on location, Shopify automatically handles tax rates for every country and state.
It looks up your and the buyer's destination and displays up-to-date data/rates of taxes. In turn, it reduces work at the merchant's end drastically, with no question of legal conflict.
9. All Shopify themes have pre-built functionalities for
Refunds
Customer Login Accounts
Discount codes, coupons & Gift Cards
Inventory Management &
Import/Export of Data
10. Shopify offers Assisted Mobile App that includes
Quick Dashboard
Real-Time Sync with Website
All features of a website in a mobile-responsive layout
Mobile app availability can be said an exaggerated benefit because if you were to develop a web jewelry shopping store using other technologies than Shopify, that would have incurred a separate cost.
RAPNET API Integration
Are you an exclusive or specialist jewelry business selling loose diamonds?
Shopify site is easily integrated with RAPNET API to display your diamond inventory online after fetching data on your new site and visitors do not have to jump off to another site when they are searching in the diamond marketplace.
Latest Updates of Shopify
Shopify has already launched Shopify Online Store 2.0, which includes a lot of new features. If you are thinking of customizing your online Shopify jewelry store, then upgrading to Shopify 2 will be helpful.
Take a look at the exclusive features of the Shopify 2 store.
EnhancedTheme architecture:
Shopify 2.0 comprises a new editing experience that allows merchants (users) and developers to customize their stores effortlessly.
Sections on Every page:
You could only add sections to the home page previously. But by upgrading your Shopify store, you can now add sections to all pages without requiring complicated code changes.
Theme app extensions and app block modularity:
App blocks represent a significant shift in the way apps are integrated into themes. App developers can now create UI components that can be added, removed, and configured directly in the theme editor, without touching the theme's code.
The new Liquid input setting:
This setting enables merchants to add custom Liquid code to pages directly from the editor. The Liquid setting is similar to the HTML setting type in that it eliminates the need for users to manually change a theme's code.
Upgrading the latest version of Shopify will help you to provide a seamless experience to your users and thereby help you to increase the overall revenues of your jewelry store.
So what are you waiting for, take help from our experts and upgrade your store right away?
Contact Viha Digital Commerce To Create and Customize Your Shopify based Jewelry Website
Software engineering veterans at Viha Digital Commerce have crafted a couple of jewelry websites to date.
We cater no-nonsense online presence for Jewelry businesses of all sizes and shapes. Our work results in getting coins back spent on developing a website.
We are considered an ace in the arena of Shopify theme customization
Why Viha Digital Commerce?
24×7 availability
Streamlined and Quality-Driven Process
Modern technology geared toward Responsive, Flatland Mobile-friendly design
Existing huge and satisfied customer base
Delivery on time and within budget
1800+ successful e-commerce projects already completed
Basic SEO free for all
Related Products