After you plan to start your new eCommerce business online, there are different cost factors that you need to take care of. For example, establishing a perfect supply chain, picking genuine contractors, and partners, planning product array, setting up excellent delivery service, etc.,
It is a never-ending task list. The major concern is your budget which is very important for you as a business owner. You need to know the cost of setting up and running a Magento project.  This is what every business owner wants to know before planning anything.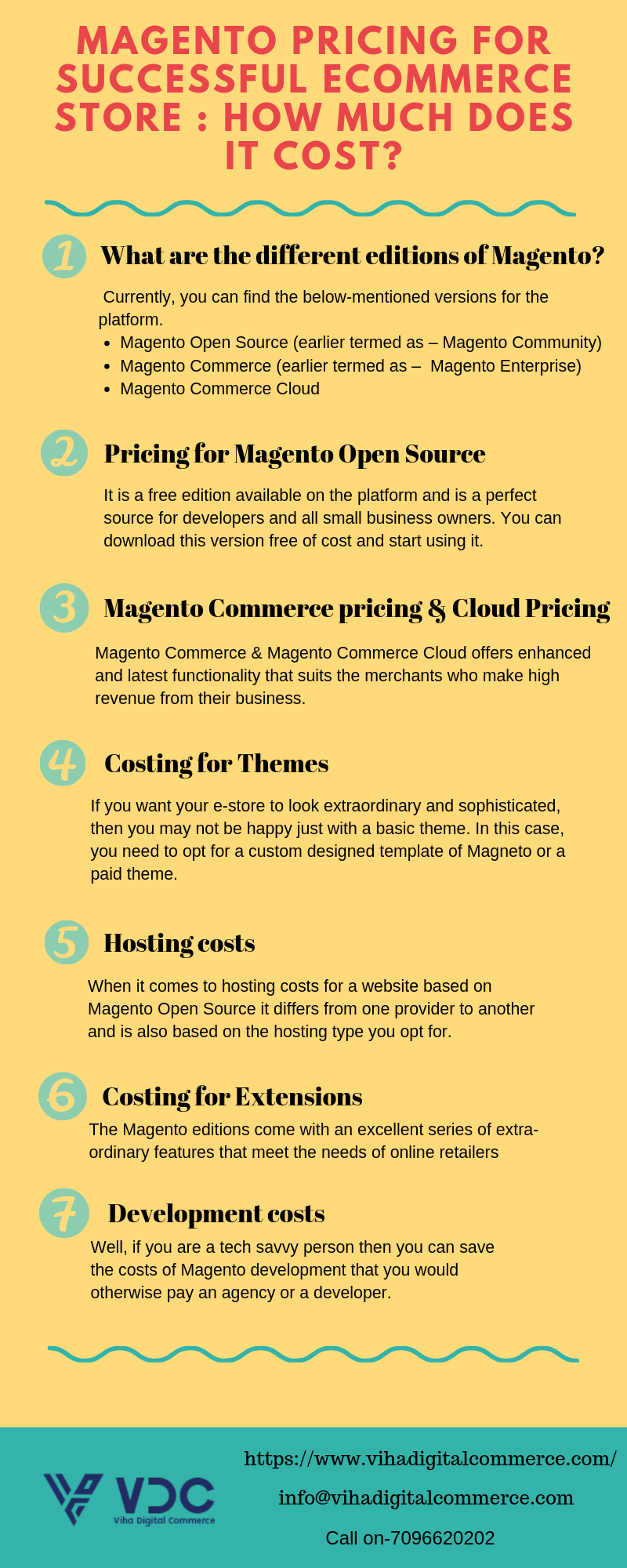 Well, helping the clients know about the costing related to the implementation of Magento isn't a very easy thing. As it includes different elements to be considered along with its final price, you can get the rough estimate and not the final and fixed price for Magento eCommerce pricing. It means you can get a rough budget towards the development and launch of Magento website. This article will help you get a clear idea of what would be the basic Magento eCommerce pricing towards the implementation and maintenance of the Magento website.
What are the different editions of Magento?
You may be aware of the fact that Magento comes with plenty of names, installations that change almost every year. Currently, you can find the below-mentioned versions for the platform.
The final Magento eCommerce pricing is also based on the platform you choose and the final price will differ accordingly.
Pricing for Magento Open Source
It is a free edition available on the platform and is a perfect source for developers and all small business owners. You can download this version free of cost and start using it.
Well, setting up Magento Open Source store is far behind just download and install the program. Extra price for configuration, coding, and hosting is included too. Generally, the Magento e-commerce costing for a standard Magento website with basic functions like
The basic theme at no charge
No integration with external systems/services will come to around $15,000.
Magento Commerce pricing & Commerce Cloud Pricing
Magento Commerce & Magento Commerce Cloud offers enhanced and latest functionality that suits the merchants who make high revenue from their business. The gross sales revenue generated decides the price of the two versions.
The Magento e-commerce pricing differs with the edition you pick as well as the hosting option you opt for.
Magento 2 Community Edition (CE) is open source and is free
Magento 2 Enterprise Edition (EE) – The charges for license starts from $22,000.00 – $125,000.00 per year which depends on annual gross sales revenue.
Magento 2 now comes with an option for cloud hosting known as – Enterprise Cloud Edition (ECE) that combines licensing with AWS-based managed hosting. It starts from $40,000.00 – $190,000.00/ year (before discount) depending on the annual gross sales revenue.
| Gross Sales Revenue | Magento 2 Enterprise Edition (EE) Cost | Magento 2 Enterprise Cloud Edition (ECE) Cost* |
| --- | --- | --- |
| $0 – $1 million | $22,000.00 | $40,000.00 |
| $1 – $5 million | $32,000.00 | $55,000.00 |
| $5 – $10 million | $49,000.00 | $80,000.00 |
| $10 – $25 million | $75,000.00 | $120,000.00 |
| $25 – $50 million | $125,000.00 | $190,000.00 |
The license cost to get the paid Magento installation actually starts from – $22,000. It can increase up to $190,000/ year for merchants that earn more than – $25,000,000 (in case merchants choose the Magento cloud version).
Costing for Themes
If you want your e-store to look extraordinary and sophisticated, then you may not be happy just with a basic theme. In this case, you need to opt for a custom designed template of Magneto or a paid theme. For such themes, you may need to pay anywhere between $29- $499 to buy from Magento Marketplace.
Hosting costs
When it comes to hosting costs for a website based on Magento Open Source it differs from one provider to another and is also based on the hosting type you opt for.
$ 10 to $250 per month – For an unmanaged hosting
Starts at $ 190/month – For managed hosting
For the websites based on Magento Commerce – Pricing for managed hosting for dedicated servers – $500/month
The Magento Commerce Cloud pricing which is hosted on the cloud and thus the hosting price is included in the license itself.
Costing for Extensions
The Magento editions come with an excellent series of extra-ordinary features that meet the needs of online retailers. Though the business needs differ with each business and you may not find the functionalities in default Magneto version. In this case, added Magento extensions can let you improve the efficiency of your online store and let you customize the platform to meet your specific business needs.
There are more than 5,000 extensions that are present in Magento and most of them free of cost. Other paid extensions costs from $50 onwards.
Development costs
Well, if you are a tech savvy person then you can save the costs of Magento development that you would otherwise pay an agency or a developer.
Magento is not an easy platform to handle and it needs you to be an expert in programming and have in-depth knowledge of its features. If you are not an expert Magento developer then dealing with the integration of 3rd party extensions or customization of the platform can be a difficult task.
In such cases, you need to hire an expert Magento development agency to set up your eCommerce store successfully and of course, it adds to the cost.
When it comes to the charges of Magento specialists on an hourly basis it comes to around $125. Of course, you don't need to worry about this investment as it will pay off within very less time once you start making money through your store. Of course, professional development services for Magento platform would help you save time and will not lead to frustration that may occur due to poor development.
Maintenance & Support Costs
Well, the job is not done just after launching your e-commerce website but it also needs to have proper and regular maintenance & support. For your Magento eCommerce site to run smoothly and generate expected revenues, it needs to be maintained regularly. The maintenance and support activities include.
Continuous updates,
Design refreshing
Security patch installation etc
Now, the maintenance and support costs are based on the fact whether you opt to maintain your store individually or seek help from expert developers.
As Magento comes with various pricing options, it can match the budget of almost all retailers and can be used for small to big business needs. Ideally, the maximum budget for Magento falls within a range of $22,000-50,000. Though it turns out to be a little bit cost effective or can fall on a little expensive side based on factors like
Version for the platform  chosen
Hosting option
In-house or custom development
Customization Level
Theme & extensions
The above factors actually give you a clear idea of how much it would cost to use Magento platform and how it can help your business do well and generate revenues too.