The development of an online eCommerce store requires substantial planning and strategic development. The eCommerce platform you select for your website must be secure, simple to use, and have a solid foundation. It is also essential to check whether it has good performance and scalability. Magento is one of the most effective and quick platforms that may help you boost the overall performance of your store.
How Magento Cloud Version Can Help in the Speed and Performance Optimization of your Store?

Magento is an open-source platform for eCommerce websites. Magento is an effective eCommerce platform as it provides several integrations and customization options. It also allows for expansion, scalability, and flexibility. Its key features differentiate it from the diverse eCommerce platform available on the internet today. It's ideal for store owners who have a high volume of clients and sales.
Magento's main product is available in three major variants. These variations are as follows
Open Source Magento (non-hosted free edition)

Magento Enterprise Edition (flagship product with more features and support)

The Magento Commerce Cloud (which is hosted by Magento on their AWS stack.)
You can choose a version according to your needs and requirements.
What is Magento Commerce Cloud?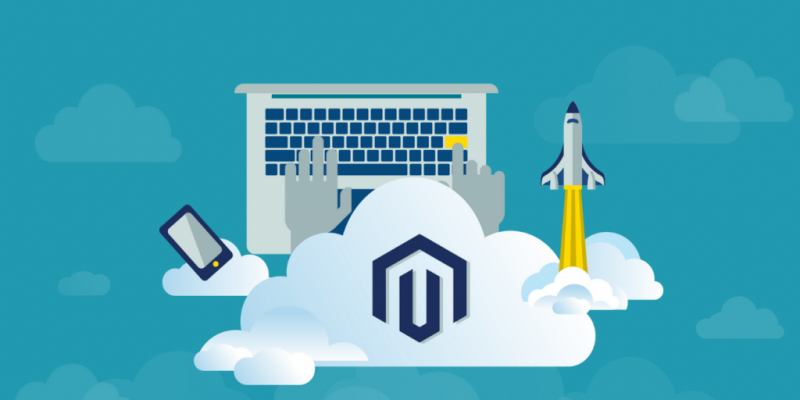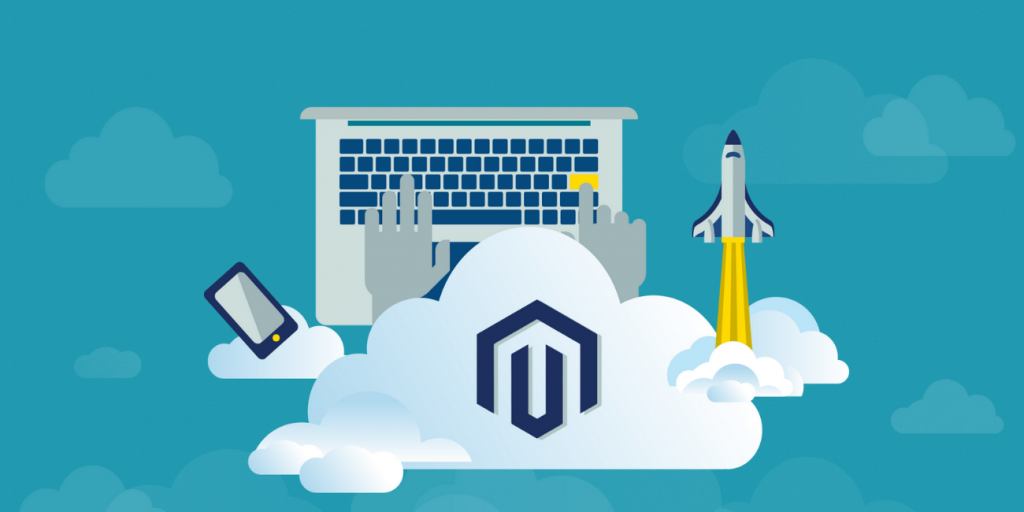 Magento 2 Commerce Cloud Edition (formerly known as Enterprise Cloud Edition) is a managed and automated cloud hosting platform. It is also referred to as the Magento self-hosted edition. This version offers all Magento 2 Commerce on-premise features as well as upgraded Cloud infrastructure hosting. Its cloud infrastructure comprises Git integration and key environments for Adobe Magento Commerce Cloud development, staging, and live production. In this Magento version, you can easily code, test, and deploy across Integration, Staging, and Production environments. This version also helps to improve the store's overall performance. Magento Commerce Cloud Edition is better suited for large businesses with complicated needs, as it is versatile enough to meet all of them while still providing a strong admin experience.
Key Features of Magento 2 Commerce Cloud Edition:
Ece-tools Package:
Magento launched the ece-tools package to provide merchants with a scalable deployment solution designed to meet their requirements. This package aids in cron management and docker deployment. It comprises scripts and instructions that allow retailers to launch eCommerce projects automatically. Ece-tools package also aids in managing database backups and validating environment configuration.
Hosted on the Cloud:
The most significant feature of Magento Commerce Cloud is its cloud hosting. Magento Cloud is run on AWS and is hosted by a dedicated team of developers. They make sure that your Magento store performance is optimized. Magento commerce cloud versions also provide solutions for the massive traffic spikes at online stores.
Rich Administrative Suite:
Magento Commerce Cloud offers a rich administrative suite of Magento Commerce Edition. This will allow you to tackle complex projects with ease. Here are a few highlights:
B2B (business to business) Module

Page Builder

Elastic Search

Segmentation

Content Staging

Instant Purchase

Visual Merchandiser
Any e-commerce organization will be able to operate efficiently with the administrative suite.
Benefits of Magento cloud Commerce Version:
Let us check out some of the most important benefits of the Magento cloud commerce version
Page speed enhancements:
One of the most effective ways to enhance e-commerce conversion rates is to use high-quality photographs and videos of your product. However, these high-resolution photographs typically result in a long loading time, which can affect the page speed of your Magento store. To remedy the issue, Magento launched Image Optimization technology powered by Fastly, which is exclusive to Magento Commerce Cloud. You can utilize Fastly Image Optimization to alter and optimize photographs without compromising the image quality. Image optimization will aid you in the Magento speed optimization of your eCommerce store.
High Scalability and Easy Customization:
Magento Commerce Cloud version can aid you in scaling your e-commerce store to manage high internet traffic at ease. It comprises numerous scalability features. The Magento Cloud environment works in the same way as Open Source and Magento Commerce and is easily customizable. Thus, you may easily install third-party extensions and create custom extensions.
Boost performance of Magento stores:
Magento Cloud is well-known for its high performance. It basically works on Aws and so higher performance is guaranteed if the store is optimized properly. Previously, Magento used the C3 server family, However, there are considerably more advanced alternatives available now. In 2018, Magento transitioned from the C3 to the M4 server family, seamlessly transitioning all existing clients to the new server family.
Low Cost:
There is a misconception that the Magento cloud version is costlier than the other versions. However, Open Source is more expensive than a Commerce Cloud with extensive functionality. By employing the Magento cloud commerce version for your store, you can easily cut down on support expenditures and development costs.
Enhance Security:
Magento provides exceptional security due to its cloud-based nature. As a result, the merchant's operational obligations are reduced. Magento has implemented additional security measures, including a Web Application Firewall (WAF). Web Application Firewall prevents malware from accessing your online store. This feature is included as part of the cloud infrastructure for Magento Cloud users and is free to use.
Final Words:
Magento commerce cloud edition is the best solution for every eCommerce site. This Magento version is cost-effective and also helps to increase the speed and performance of your store. The other benefits of this version include fast production deployment and content management. You should select the Magento 2 edition based on a variety of variables, including business volume, pricing, and the importance of customer service. Whatever edition you choose, we hope you like Magento 2's flexibility as much as we do! So don't wait any longer and utilize the most efficient Magento option. If you require assistance in developing your store with this version, please contact our Adobe Commerce developer at info@vihadigitalcommerce.com