Magento is certainly a reliable eCommerce platform for any business owner who wants to start an online store. It offers security, reliability, and Scalability.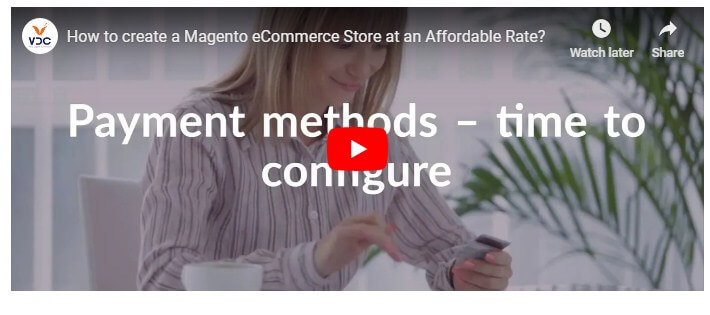 Benefits of Magento for building eCommerce development
Responsive design
SEO friendly
Website speed optimization techniques
Automated –inbuilt marketing tools
Enables management of multiple stores via a single dashboard
If you are thinking about building an eCommerce store on your own from scratch then some of the ideas given below will certainly help you. The process involves setting up your Magento eCommerce till you launch your store.
Get a new Installation package of the newest Magento
You just need to visit the official website of Magento and then head to Product and Solutions—Open Source. Now download the Magento package and you are now all set to configure and customize. After the download is over, fetch the contents to the following
Public_html folder – If you wish the Magento installation folder as your main domain
public_html/store/ – In case you wish the Magento installation package in a subfolder.
Upload your Magento files to the hosting server
After you are done with the installation you need to upload all your Magento files to the hosting server. This can be done by going to
cPanel – File Manager or via an FTP client
Build your databases
The steps given below will help you create a new database and then configure it for the eCommerce store.
Structure database server host
In case the local database server is placed on the same host then make use of localhost. In case it is located on a completely different host then feed in its IP address/hostname.
Organize credentials to access the database
Create a username & password specifically for the database. Though the password field is optional you should assign a password for security concerns.
Structure name of database & table prefix
You should give a unique name to your database as the Magento tables are already present in the Magento database tables. Thus it is recommended that you make individual table prefixes for every table so that it becomes easy to recognize them.
Build Product and Subcategories
Product categories form an integral part of a Magento Web Development process as it allows customers to search for the exact product they wish to purchase. With Magento, it becomes an easy task to set up product categories/subcategories and Magento lets you create multiple categories & subcategories for your online store.
Here is the right process you need to follow
Go to – Admin Panel—Catalog—Manage Categories
Make a Root Catalog
Underneath Root Catalog look for add category and subcategory
Edit the information available for meta tags like image, name, description, Active status, and keywords for the specific category
You can alter how the subcategories are displayed by using the option Page layout.
After you finish the process, simply click – Save to add the new category.
Shipping methods – Time to configure
Magento helps you configure different shipping options for the customers for example free shipping, flat rate, online rates, table rates, dimensional weight, etc. Here is how you frame the shipping method
Go to Settings -> Configuration -> Sales -> Shipping Settings
Type in the actual details which is actually the location of your store.
Enable/Disable the option for shipping to – multiple addresses in the same field
Depending on the table rate, configure the correct shipping price, dimensional weight, or online rate.
To apply changes, click – Save
You will be able to view the changed shipping methods upon completion of any new order.
Payment methods – time to configure
Here is how you can configure the different payment methods
Navigate to System—Configuration — Sales—Payment Methods
Enable the option – credit card
Choose card options
Set up security options like – 3D secure card transactions, security codes, etc.
Save the changes to complete the configuration of the payment method
Hiring a Magento Development Company
When you are looking for an affordable method of creating an eCommerce store it doesn't mean that you can't hire a Magento Development Company, of course, you can. There are many Magento development companies where you can find affordable Magento Pricing for their reliable services.
The services that they offer include helpful and professional Magento eCommerce services that let you create a perfect Magento store that you need to generate revenues through like
Magento Theme Development
Magento Theme development is an integral part of all Magento stores and websites. Magento stores will look dull without the themes. With different options to choose from customized themes, you can select the right one that suits your store needs.
Customized themes can be easily managed and they adjust with the latest standards. The expert Magento theme developers offer complete support to help you get a fully functional, unique store.
Magento Speed Optimization
Magento speed optimization improves the speed of your Magento website to a greater extent. It also directly lets you get higher conversion rates, improved search engine rankings, etc. Magneto speed optimization process lets you decrease operational costs and enhance Magento speed along with increased user engagement.
You can select the right speed optimization plan to see the improvement in the speed of your Magento store.
Magento Order Management
Magento order management services offered by a professional Magento development company give you a strong platform to manage your sales order on your Magento store. With the Magento store, you need to handle plenty of orders on a daily basis. In order to manage the orders you need a perfect system that helps you manage and track orders easily. With professional services you can get API integration, streamlined processes for faster processing, tracking orders without any hassles, a quick overview of orders, etc.
How much an eCommerce store actually costs to create and host?
Well, this is a question that cannot be answered with just a single figure that suits every store's needs. It completely depends on the requirements and the complexity or simplicity of the eCommerce platform the costs vary.
There are many factors that contribute to the investment you need to do to set up your ECommerce store. It depends on the theme/templates you pick for your eCommerce store, theme customization can add to expenses that are based on your requirements too.
Programming, Functionality, and custom development
Another important factor that can decide the cost of your eCommerce store is programming & functionality. It means if you are relying on other platforms for extensions etc which if you develop yourself would reduce the costs. On the other hand, custom development also plays an important role and can be a little expensive as you need a professional team to develop code and test the code for reliability.
Web Hosting
Web hosting is a single factor for which you can predict the costs. You can easily find out the cost of hosting packages for your eCommerce store. You can get cost-effective web hosting packages to go with it.
SEO & Marketing
Certainly, for your products store to work you need a perfect eCommerce SEO marketing plan that would increase traffic to your site and help get ROI.
Data Imports
In case you want the past orders/product data to be imported to your new eCommerce which can add to the development costs of your eCommerce store.
Ecommerce development company
Of course, the Magento eCommerce development company you select is also going to decide the Magento pricing for your store. Of course, if you select a company that offers the services at higher prices then it will directly affect the overall budget.
Designs affect pricing
The look of your website is very important. It is the first impression for your customers. It becomes important to have website looks that go with your business. Of course, a dull-looking website wouldn't create that impact on your customers and it can directly affect the conversion rate.
On the other hand, the design you choose should also be responsive so that your customers can have a great experience through all devices. It will certainly add to the costs of your eCommerce store but it is essential and helps you boost your sales in the future.
Compromising your website design and settling down for some not-so-impressive design can certainly affect your sales. It may add to your budget but it is worth it.
Make sure, you consider the features of Magento for your eCommerce store so that you invest in the features that you need. This will help you get what you want and what your customers expect out of your business. Magento has enormous features and not all of them are required for your store. You need features that help your store meet the business needs and your customers have a great experience sailing through your store and purchasing.
The intelligent investment is certainly going to help and get better ROI. So,  make sure you understand your business needs better.