Attention to all industry professionals! Are you ready to take your business to the next level? Look no further as we have curated an exclusive list of must-attend eCommerce events in 2023 that are guaranteed to offer you invaluable insights, cutting-edge trends, and unparalleled networking opportunities. These events bring together industry leaders from all corners of the globe, creating a collaborative environment for sharing expertise and shaping the future of eCommerce. Aspiring entrepreneurs or seasoned experts alike are welcome to join us on this journey towards success by unlocking new possibilities and staying ahead in the fast-paced world of online commerce. Get ready to elevate your business game, make new connections, and plan accordingly by saving these important dates in your calendars. We look forward to seeing you there!
1. NRF 2023 Retail's Big Show
NYC, USA
January 15-17, 2023
Get ready for an extraordinary networking experience at NRF 2023 Retail's Big Show in the vibrant city of NYC, USA. Taking place from January 15th to 17th, 2023, this highly anticipated event promises to be a game-changer for industry professionals. With over 350 speakers and close to a thousand exhibitors, NRF 2023 is set to deliver unparalleled opportunities for learning, collaboration, and business growth. Stay ahead of the curve as you listen to influential figures like John Furner, the President and CEO of Walmart U.S., Carlos Londono, the Head of Supply Chain at Chipotle Mexican Grill, and Valerie de Charette, the Head of International eCommerce at American Eagle Outfitters Inc. These visionary leaders will share their insights and strategies to shape the future of the retail industry. Prepare to be inspired, forge new connections, and discover the latest trends that will drive success in the world of retail. Don't miss your chance to be a part of this groundbreaking event.
2. Los Angeles eCommerce Summit
Los Angeles, USA
February 1, 2023
Experience the pinnacle of eCommerce expertise at the Los Angeles eCommerce Summit in the vibrant city of Los Angeles, USA on February 1, 2023. This one-day gathering of industry experts at the Westin Bonaventure Hotel is designed to foster idea-sharing and networking opportunities. Immerse yourself in a day filled with insightful presentations, engaging panel discussions, and valuable networking sessions. With a lineup of renowned speakers representing established retailers and brands, such as Russell Peterson, the eCommerce Manager at Harley-Davidson, Zach Smith, the Manager of Global Direct to Consumer Omnichannel at Levi Strauss & Co., and Joline Nehoray, the Co-Founder & Owner of Beverly Hills Lingerie, attendees can expect to gain valuable insights and inspiration. This event is your gateway to unlocking the latest trends, strategies, and innovations in the world of eCommerce. Mark your calendar and be prepared to elevate your business to new heights at the Los Angeles eCommerce Summit.
3. Shoptalk 2023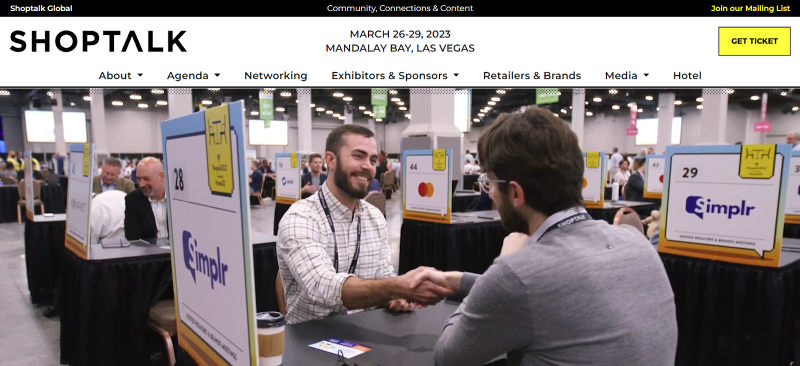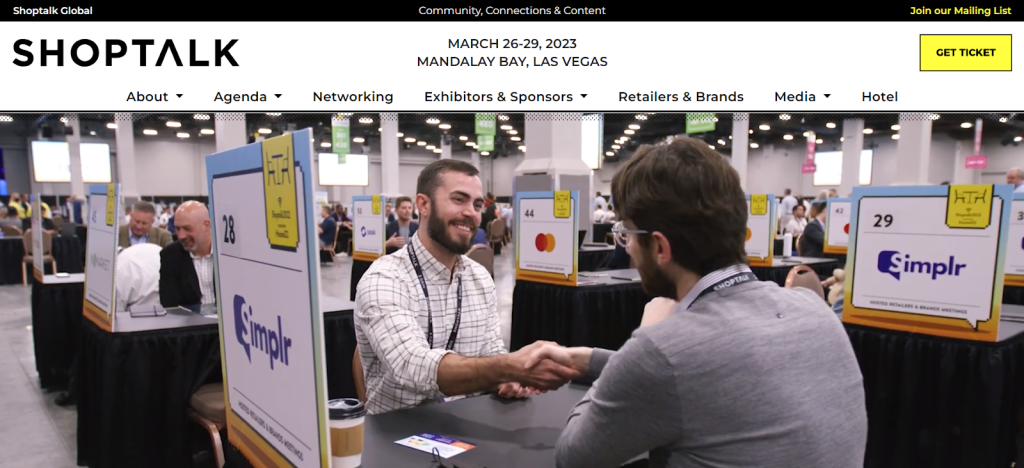 Las Vegas, USA
March 26 -29, 2023
Shoptalk 2023, the ultimate gathering for retail and eCommerce professionals, is set to take place in Las Vegas, USA from March 26th to 29th, 2023. This highly anticipated event brings together industry leaders, innovators, and disruptors to discuss the latest trends, strategies, and technologies shaping the future of retail. With a diverse lineup of speakers, including Lucas Herscovici, Chief Direct-to-Consumer Officer at AB InBev, Samir Desai, Chief Digital & Technology Officer at Abercrombie & Fitch Co., and Sri Donthi, EVP & Chief Technology Officer at Advance Auto Parts, attendees can expect to gain valuable insights from top executives representing leading brands and retailers. Shoptalk 2023 provides an unparalleled opportunity for networking, knowledge-sharing, and collaboration in a dynamic and immersive environment. Don't miss out on this transformative event that will drive the future of retail forward.
4. Adobe Summit: The Digital Experience Conference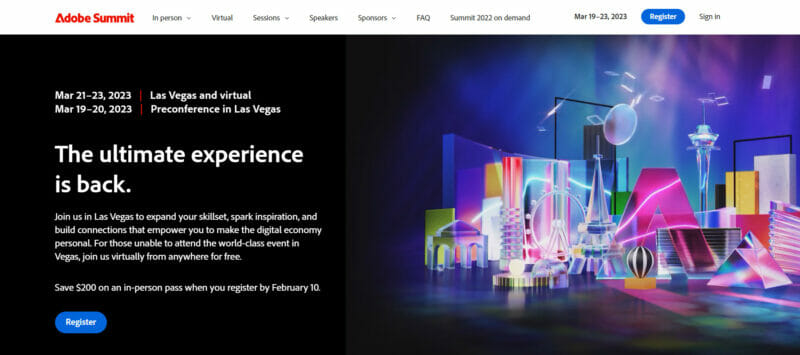 Las Vegas, USA
March 21 – 23, 2023
Prepare to immerse yourself in the exciting and dynamic world of digital experiences at Adobe Summit: The Digital Experience Conference in Las Vegas, USA, from March 21st to 23rd, 2023. Whether you're a seasoned experience maker, marketer, or technology enthusiast, this event is tailored to equip you with new skills and inspire you to create extraordinary customer experiences that stand out. With over 200 sessions that cover a broad spectrum of topics like analytics for customer journeys, collaborative work management, personalized omnichannel engagement strategies, customer data management, and content-driven performance insights – attendees will gain invaluable knowledge and insights about all things digital. Additionally, the pre-conference training on March 19th offers an exceptional opportunity for hands-on learning to build upon your existing expertise. By joining industry leaders, experts, and other professionals at Adobe Summit: The Digital Experience Conference in Las Vegas this year- you can unlock your creative potential and leave with practical solutions to deliver unforgettable digital experiences for your customers. Don't miss this chance to stay ahead of the curve by discovering all the latest trends, technologies, and best practices in the dynamic world of digital marketing!
5. Savant eCommerce Conference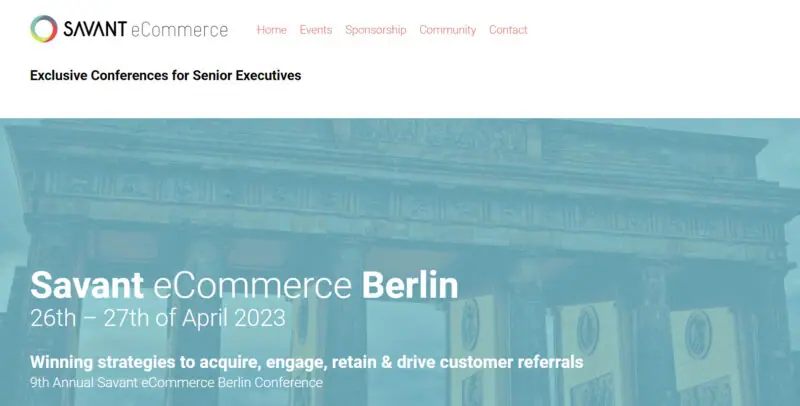 Berlin, Germany
April 26-27,2023
Experience the exclusive Savant eCommerce Conference in the vibrant city of Berlin, Germany on April 26th and 27th, 2023. This boutique conference is specifically tailored for senior executives, providing a unique platform to address key concerns in the eCommerce industry. With a focus on data and the environment, next year's event aims to tackle pressing issues and explore innovative solutions. Esteemed VIP speakers will delve into topics such as AI-powered eCommerce, lessons learned from the pandemic, data tracking solutions, and supply chain challenges. Gain invaluable insights from industry leaders and experts, and expand your knowledge on the latest trends and strategies shaping the eCommerce landscape. Savant eCommerce Berlin offers an intimate setting for networking, knowledge-sharing, and collaboration among senior executives. Don't miss this exceptional opportunity to be part of a conference that focuses on driving positive change and growth in the eCommerce sector.
6. iMedia Online Retail Summit Australia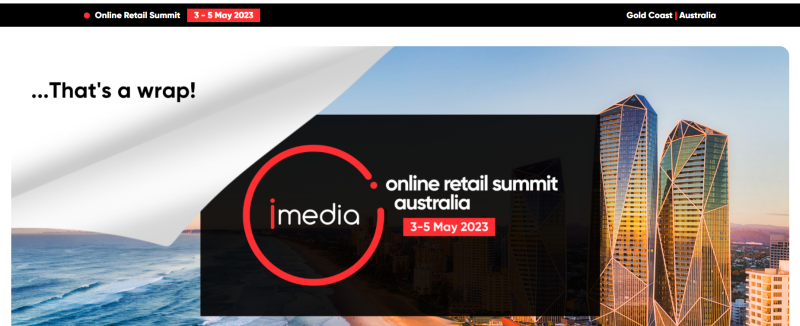 Gold Coast, Australia
May 3-5, 2023
Make plans to attend the iMedia Online Retail Summit Australia 2023, an exclusive event for online retail professionals and industry leaders. This dynamic summit will take place in the stunning Gold Coast from May 3rd to 5th, offering valuable insights into current trends, strategies, and technologies that drive success in digital retail.
Featuring interactive panel discussions and engaging presentations from top experts in the field, attendees will have ample opportunities to learn about e-commerce innovation, customer experience optimization, digital marketing strategies, emerging trends in online retail, and more. Plus, network with fellow like-minded professionals and exchange ideas on how to stay ahead of the game in this rapidly evolving industry. As you leave this summit with new insights fresh on your mind, you will be armed with innovative tools necessary for driving forward your business. Don't miss out on this fantastic opportunity- secure your spot at the iMedia Online Retail Summit today!
7. Sellers Summit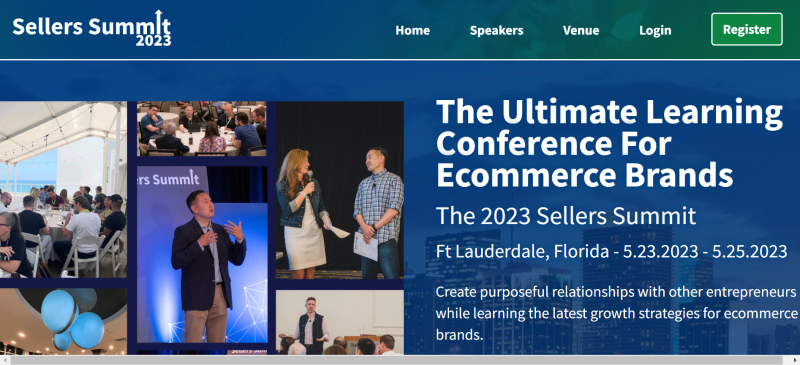 Florida, USA
May 23 – 25, 2023
The Sellers Summit is an unparalleled eCommerce workshop experience that you won't want to miss. Taking place in picturesque Fort Lauderdale, Florida, USA from May 23rd to 25th, 2023, this exclusive event is designed with the serious entrepreneur in mind. With limited spots available (approx. 200), you'll have the chance to connect with industry experts and like-minded individuals in a small group setting. This hands-on approach allows for deep dives into the world of eCommerce, where you can learn cutting-edge strategies and tactics that are vital to success in today's fast-paced digital landscape.
From emerging trends to best practices, you'll receive training from some of the top minds in eCommerce and build valuable networks that can help take your business to new heights. Whether you're a seasoned veteran or just beginning your journey into eCommerce entrepreneurship, there's something for everyone at the Sellers Summit.
At this transformative event, attendees can expect an immersive learning experience that is both impactful and engaging. So don't wait – head over to the Sellers Summit website now and secure your spot before it's too late!
8. B2B Summit North America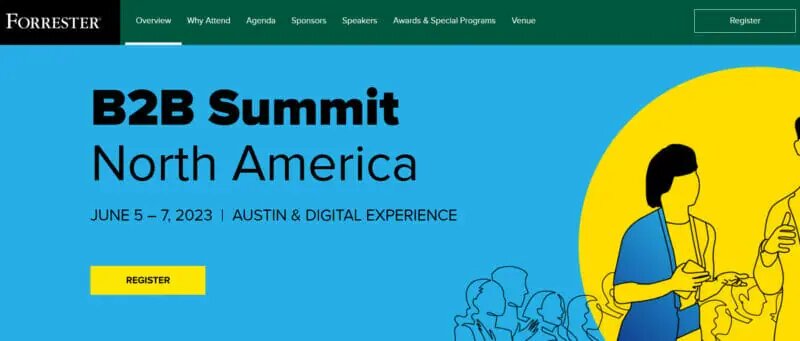 Texas, USA
June 5-7, 2023
Clear your schedules and make room for a transformative learning experience at the highly anticipated B2B Summit North America, set to take place in the vibrant state of Texas, USA from June 5th to 7th, 2023. As leaders and innovators within the B2B industry, this summit has been designed exclusively for experienced sellers and Chief Marketing Officers (CMOs), aiming to arm attendees with cutting-edge strategies and tactics they need to drive revenue growth. By means of thought-provoking insights derived from groundbreaking research, and real-world case studies demonstrating best practices, participants will learn how to establish valuable peer connections within the thriving B2B community. While further details regarding the exact itinerary are still under wraps, you can look forward to an exciting line-up of topics encompassing account-based marketing, data analytics, insightful measurement techniques as well as strategies related to portfolio marketing. This is your opportunity to get ahead by staying abreast with the latest selling trends in B2B sales and marketing that will elevate your business's success rates. Don't let this chance pass you by – leverage it to unleash your full revenue generation potential like never before! For more information on this not-to-be-missed event please stay tuned on our website provided by Forrester.
9. Retail Innovation Conference & Expo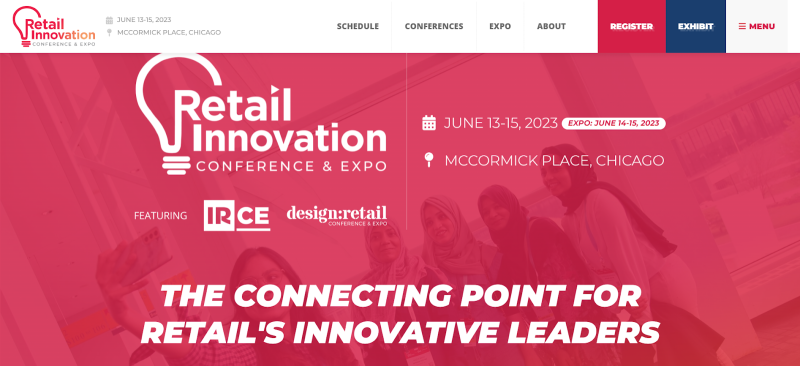 Chicago, USA
June 13-15, 2023
Prepare to be wowed by the unparalleled experience that awaits you at the Retail Innovation Conference & Expo, set to take place in Chicago, USA from June 13th to 15th, 2023. Drawing more than 5000 attendees annually, this conference serves as a hub for innovation and presents the latest industry trends within retail. Held at the prestigious McCormick Place, this event offers a unique platform for networking, knowledge-sharing, and collaboration – all with an eye toward driving advancements in this exciting arena.
In attendance will be an impressive lineup of distinguished speakers representing some of today's leading retail organizations. They'll share their experiences and offer insights on how retailers can stay ahead of emerging trends while navigating challenges that arise along their path to success. With over 300 exhibitors showcasing cutting-edge technologies and solutions designed to spark innovation within the industry, attendees will have ample opportunity to explore new possibilities.
Additionally, there are not one but sixteen workshops featuring collaborative sessions delivering authentic learning experiences where attendees can engage in hands-on exercises alongside fellow professionals.
Don't miss out on this exceptional opportunity in a dynamic and inspiring environment! Join fellow thought leaders, innovators, and other members of your professional community at what promises to be an unforgettable event. For more information and continuous updates leading up to the big day visit our official website: The Retail Innovation Conference & Expo!
10. Grow NY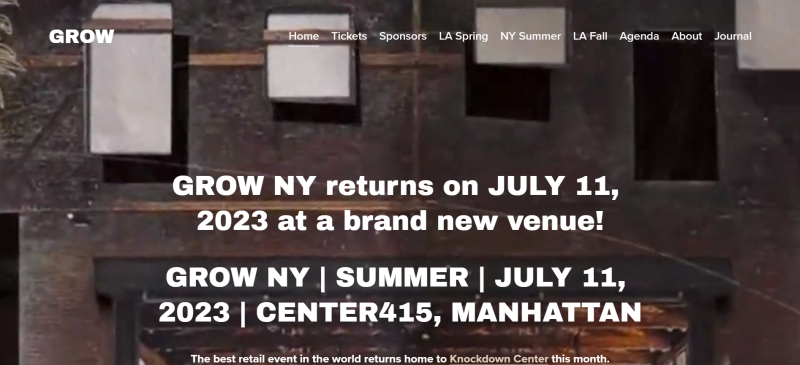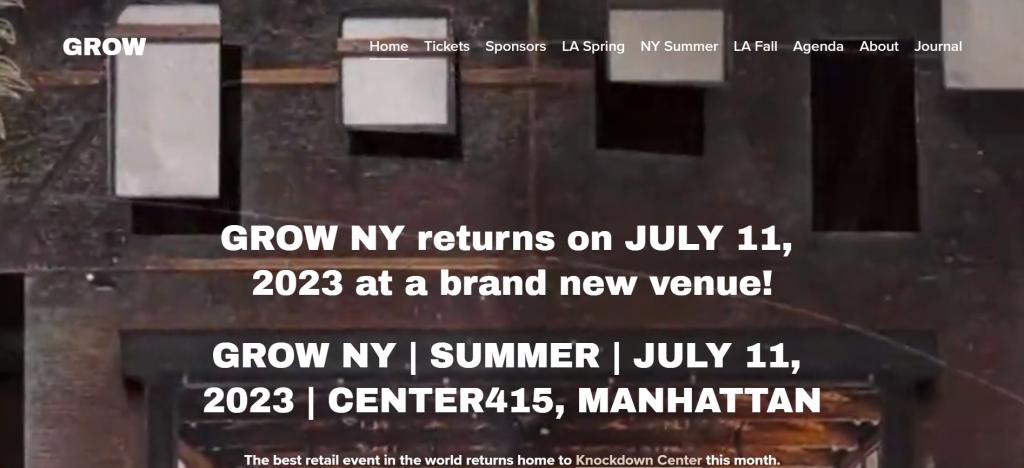 NY, USA
July 11, 2023
Discover the intersection of retail conversation and human connection at Grow NY, a captivating one-day event taking place in the vibrant city of New York, USA on July 11th, 2023. This event is designed to bring together industry professionals and thought leaders for insightful discussions and meaningful connections. Gain valuable insights and inspiration from engaging in conversations on various topics that are vital to the retail industry. Previous editions of Grow NY have covered diverse subjects such as product development and design, supply chain and shipping, brand awareness, designing for conversion, livestream shopping, sustainability and transparency, and email automation and flow optimization. Immerse yourself in a dynamic environment where you can learn, network, and grow your retail business. Stay tuned for more details and updates on the official Grow NY website.
11. The White Label Expo 2023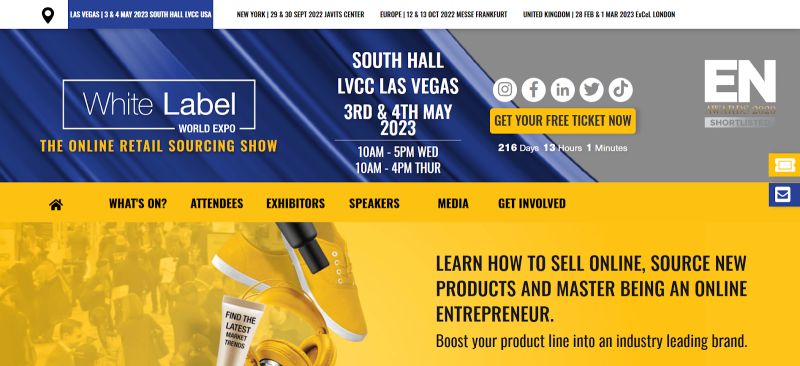 NY, USA
August 29-30 2023
Save the date for White Label Expo 2023 — the most anticipated wholesale, eCommerce, and product branding event in the US. This exclusive expo represents a melting pot of the latest strategies, innovations, and emerging trends in retail that will keep you ahead of your game. Set to be held in New York City on August 29th and 30th, 2023, this grand event is expected to draw around 10,000 attendees with 400 suppliers showcasing their products. You won't want to miss hearing from our incredible lineup of speakers including seasoned industry experts like Kenisha Dennis, Digital Partnerships and Social Marketing Lead at Meta; Liana Zavo, PR and media expert; Dean Scaduto, Digital Marketing Advisor at The Influencer Marketing Factory; and Petia Abdur-Razzaaq, digital marketing strategist. At this expo, you'll gain valuable insights into enhancing your business strategies as well as improving your product branding techniques. Stay ahead of the curve by joining us at White Label World Expo! Go to our official website now for more information on this exciting event!
12. Paris Retail Week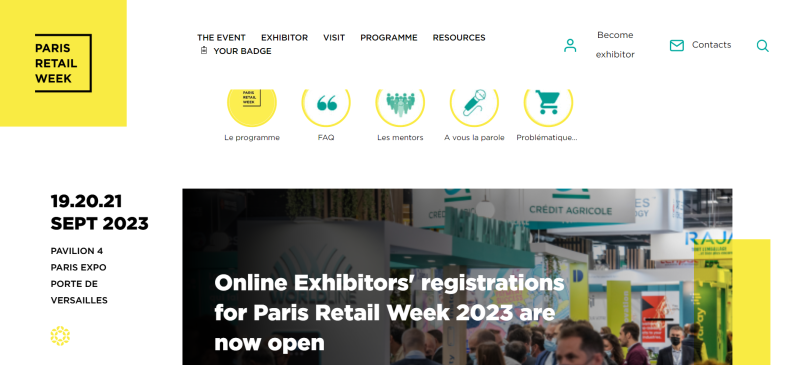 Paris, France
September 19 – 21, 2023
Mark your calendars for the most significant event of the year in the European retailing ecosystem – Paris Retail Week. The exquisite city of Paris, France will host this event from September 19th to 21st, 2023. This prestigious gathering is a must-attend for industry professionals looking to stay up-to-date with the latest trends and innovations in retail. With over 15,000 participants and more than 300 exhibitors, attendees get unparalleled opportunities to network and learn.
Paris Retail Week features plenary conferences addressing eight crucial business issues faced by e-retailers: omnichannel commerce, marketing, logistics, marketplaces, CSR, data, new payments, and agile customer journey. These thought-provoking discussions are led by industry experts and leaders who impart their insights on various topics.
As part of its agenda, Paris Retail Week recognizes the best companies in retail through its prestigious Paris Retail Awards across seven business categories. The event offers a unique combination of learning and networking opportunities unlike any other in the heart of Paris.
Visit the official website for more information and updates on this exceptional event that combines learning, networking & recognition! Get ready to be inspired at Paris Retail Week!
13. eCommerce Expo Asia 2023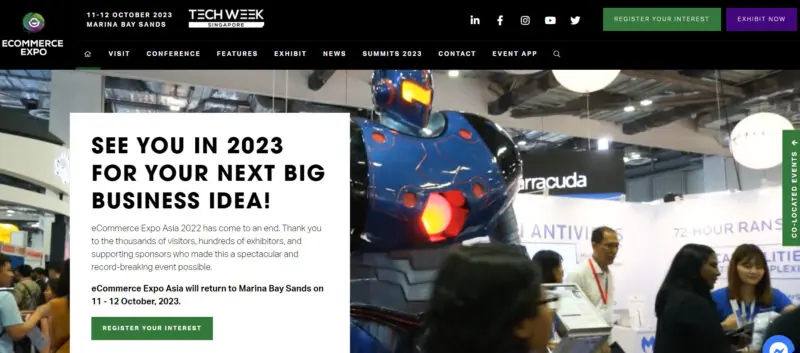 Marina Bay Sands, Singapore
October 11-12, 2023
The e-commerce, retail, and marketing technology industry in Asia is gearing up for an exciting and comprehensive two-day event, eCommerce Expo Asia 2023. This unparalleled gathering of participants from across diverse sectors will take place on October 11th and 12th, 2023 at the esteemed Marina Bay Sands in Singapore. Attendees will benefit from a unique opportunity to exchange knowledge and explore cutting-edge technologies and trends that are shaping the e-commerce landscape.
Whether you are an astute business owner, seasoned marketer, or avid technology enthusiast, eCommerce Expo Asia is undoubtedly an exceptional platform that offers valuable insights into the Asian e-commerce market. Do not miss out on this remarkable occasion to expand your network with forward-thinking individuals whilst staying abreast of innovative solutions that will push your business forward.
For more information regarding the exposition as well as regular updates concerning this specialized event designed exclusively for industry experts, kindly visit the official website of eCommerce Expo Asia 2023.
14. Advanced eCommerce & Retail Expo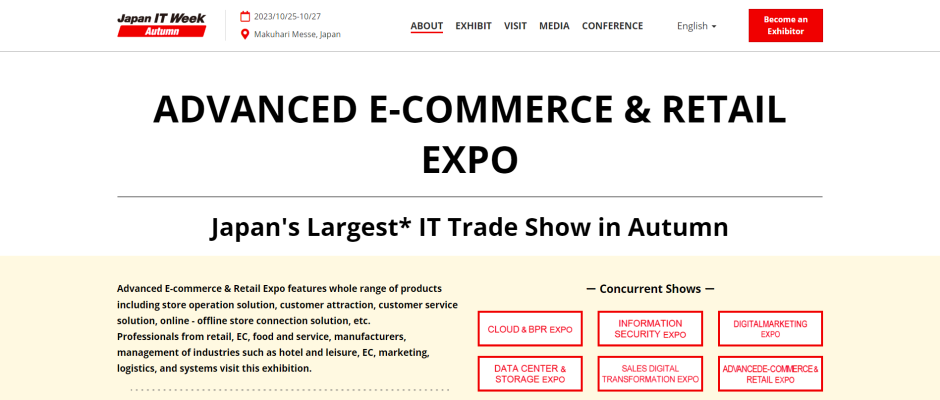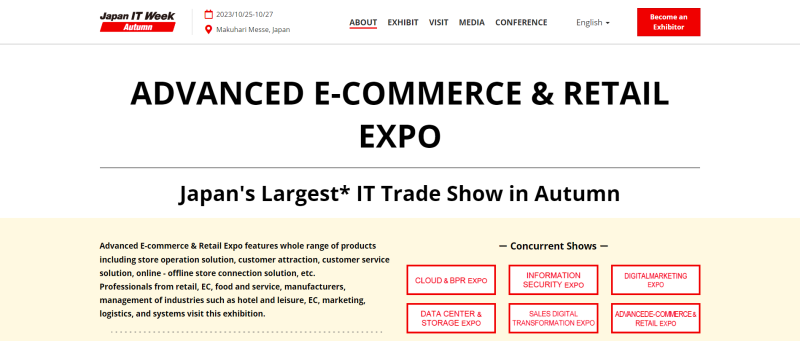 Chiba, Japan
October 25-27, 2023
Industry professionals across retail, marketing, logistics, eCommerce, manufacturing, and other sectors are eagerly anticipating the Advanced eCommerce & Retail Expo scheduled to take place in Chiba, Japan from October 25th to 27th, 2023. This event is highly regarded as one of the largest IT expos in Japan where a range of exhibitors will showcase cutting-edge solutions. Attendees can expect to explore eCommerce website design and development companies, eCommerce website promotions, store operation solutions as well as logistics services. The expo offers an unparalleled opportunity to enhance online presence and operations while expanding networks with other professionals. Don't miss out on this exciting event where innovative solutions meet industry experts. For complete information about the Advanced E-commerce & Retail Expo visit their official website now!
15. Customer Engagement Summit 2023
London, UK
November 28, 2023
The Customer Engagement Summit 2023 is set to take place on November 28th in the bustling and dynamic city of London, UK. As the largest customer engagement event in all of Europe, this summit offers an expansive variety of content covering every aspect of customer engagement.
Top-level speakers from some of the most prestigious international brands will be featured at this highly anticipated event, sharing real-life case studies that highlight the latest innovations shaping the world of customer experience. Attendees can anticipate access to 20 exclusive presentations and numerous networking opportunities with peers within their industry.
This year's theme is "The Only Constant is Change: The Role of Human Experience and Technology in Transforming CX". Through exploring how technology and human experience can collaborate to elevate customer experiences, attendees will gain invaluable insights into navigating the ever-evolving landscape of customer engagement.
The Customer Engagement Summit guarantees a transformative experience when it comes to customer engagement. To ensure your spot at this one-of-a-kind event, visit the official website for more information and registration details.
The Bottom Line
In conclusion, the year 2023 is set to be an exciting time for the eCommerce industry with a lineup of must-attend events that promise to deliver valuable insights, networking opportunities, and cutting-edge innovations. Whether you're a seasoned professional or just starting out in the field, these events offer a wealth of knowledge and inspiration to propel your eCommerce journey forward.
From the bustling streets of Los Angeles to the vibrant city of Paris, these events span across continents, bringing together industry leaders, innovators, and experts under one roof. Each event has its unique focus areas, ranging from customer engagement and retail innovation to B2B strategies and digital experiences. With thought-provoking sessions, engaging workshops, and real-life case studies, these events provide a platform for learning, collaboration, and staying ahead of the curve in the ever-evolving eCommerce landscape.
As you plan your calendar for 2023, make sure to mark these events as must-attends. Embrace the opportunity to connect with like-minded professionals, gain valuable insights from industry pioneers, and discover the latest trends and technologies that will shape the future of eCommerce.
If you have any further questions or need assistance, don't hesitate to reach out to Viha Digital Commerce. Our team is here to support you on your eCommerce journey and help you make the most out of these incredible events. Get ready to elevate your eCommerce strategies, expand your network, and drive your business forward in 2023.
Happy attending and here's to a successful year in eCommerce!
Contact us at Viha Digital Commerce for any further inquiries.