Adobe Commerce SEO (Search engine optimization) is a tool that aids in optimizing your website based on particular keywords so that it appears higher in Google search results.
Whether a brand has addressed all customer search queries determines how high Google ranks the websites. Customers who conduct searches on Google receive a variety of outcomes. These findings are described in the sections that follow.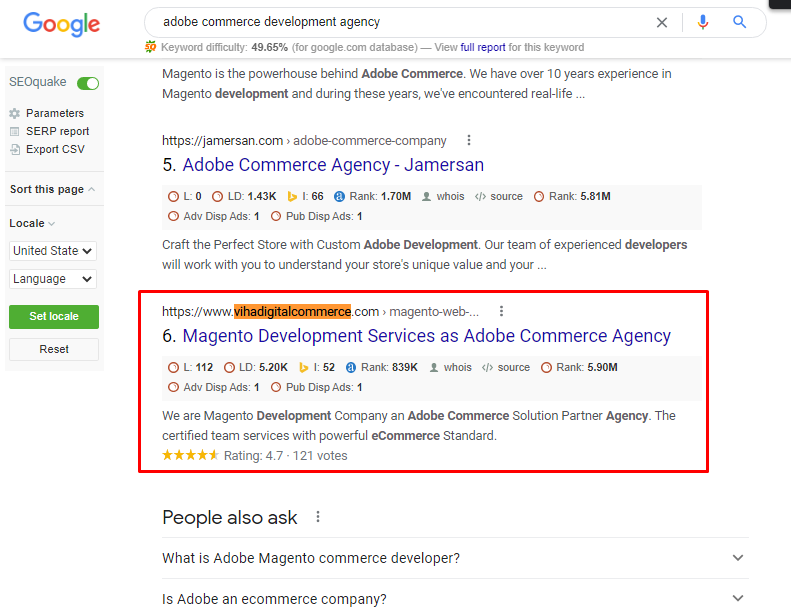 SEO tactics comprise the following:
On-Page SEO Setup for eCommerce Store
Integrate Google Analytics to your Adobe Commerce Store.
Setting up a Bing Destination.
Building an SEO-Friendly Adobe Commerce Store.
B2B SEO campaigns seek to raise brand recognition and lead generation, which improves conversion rates. B2C SEO campaigns are designed to draw customers who will make quick purchases.
SEO can increase the traffic to your website, which will increase sales and return on investment. To gain a competitive edge, hire Affordable SEO Ecommerce services from Viha Digital Commerce Ltd.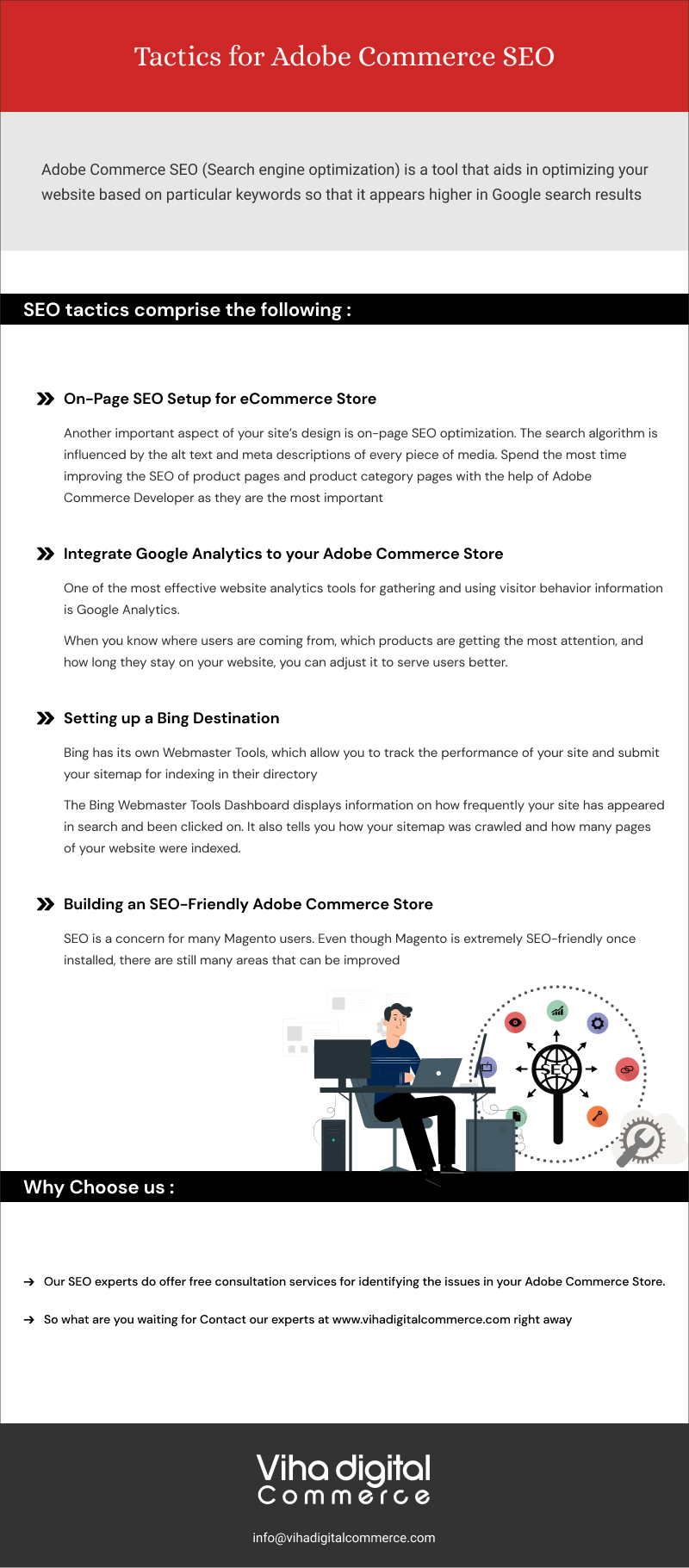 On-Page SEO Setup for eCommerce Store
Another important aspect of your site's design is on-page SEO optimization. The search algorithm is influenced by the alt text and meta descriptions of every piece of media. Spend the most time improving the SEO of product pages and product category pages with the help of Adobe Commerce Developer as they are the most important.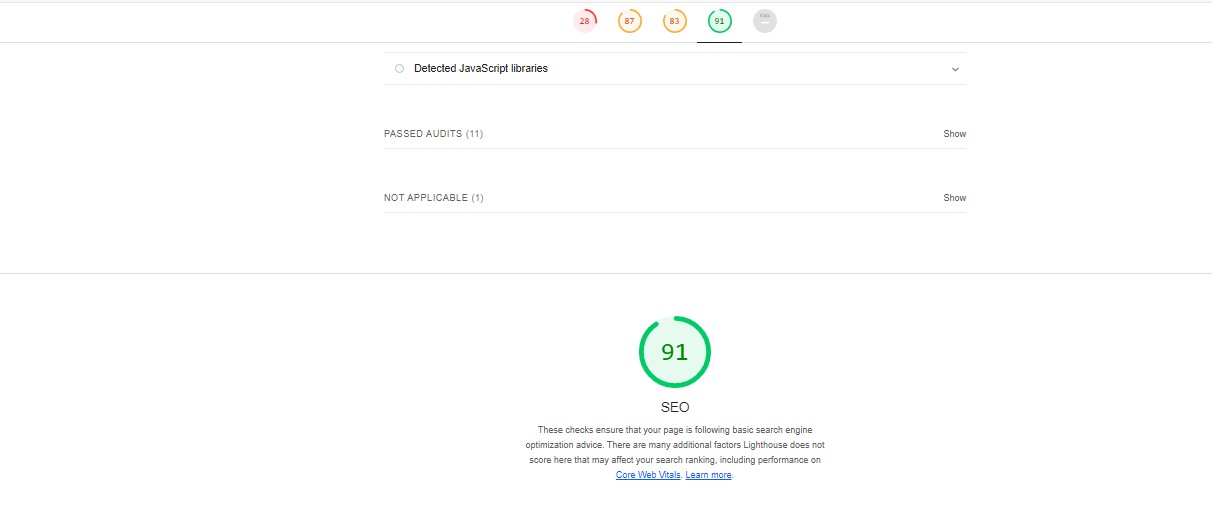 You are already required by many e-commerce platforms to enter some common SEO attributes. However, make sure your website has canonical tags, sitemap.xml, robots.txt, and title tags with the name of your store, as well as social media sharing and linking options.
Additionally, you must include pertinent keywords in your site's title tags, alt text, file names, and meta descriptions. Select URLs that are between 50 and 60 characters long, include your keywords and are simple to read.
On your product and product category pages, write extensive, helpful descriptions. In particular, if they are advantageous to the user, Google notices these. Large product catalog companies may find this overwhelming, but they should just start with their most well-liked items.
Other pages will follow once those start to rank higher. Writing more content gives you the chance to use more keywords, which can affect SEO performance. However, avoid "keyword stuffing" at all costs. This method of artificially incorporating keywords will turn off both readers and search engines.
Google Analytics should be added to your Adobe Commerce store
One of the most effective website analytics tools for gathering and using visitor behavior information is Google Analytics.
When you know where users are coming from, which products are getting the most attention, and how long they stay on your website, you can adjust it to serve users better.
Furthermore, if you delve deeper into the options, there is much more information available to you than what is provided to you by Google Analytics.
Here, we'll show you how to quickly and easily add Google Analytics to Magento 2 so you can improve the quality of your customer experience.
Google Analytics should be added to Magento 2
Set up Google Analytics by going to your Magento 2 admin panel and selecting Stores > Configuration > Sales > Google API.
Enable Google Analytics in Magento
Enter the account number that goes with the tracking ID from your GA account. (You can find it under the Property Settings tab).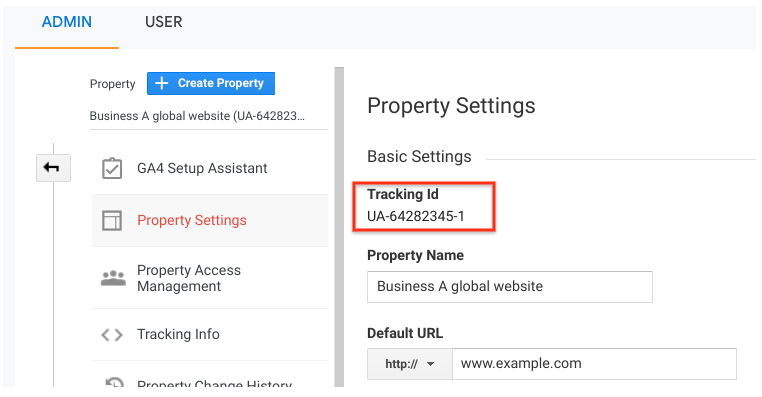 Decide whether or not you want to anonymize your IP. To protect your customers' IP addresses, we advise that you always enable this option.
If you want to perform A/B testing or other performance tests, enable Content Experiments.
After having finished, remember to Save Config and verify that everything functions as it should.
Use the Tag Assistant Legacy Chrome extension to check whether GA is properly implemented.
Setting Up Your Bing Webmaster:
Bing has its own Webmaster Tools, which allow you to track the performance of your site and submit your sitemap for indexing in their directory.
The Bing Webmaster Tools Dashboard displays information on how frequently your site has appeared in search and been clicked on. It also tells you how your sitemap was crawled and how many pages of your website were indexed.
The information in this section differs from that in analytics accounts in that it is more focused on the health of your website and its search performance. Analytical tools typically monitor your overall traffic and provide insights about your audience.
Bing Webmaster Tools also allows you to discover your most popular keywords, see which external links are heading to your website, and begin using some of the diagnostics and tools offered to optimize your website.
How To Create Your Bing Webmaster Tools Account

To track traffic to your website, you must first create a Bing Webmaster account. The following link explains how to achieve this:
Register for Bing Webmaster Tools >> You can sign up using your Microsoft Account, Google Account, or Facebook Account.
How to Include a Website in Google Search Console
If you already have a Google Search Console account, you may use it to import your website to Bing Webmaster Tools without having to personally authenticate it.
Importing a website from Google Search Console is simply for granting access to that site in your Bing account and importing any associated sitemaps. Bing will not have access to the analytical data stored in your Search Console as a result of the import function.
To add your site to Google Search Console, follow these steps:
Select Import from the Import your sites from Google Search Console drop-down menu.

Press the Continue button.

Choose the Google Account that you used to create your Search Console account.

Give Bing.com permission to use your Google Account.

Choose the website you want to import and click Import.

Click Done to complete the process.
How to Manually Add a Website to Your Account
To manually connect your Create website to your Bing account, enter your website URL when prompted and click Add.

You will next be asked to authenticate your website's ownership. In this verification process, follow the instructions for Option 2.
Option 2 will provide you with code that looks somewhat like this:
/>meta name="msvalidate.01″ content="78F20004E9E…………….."
Copy this code and put it into the Custom HEAD> section of your Create account's home page.
Please follow the instructions below to locate this location in your account:
 Access your Create account.

From the top menu, select Content.

Hover your mouse over the Page Options icon next to your Home Page.

From the top tabs, select Meta Info.

Copy and paste the code into the Custom HEAD>: area.

To confirm, click Save Changes.
You must re-publish your site after adding the code to your account. Return to the Verify page in Bing Webmaster Tools and click Verify.
You will then be directed to your dashboard, where you can begin using the tools: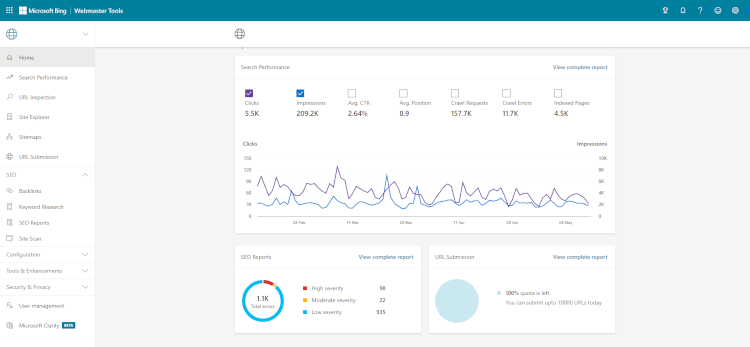 Create an Adobe Commerce Store that is SEO-friendly:
SEO is a concern for many Magento users. Even though Magento is extremely SEO-friendly once installed, there are still many areas that can be improved. The top three technical Magento issues that need to be fixed immediately are listed below, along with a number of other Magento SEO tips that people recommend:
Duplicate content on multiple pages

The HTML sitemap is not optimized.

Create a Magento 2 XML sitemap.

Boost product image quality.

Boost the speed of your Magento 2 online store.

Change the Robots.txt file.

Problem with the default title and description for Magento 2

How to add a meta title and meta description to a product, category, or content page in Magento 2.

Using Magento 2's search-friendly URLs

Delete the URL's default store code.

Your Magento store should have a blog page.

Obtain high-quality links to your store from a variety of sources.
The Importance of Adobe Commerce SEO
Adobe Commerce's flexibility, which results from the platform's openness, is the real advantage it offers you in terms of SEO. They are fully capable of restricting the content that can be indexed and crawled, having the capacity to develop their own original logic and modules that provide complete admin control to SEO teams. The way things go is essentially under your control. If you look at it from an SEO angle, you can develop solutions based on your catalog and company objectives.
Why choose us?
Need help building an SEO-friendly Adobe commerce store? If yes, then hire our SEO experts at very affordable prices by availing of our affordable SEO packages.
Our SEO experts do offer free consultation services for identifying the issues in your Adobe Commerce Store.
So what are you waiting for?
Contact our experts at info@vihadigitalcommerce.com right away.
Thank you.