You can easily enhance the speed of your e-commerce store with the help of professional Magento upgrade services. It also provides better security for your online store. It would be a smart decision to upgrade your online store to a higher version.
Why do you need to upgrade your Magento online store to the higher Version?
In case your Magento online store is operating on an older version then there are multiple risks of getting hacked which can directly affect your business in no time.
It may lead to database loss which comprises your entire crucial customer data. You can avoid all these risks by quickly upgrading your online store to the latest version of Magento. This will help you experience higher scalability, and advanced features, and speed up improved store performance that comprises increased conversion rates, decreased loading time, better user experience, improved security against hacks and bugs, streamlined checkout, etc.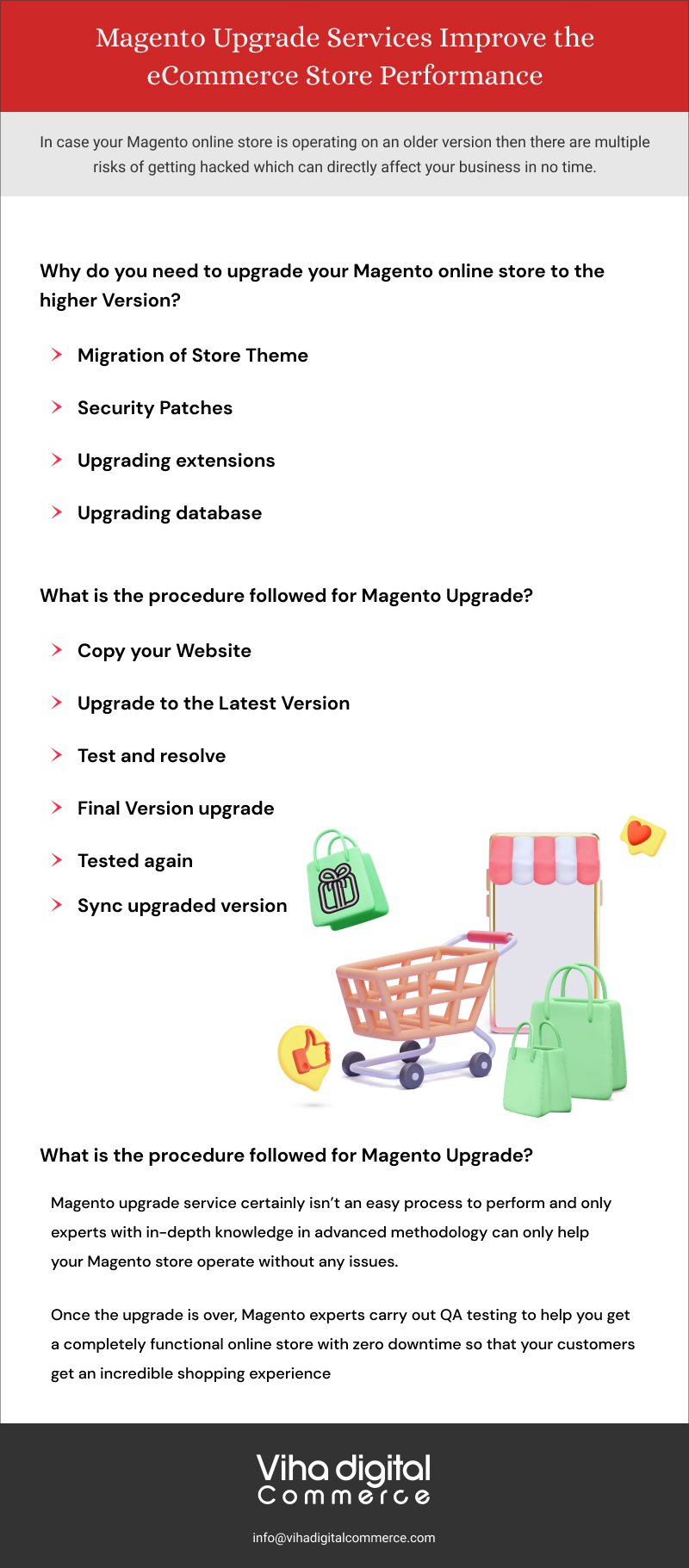 eCommerce Facilities provided by professional Magento upgrade service are:
Magento core upgrade
Magento database is upgraded
Installed extensions are updated
Installation of the newest security patches
Transfer of Store theme
When you assign the process of Magento 2 Version Upgrade Service to expert Magento upgrade services, you will be able to get upgraded your Magento store without any hassles and you can help your customers enjoy a better shopping experience without any issues.
Migration of Store Theme
Your store theme needs to support the latest version of Magento you wish to upgrade to. In case it doesn't then the experts ask you to purchase a compatible version of storing them from the respective theme provider you want to purchase from. Also, you can get the new template design developed from PSD files if you already have them by paying an additional cost.
Security Patches
The latest versions of the security patches are installed as per the requirements of Magento's latest version. This will ensure a high level of security for your store.
Upgrading extensions
You can keep the extensions that you want and it is necessary to have all those extensions be compatible with the latest Magento version you want to upgrade your store to. Magento upgrade services install those extensions, check for any bugs, and deliver a report for any issues identified.
Upgrading database
Your store database is upgraded which includes media, products, orders, customer base, and other store data.
What is the procedure followed for Magento Upgrade?
The Magento upgrade services follow a checklist created by their experts and a particular methodology to carry out the Magento upgrade. These are planned procedures taken to attain the goal.
Copy your Website
A local copy of the Magento store you own is created on the server of the Magento upgrade service provider and they give you 24 X 7 access to you.
Upgrade to the Latest Version
With the advancement of technology, digitization, and security, every CMS must be updated. Magento is the most popular and widely used eCommerce platform. In order to cope with technology, performance, scalability, and security, diverse version updates are released on a regular basis by Magento
Magento 2.4.5 is the most recent version, and it includes the following features
support for PHP 8.1

improved security

platform enhancements

a jQuery UI upgrade

GraphQL enhancements

updated vendor-bundled extensions
After upgrading your Magento store, you will notice a significant improvement in-store performance, which will result in a better user experience.
Test and resolve
Your store is thoroughly tested at each stage after every upgrade and the Magento installed is tested and bugs are fixed if found. You can also test the copy of the upgraded store on your own to ensure everything is working fine.
Final Version upgrade
Once the upgrade to the mediator Magento version is over and all the bugs are fixed, your store is now upgraded to the final or the expected version of Magento.
Tested again
The upgrade to the final version is tested again to identify and fix the bugs. You will be presented with a detailed report about any issues related to customization or extensions if discovered.
Sync upgraded version
At last, when the entire version is checked and works perfectly, the Magento upgrade services will talk to you about the right time you prefer to sync the Magento upgraded version of the store with the live site. The time recommended for sync is the time when there is not much activity happening on your website.
Why need an expert Magento upgrade service?
Magento upgrade service certainly isn't an easy process to perform and only experts with in-depth knowledge in advanced methodology can only help your Magento store operate without any issues.
Once the upgrade is over, Magento experts carry out QA testing to help you get a completely functional online store with zero downtime so that your customers get an incredible shopping experience.
It doesn't matter whether your store has a complex theme, 3rd party integrations, etc all you need to provide to Adobe Commerce Magento Developers is your Magento database, site URL, website details, store theme, credentials for admin, and FTP details. You will get to improve the performance and functionality of your online store with the Magento upgrade service and help your customers get a flawless shopping experience through your store.
Many Magento upgrade services offer affordable upgrade packages for your Magento store. Make sure you go through the reviews of the services you are planning to hire Magento 2 developers before you decide to hand over the upgrade task to them. It will help you get better services.
Magento experts can also assist you in enhancing the page speed of your website for optimizing your store performance, Speed up the page is now one of Google's ranking algorithms; therefore it's not a good idea to neglect it. Experts optimize the store's speed and performance by analyzing every aspect of your store's digital presence. This will assist them in removing any bottlenecks that are negatively impacting the performance of your store.