The paradigm of work culture, technology, and online shopping has been shifted following technological advancements and the need of the hour. Magento stores have become the leading eCommerce website development platform following the features, Magento SEO friendliness, speed, easy business operations, convenient deployment, Magento Multiple languages store functionality, and modifications that have made this online store development to be the first choice of Certified Magento developers.
After successfully handling all types and sizes of businesses with its prior versions, Magento launched Magento 2.4.2 version for enhanced shopping experience for the customers as well as to boost the growth of the business of the online store owner with advanced Magento Inventory Management. 
Today, we will put light on the features and functionalities of Magento Inventory Management in this article. To make it easy for the readers who want to know what Magento Inventory Management and How to manage inventory in Magento is, we are providing brief and accurate information to make the reader understand it properly and execute it.
What Is Magento Inventory Management?  
To manage the product inventories on your eCommerce site Magento Inventory Management gives you advanced tools to manage them easily and conveniently. These features of Magento Inventory can be useful to merchants with a single store to multiple warehouses, stores, pickup locations, drop shippers, and more. These features of Magento for Inventory management are useful to maintain quantities of sales and handle shipments to complete orders.
Along with managing inventory with Magento the admin can track inventory quantities, provide accurate saleable stock amounts to customers for all of the websites, and ship according to recommendations based on distance or priority.
It allows you to configure your preferred product configurations globally (for all stores and products), per source, and per product. These features allow you to work from a single warehouse or complex shipping network, you just need to add some additional settings for it.
Features of Inventory management in Magento make tracking and keeping the records of inventory of products on the website easy. It also enhances the shopping experience of customers with its advanced features.
You have the following options to assign inventory to products:
Assigning Sources per Product
Assign sources manually per product in the catalog.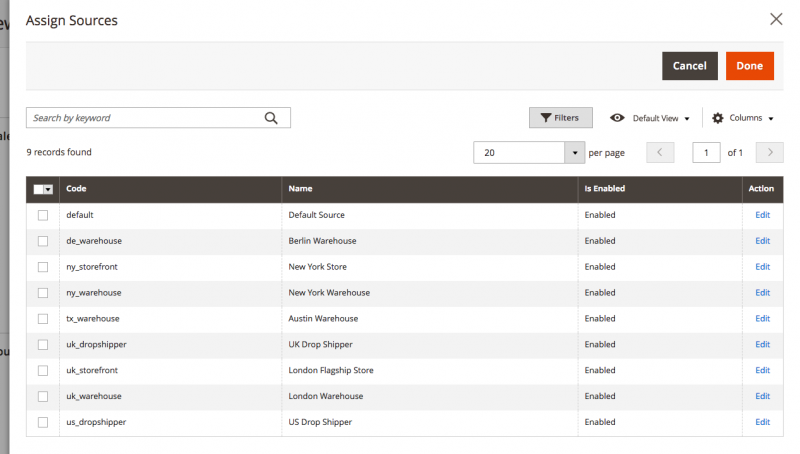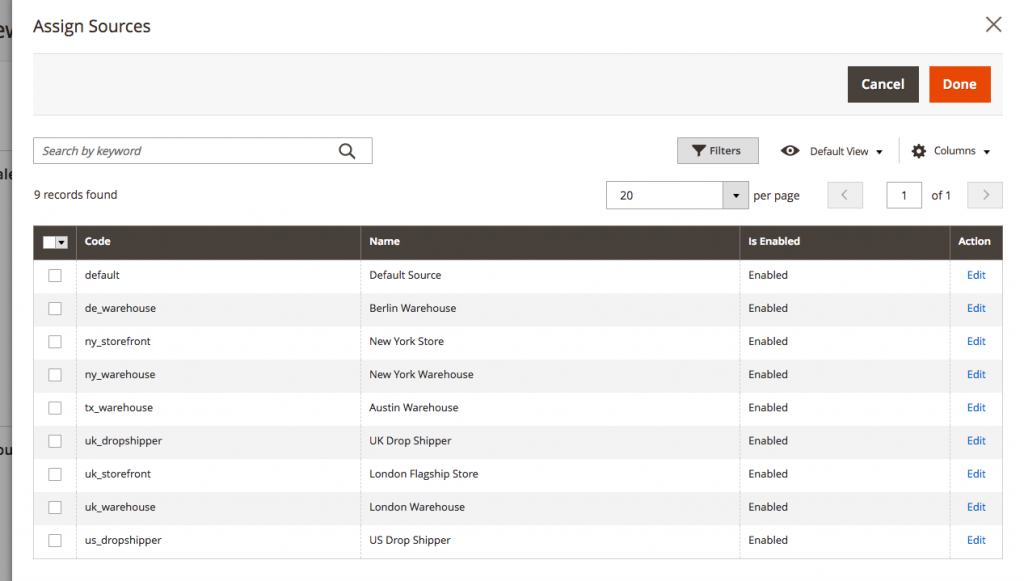 Assigning Quantities per Product
Add on-hand inventory amounts to products per source.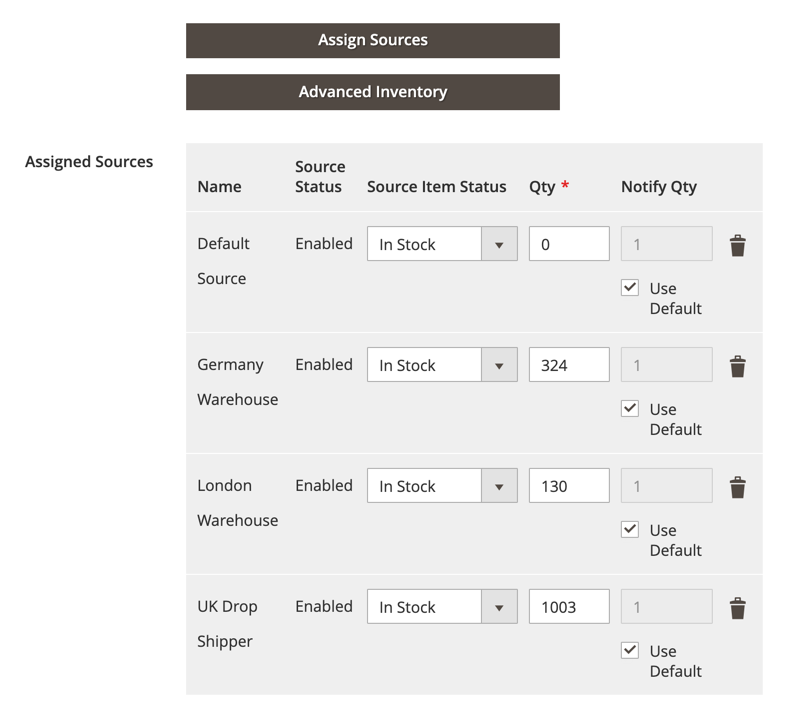 Assign sources to selected products as a mass action.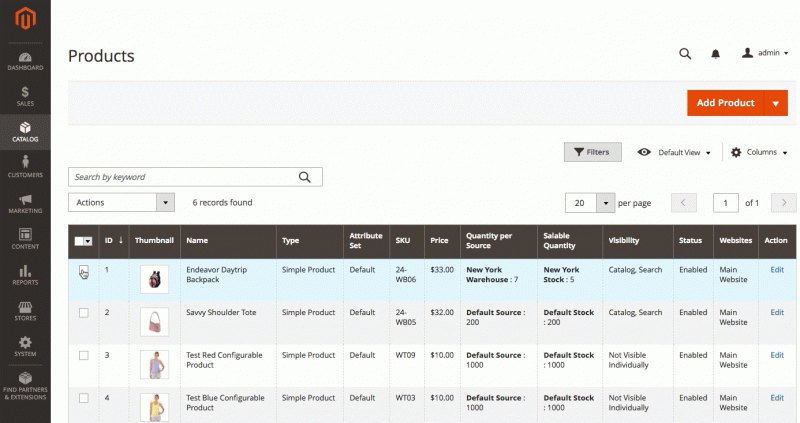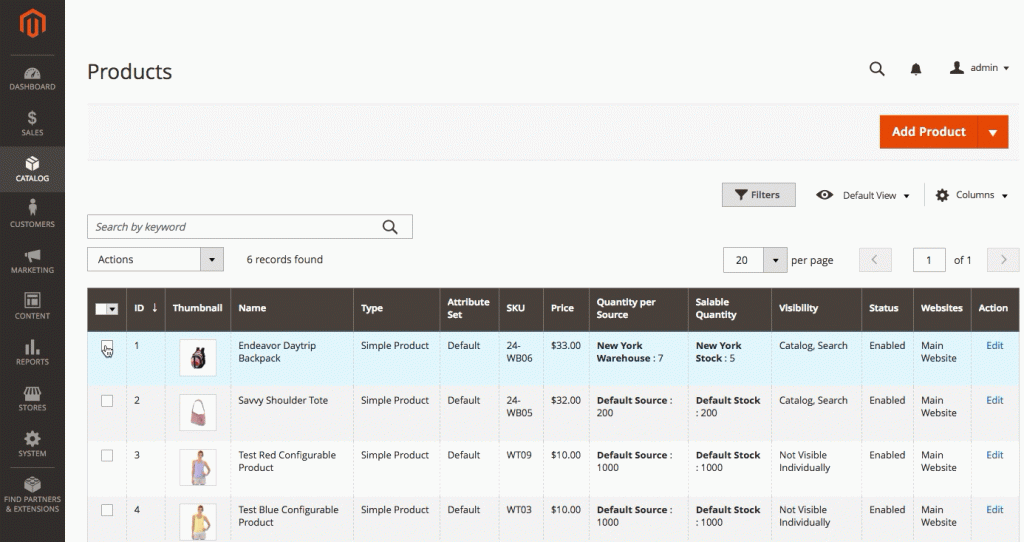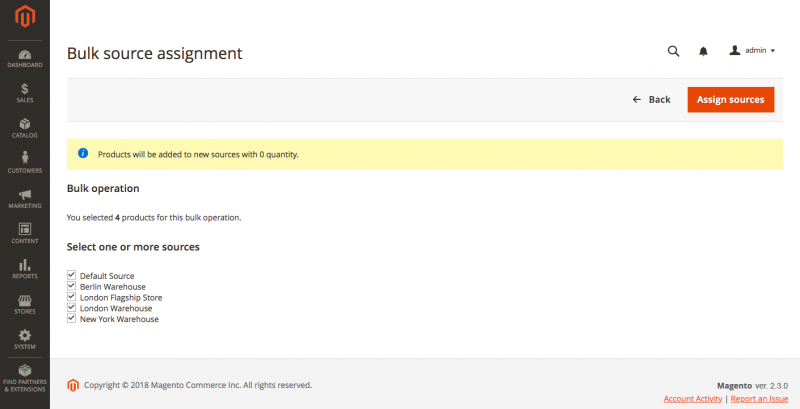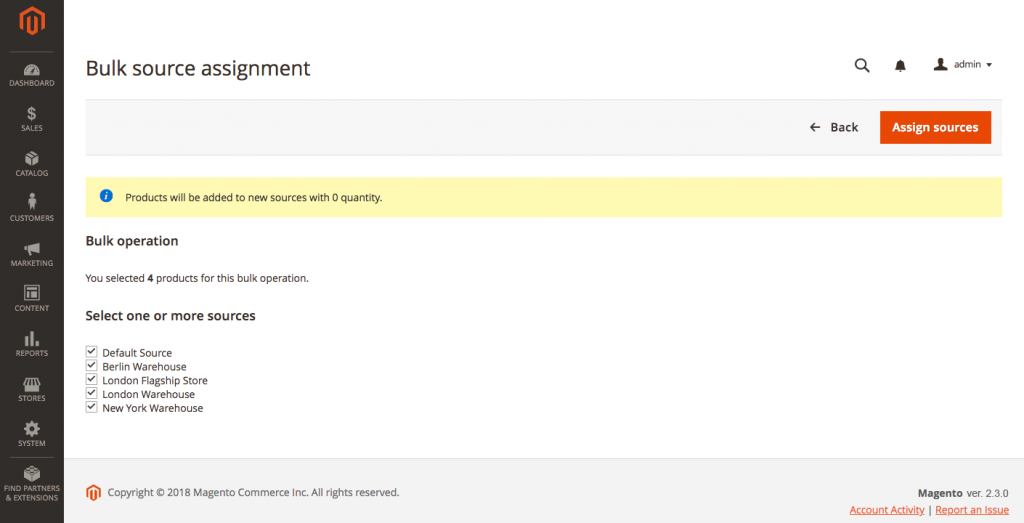 Unassign sources from selected products as a mass action.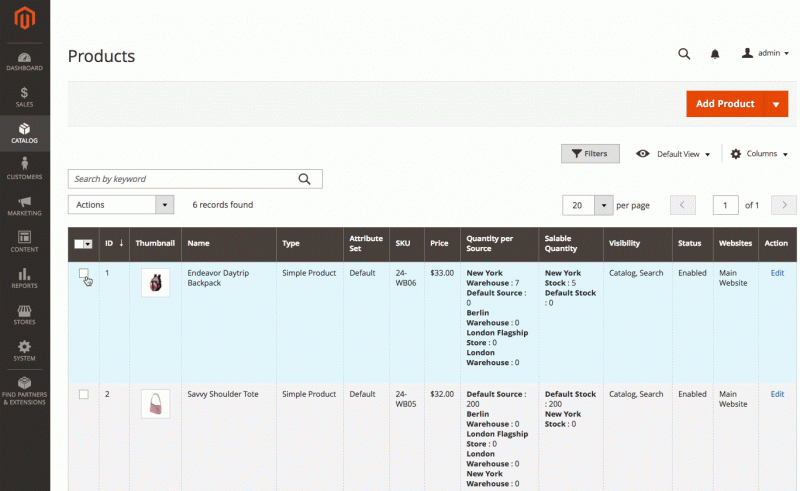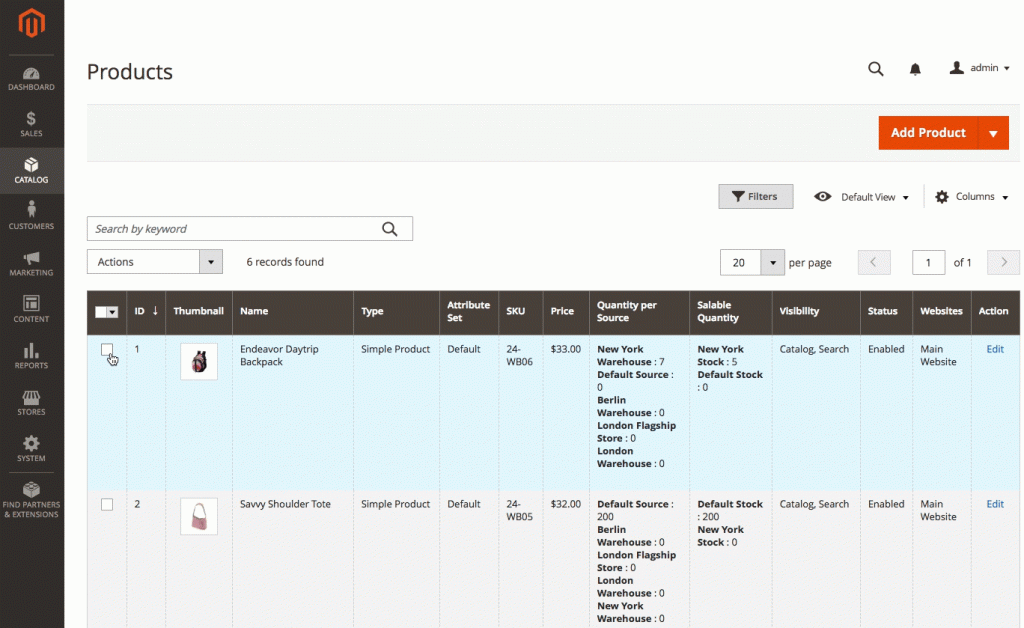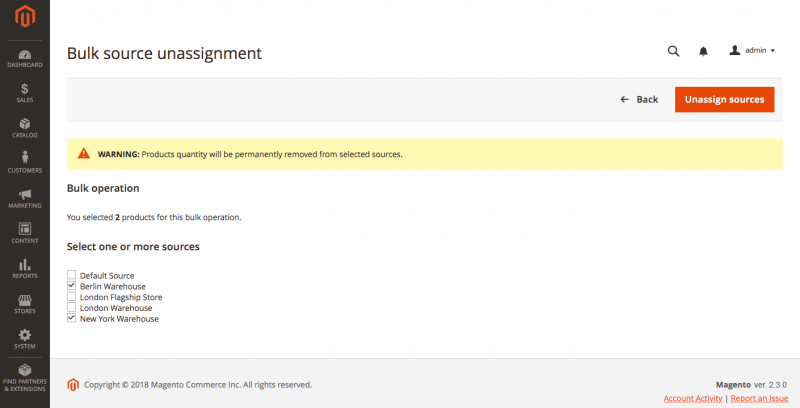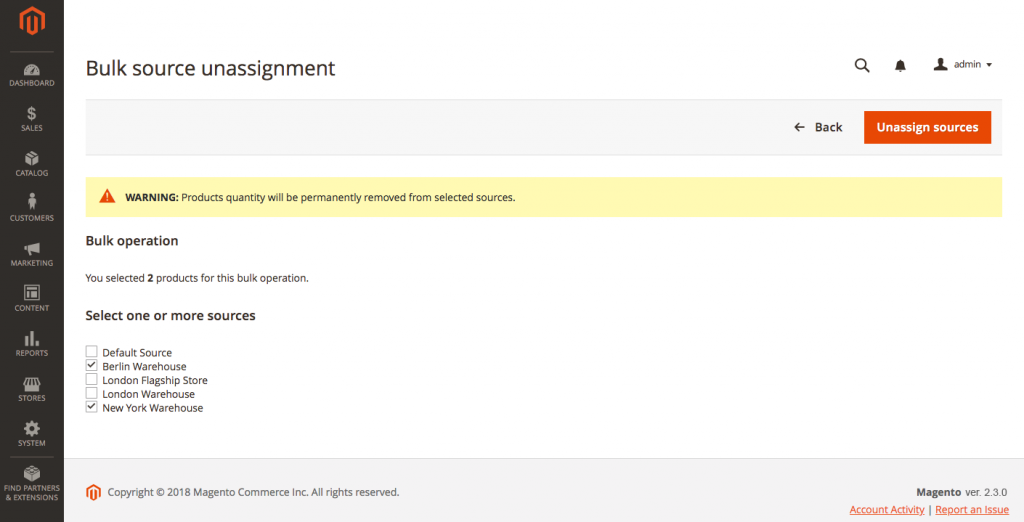 Transferring Inventory to Source
Mass transfer all inventory from one source to a destination source.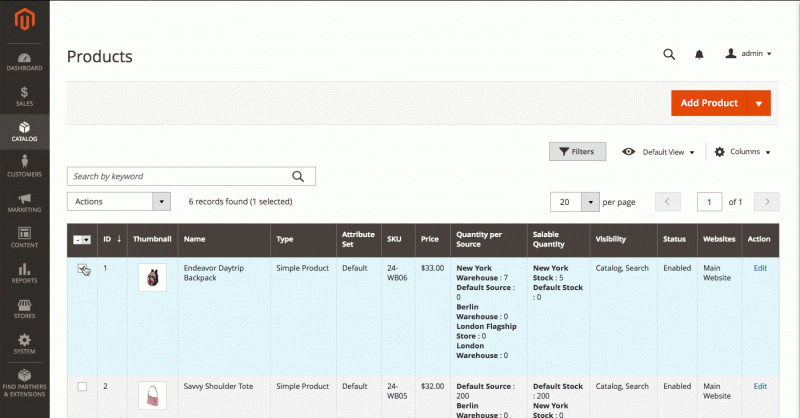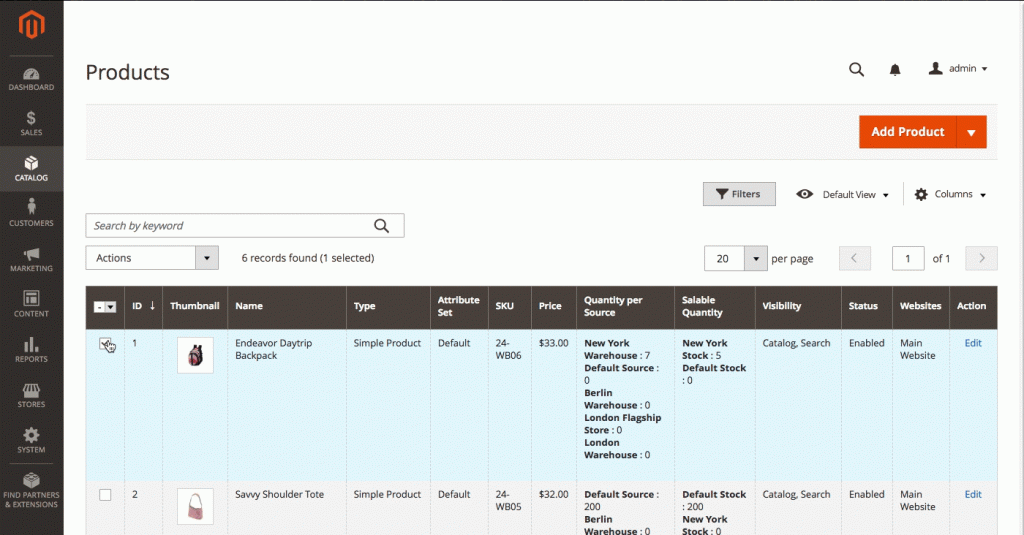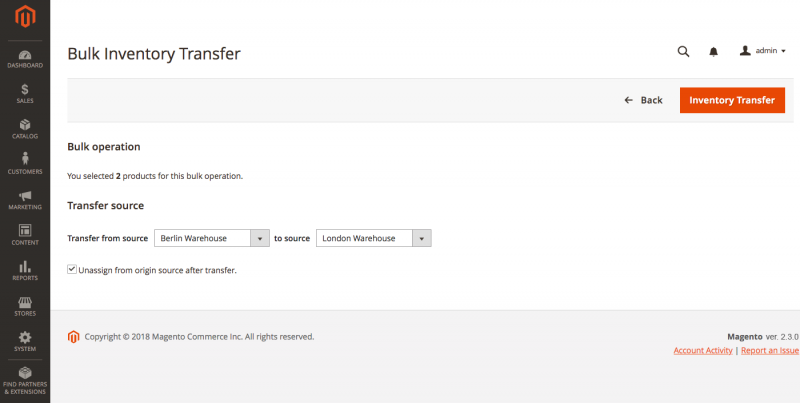 Importing and Exporting Quantities
Use import and export features to update multiple product SKUs with sources and inventory quantities.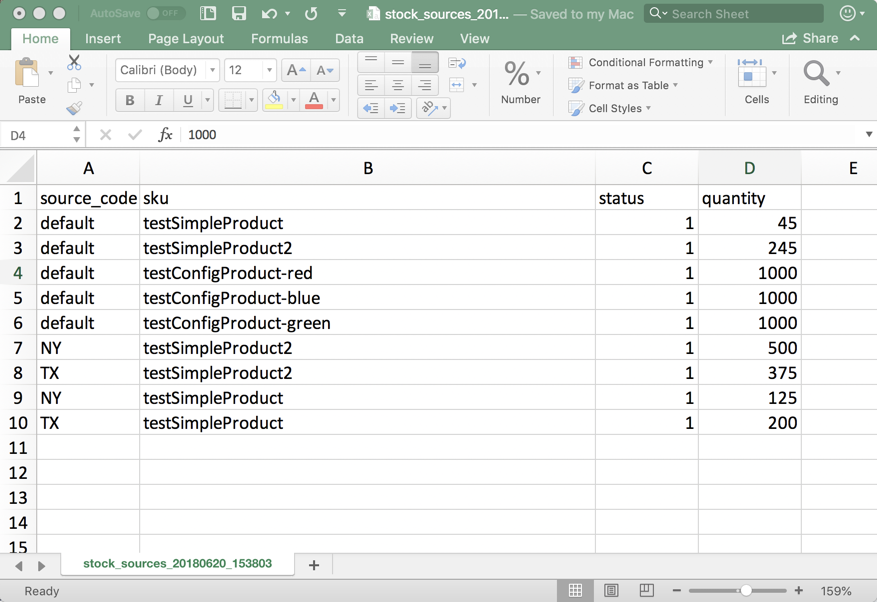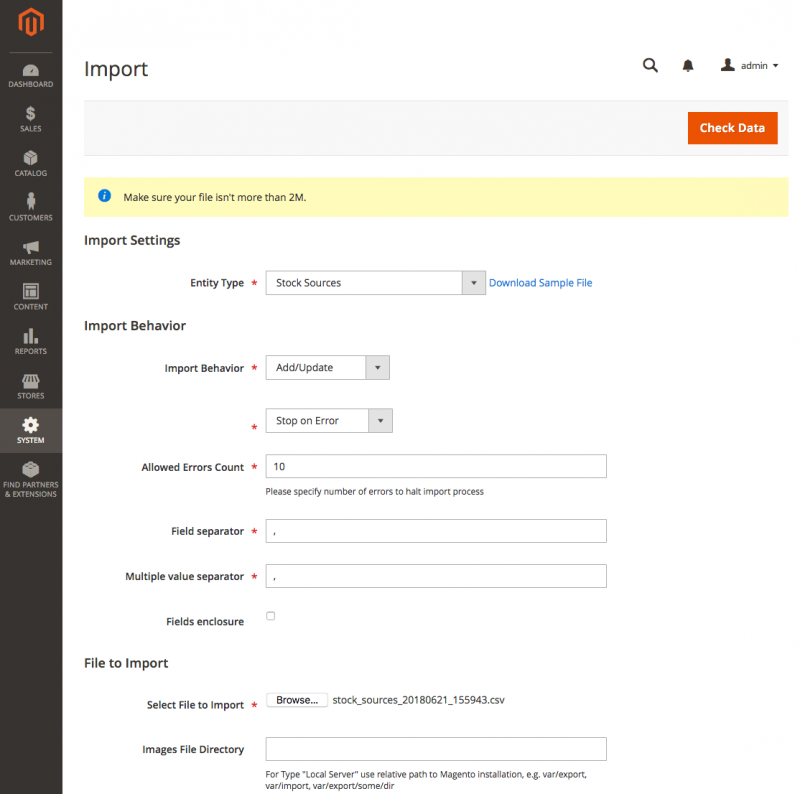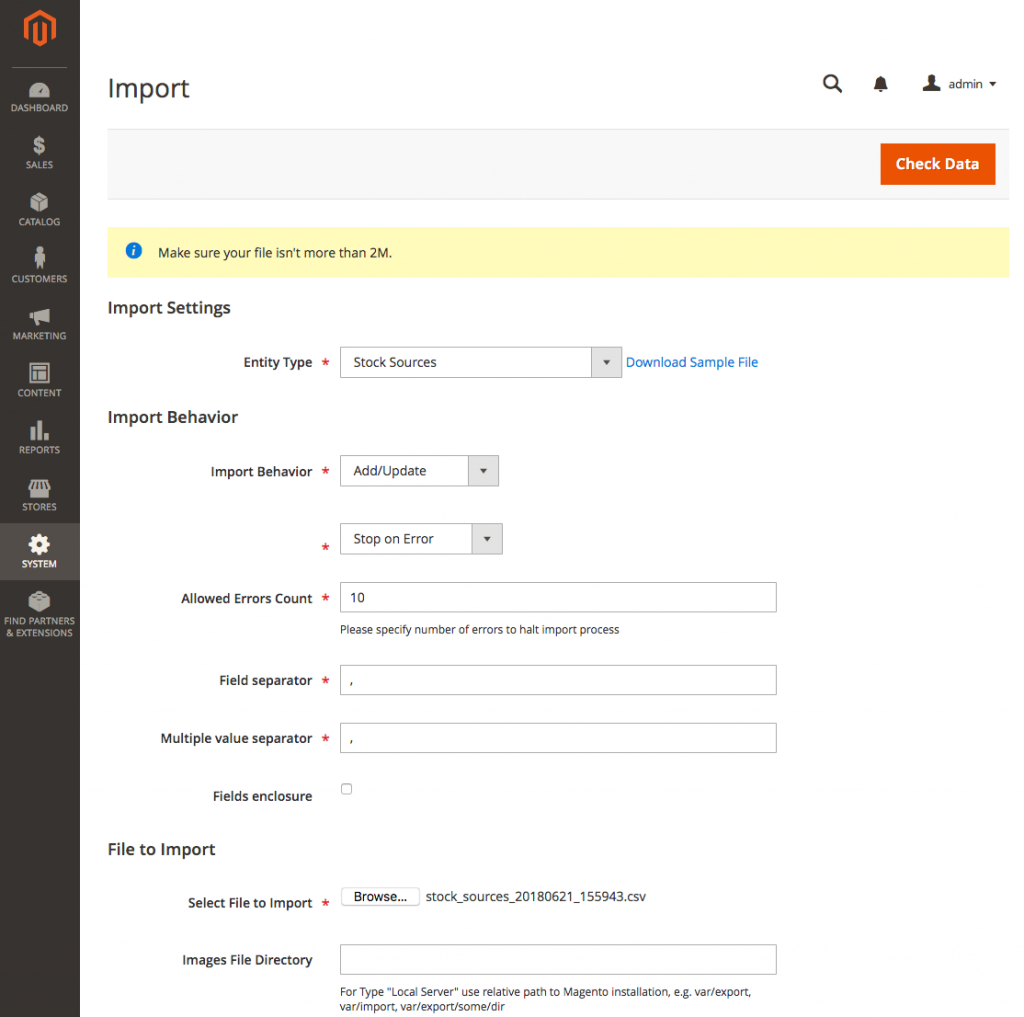 Following are the fundamental settings and advantages of Magento Inventory Management.
Managing Stock
Source Management
Shipment Management
Source Selection and Priority Algorithm
Order Management and Reservation
Managing Stock
Regardless of warehouse location, type of product or service, or sales channel you can manage your inventory with Magento inventory management.
Fulfill orders and ship products from multiple warehouses, brick-and-mortar stores, distribution centers, and drop shipping to complete orders with a focus on balanced inventory, shipping costs, and more.
Source Management
The physical locations where product inventory is managed and shipped for order accomplishment are called sources. Magento leverages the quantities and saleable quantities per stock and manages inventory amounts automatically for managed products and orders.
If you have one source, you are considered in Single Source mode. If you have multiple sources, you are considered in Multi-Source mode.
Managing Inventory Quantities 
Single source merchants can update product quantities for the Default Source
Multi-source merchants can assign multiple sources and quantities per product for each location
Stocks and Sales Channels
Aggregated inventory of products available for sale to your sales channels is represented visually as stocks.
The saleable quantities and available inventories are mapped with sales channels with each stock. The assignment of stock to one or more sales channels and sources is decided, depending on the website configuration.
Sales Channels represent entities selling your inventory, including websites, store views, B2B customer groups, and so on.
With one stock sale, channels can be associated. Sales channels can only have a single stock assigned to it but a single stock can be assigned to multiple websites.
With the help of the stock, the prioritization of sources used when shipping orders can be modified by the Source Selection Algorithm to manage inventory in Magento.
Source Selection and Priority Algorithm
While finalizing the source, the Source Selection Algorithm (SSA) uses the priority order of sources configured in stock and analyses and determines the best match for sources and shipping.
SSA provides a recommended list of sources, available quantities, and amounts to deduct depending upon the selected algorithm during order shipment. Magento Inventory Management provides a Priority algorithm as well as supports extensions for new options.
Knowing your actual available inventory and finding the best shipment option can be difficult due to multiple locations of source, globally located customers, and carriers with various shipping options and fees.
To ease this process SSA does the work for you- it tracks inventory saleable quantities across all sources and calculates them and makes recommendations for shipments.
The sales channels of incoming product requests are checked by SSA, using stocks and sources it determines the available inventory with Magento inventory management. 
You can also set other priorities and algorithms to manage inventory in Magento, there are:
Source Priority Algorithm
Distance Priority Algorithm
Custom Algorithm
Order Management and Reservations
Partial as well as full invoicing, payments, shipping, and cancellations per order are supported by Inventory management.
With Magento inventory management you can automatically enter or change reservations. It also updates the saleable quantity for a stock and the on-hand inventory quantity per source.
The positive or negative amounts to increase or decrease quantities are added to saleable quantities with the help of the reservations. These reservations update your on-hand inventory and saleable quantities with the latest amounts of the store.
partial shipments from multiple sources or for backorders, or credit memos to refund returned products.
Sometimes you may need to update orders with partial payments and cancellations while managing inventory in Magento, depending on inventory status and customer requests. It can be managed with partial shipments from multiple sources or for backorders, or credit memos to refund returned products.
Canceled/Refunded Orders
In case a customer cancels an order before shipment whether partial or in full. The saleable quantity gets updated with a new reservation of the inventory amount. The reservations effectively cancel each other out, not deducting the quantity from any sources.
With these reservations, other customers can purchase the product quantities through the associated stocks and sales channels that were canceled by another customer.
Issue the credit memo for the partial or full product amounts whenever the customer requests a refund.
You need to enter a credit memo to provide funds and update product amounts when you receive the returned products. Magento adds quantities back to the products and sources that shipped the orders and reservation compensations to update saleable quantities for the associated stock when selecting the Return to Stock option.
The other advantages of features of Magento inventory management are,
Inventory Configuration
Out of Stock Threshold
Product Quantities
Inventory Expansion and Restructuring
Inventory Migrating and Upgrading
Map To Sources
Priority Order Fulfilment
Sales Channel Support