When it comes to selecting a new eCommerce platform, small and medium-sized eCommerce Development Company may wonder which platform is better: Shopify Plus or Adobe Commerce.
There are numerous factors to consider when deciding on the best platform for your business. We have briefly explained the differences between Shopify Plus and Adobe Commerce in this post to help you decide which platform is best for your business.
Adobe Commerce and Shopify Plus 
In 2018, Adobe acquired Magento, one of the world's most popular eCommerce platforms. Shopify Plus is the equivalent version of Shopify, which was launched in 2014 and is a favorite among small retailers.
While Abode acquired a well-established eCommerce leader, Shopify Plus continues to expand from a strong foundation in the United States and Canada.
Even though it reached its official end of life in June 2020, the original Magento 1 is still widely used. Magento 1 users must carefully consider their next steps in the absence of patches and ongoing support. Despite their shared history, moving to Adobe Commerce will necessitate a site rebuild rather than simple migration, so many businesses will want to reconsider their options.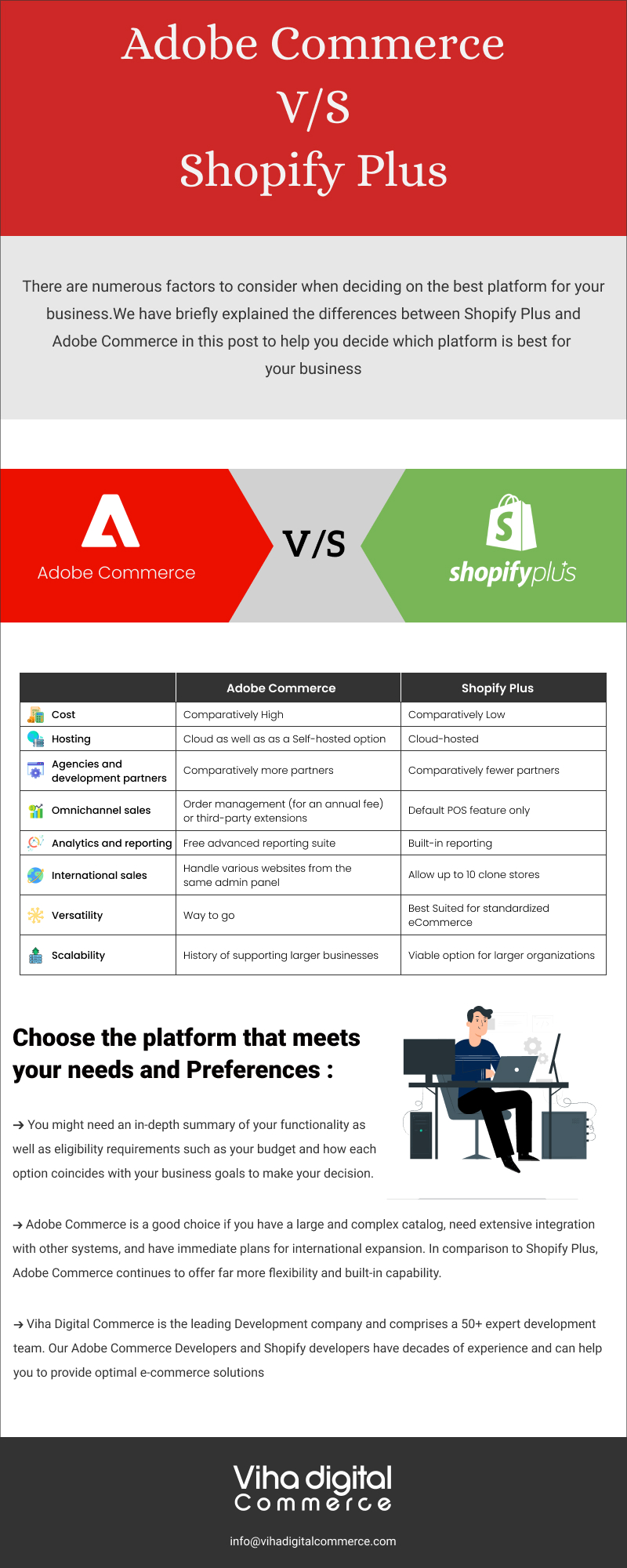 A few insights on Adobe Commerce vs. Shopify Plus
Cost:
The total cost of ownership (TCO) of an Adobe Commerce solution is likely to be higher than that of Shopify Plus.
Adobe Commerce site development costs are generally higher because Shopify Plus requires less development work for the database, complex functionality, or integration. The average hourly rate for a Shopify Plus developer, on the other hand, can be higher than for Adobe Commerce.
Both options provide a low-cost hosted version with maintenance, security, and upgrades handled in the cloud. If you require a significant amount of back-end integration, you should consult with your agency partner to understand the additional costs. Both platforms have booming extension marketplaces that may be able to provide the extra functionality you require at a lower cost.
To use either platform, you must pay a license fee, which is paid annually in advance for Adobe Commerce and is usually a monthly fee for Shopify Plus. The licenses are typically based on the amount of revenue generated by the platform.
Hosting:
Adobe Commerce is available in the cloud as well as as a self-hosted option where you can select your own hosting partner, whereas Shopify Plus is cloud-hosted. If you select the self-hosted option for Adobe Commerce, you will be responsible for paying for your site hosting separately, usually on a monthly basis.
Agencies and development partners :
Because Adobe Commerce has many more partners than Shopify Plus, the complexity of your customization needs and your special requirements will be important considerations.
Adobe Commerce will be appealing if you want a lot of options or the assurance that there is a lot of expertise available.
Omnichannel sales:
It is critical for retailers to be able to place orders and receive payments both offline and online. Adobe Commerce provides two options: order management (for an annual fee) or third-party extensions. Both options will be in addition to the cost of your license and hosting.
This feature is included in Shopify Plus as a core component of the point of sale (POS) solution, which integrates with Shopify's own card reader, a variety of receipt printers, cash drawers, and all-in-one point of sale systems, and can also handle refunds and exchanges.
This feature is included in Shopify Plus thanks to the POS solution, which integrates with Shopify's own card reader, a variety of receipt printers, cash drawers, and all-in-one scanners.
Analytics and reporting :
You could potentially manage your entire business on your eCommerce platform, from sales data to digital product-related media, sales reports, and product performance.
Adobe Commerce provides a free advanced reporting suite with access to dynamic reports based on your product, order, and customer data, as well as a personalized dashboard tailored to your business needs. Furthermore, Adobe Business Intelligence is a subscription service that provides dashboards that display a wide range of data, from average order value to customer lifetime value and retention rates.
Shopify Plus's built-in reporting provides detailed sales reports as part of your monthly fee, and additional reporting and analytical apps are also available.
International sales:
One of the most prevalent Adobe Commerce features includes the ability to handle various websites from the same admin panel, allowing dedicated teams to manage product descriptions, sizing, and pricing for different countries, for example. You can also make changes centrally for each country.
Shopify Plus allows up to ten clone stores in the license, so if you have a back-office venture, customer relationship management, and product information management systems, you can simply create and control multiple stores. Shopify Markets is currently developing to allow you to create new 'markets' for specific countries or territories, as well as support various currencies, domains, and languages.
Versatility:
Because very few businesses fit into a standard template, versatility is essential. If you have specific needs for product attributes or promotional options, Adobe Commerce is the way to go. You can define product types and attributes, as well as provide customers with options such as standard or customized sizing.
Shopify Plus is better suited for businesses with standardized eCommerce requirements such as product type, image, basic features, and a small inventory.
Scalability:
While Shopify's reputation was built with smaller businesses, Shopify Plus is now emerging as a viable option for larger organizations. Pricing is likely to rise as it becomes more sophisticated to meet the needs of complex eCommerce companies, particularly B2B and multinational operations.
Magento and Adobe Commerce have a longer history of supporting larger businesses. Adobe Commerce's development path will bring it closer to other Adobe Experience products and services such as enterprise analytics, personalization, and campaign management.
Choose the platform that meets your needs and Preferences
You might need an in-depth summary of your functionality as well as eligibility requirements such as your budget and how each option coincides with your business goals to make your decision.
Adobe Commerce is a good choice if you have a large and complex catalog, need extensive integration with other systems, and have immediate plans for international expansion. In comparison to Shopify Plus, Adobe Commerce continues to offer far more flexibility and built-in capability.
If your eCommerce needs are simple to retail or B2B, your budget and timescales are limited, and you don't want to build your in-house technical expertise, Shopify Plus could meet your immediate needs and grow with you in the future.
Viha Digital Commerce is the leading Development company and comprises a 50+ expert development team. Our Adobe Commerce Developers and Shopify developers have decades of experience and can help you to provide optimal e-commerce solutions.
If you have any queries or questions, you can reach us @ info@vihadigitalcommerce.com.
Thank you.