Magento is regarded as one of the world's leading eCommerce platforms due to its unbeatable functionality. Because of its flexible and user-friendly interface, it not only provides convenience to developers but also provides ease and convenience to online store owners and consumers.
The growth of eCommerce has resulted in an increase in demand for Magento development services. It is because the development of a feature-rich Magento Store necessitates the use of expert skills.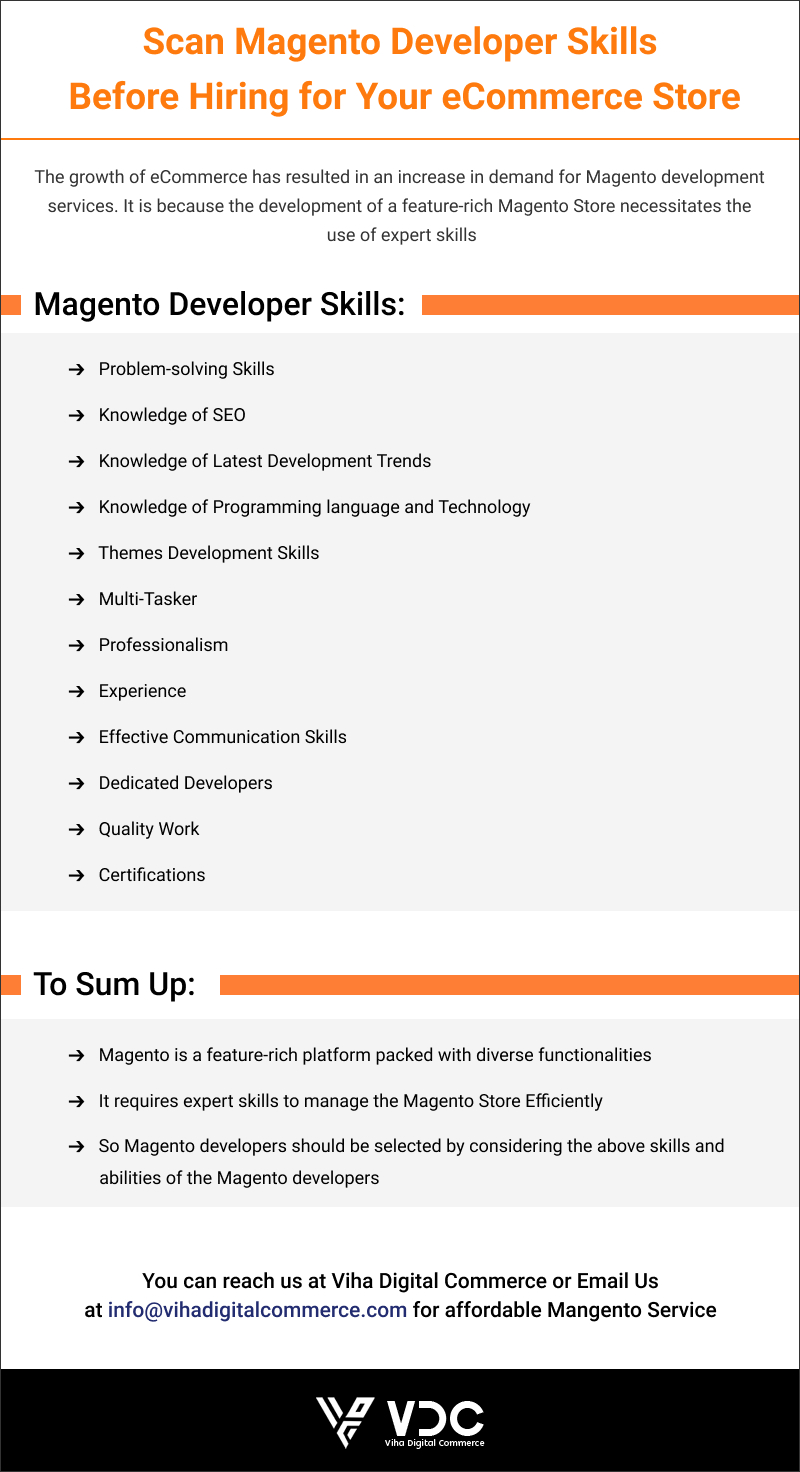 As a result, if you intend to hire Magento developers, you should focus on a few ideas and key factors that will help you make your eCommerce venture profitable and successful.
Magento Developer Skills:
There are some specific Magento developer skills that you should look for before hiring any Magento developers.
Problem-solving Skills
If the developer is unable to identify and resolve problems at the appropriate time, the overall performance of the Magento store will suffer. As a result, it is critical for a Magento developer to have exceptional problem-solving skills.
 A number of coding and design issues may arise while developing an online shopping site. MySQL is helpful for dealing with data issues, but Magento developers should also use other Magento tools.
Knowledge of SEO
eCommerce SEO (Search Engine Optimization) is another important aspect that the Magento developer should be aware of. Before hiring the  Magento developer, you should ensure that the developer is aware of all the inherent functions and SEO to optimize your eCommerce website in the best way possible. 
This is significant because Search Engine Optimization will help you to be on the top stories of Search Engines and also increase the number of visitors to your Magento store. 
 Knowledge of Latest Development Trends
Technology is rapidly evolving, and in order to build a cutting-edge Magento Store, Magento developers must stay updated on the latest development trends and technologies.
To become a pro in the field of Magento development, developers must go the extra mile, which necessitates continuous learning and staying up to date on the latest trends. Make sure that the Magento developer you hire is up to date on all of the latest Magento development trends. 
Knowledge of Programming language and Technology
Magento Store Development is impossible without technological know-how. Magento is written in PHP, which necessitates the versatility of the Magento developer.
 The developer should be familiar with HTML, CSS, and Javascript in order to work flawlessly on your website. It is necessary to be familiar with software programs, Web applications, and the Web programming language.
Themes Development Skills
Magento Themes are developed efficiently on CMS software. CMS theme creation should be practiced by developers in order to develop dynamic themes.
The developer must be able to create customized Magento themes based on the requirements. Themes give the web an appealing feel, which provides a better user experience for your consumers.
Multi-Tasker
 Magento is a complex platform, an efficient Magento store development requires a multi-tasking developer. Multi-Task Development necessitates far too many skills.
Make certain that the developer you choose can handle multiple tasks at the same time. He must not prioritize one task over all others.
Professionalism
Professional Magento developers offer astonishing services for developing the Magento store. It is vital to ensure that you hire a professional Magento developer for your eCommerce store.
It is because professional developers offer better services compared to non-professionals. These types of professionals also provide after-sales services for your Magento store.  
Experience
It is a fact that " Experience makes the man Perfect". It is because, if you work for a long time in any field, you will learn a lot of new things. Magento is a larger platform, and many functionalities and codes are available in it.
Every time the Magento developer works on new customization, he or she gains new skills and knowledge. The number of issues and errors resolved adds up quickly to inexperience, making the developer an all-arounder. So it is vital for you to check out the total experience of the developer before hiring him for your Magento store.
Effective Communication Skills
Communication is the key to successfully developing the Magento Store. Make sure that the developer chosen by you is able to understand your language and has a positive attitude towards your project.
Better means of communication should be selected for informing the needs and requirements of your Magento Store. If proper communication is not maintained, it leads to flaws in the development process, necessitating repeated changes. As a result, the developer must be accessible at all times.
Dedicated Developers
Dedicated developers take full responsibility for your project allowing you to focus on the other activities of your store. Before making a hiring decision, You should check out their reviews.
You can even take references from the other Magento Store owners for hiring a dedicated developer for your store. Dedicated developers devote their full attention to your project, with no communication gaps or complexity issues.
Quality Work
If the Magento store is not maintained efficiently, then it may lead to failure. So it is important for you to hire a Magento developer, who offers quality work and assists you in increasing the performance of your store.
Before hiring the Magento developers for your store, check out their previous works and their development skills. This will help you to develop the dynamic Magento Store.
Certifications
Certificates provide proof of authenticity. Make sure to Hire a Magento2 Developer, who is certified and capable of fixing the issues for your store. 
You can even hire a Magento Development Company for your store. Free Trial of Magento Developer For 8 Hours. Try Now! 
To Sum Up:
Magento is a feature-rich platform packed with diverse functionalities.

It requires expert skills to manage the Magento Store Efficiently.

So Magento developers should be selected by considering the above skills and abilities of the Magento developers