Magento security patches are released on a regular basis to fix identified system vulnerabilities and safeguard online merchants from cyber attacks. Installing these fixes is critical to ensuring that the online store is safe from potential exploitation. It is a piece of code developed to solve a problem or enhance the software.
Security patches, formerly known as SUPEE patches for Magento 1, assist merchants in combating any potential attacks resulting from the exploitation of security flaws in Magento. The timely installation of these Magento 2 security patches is required to keep your Magento store data secure and hack-proof.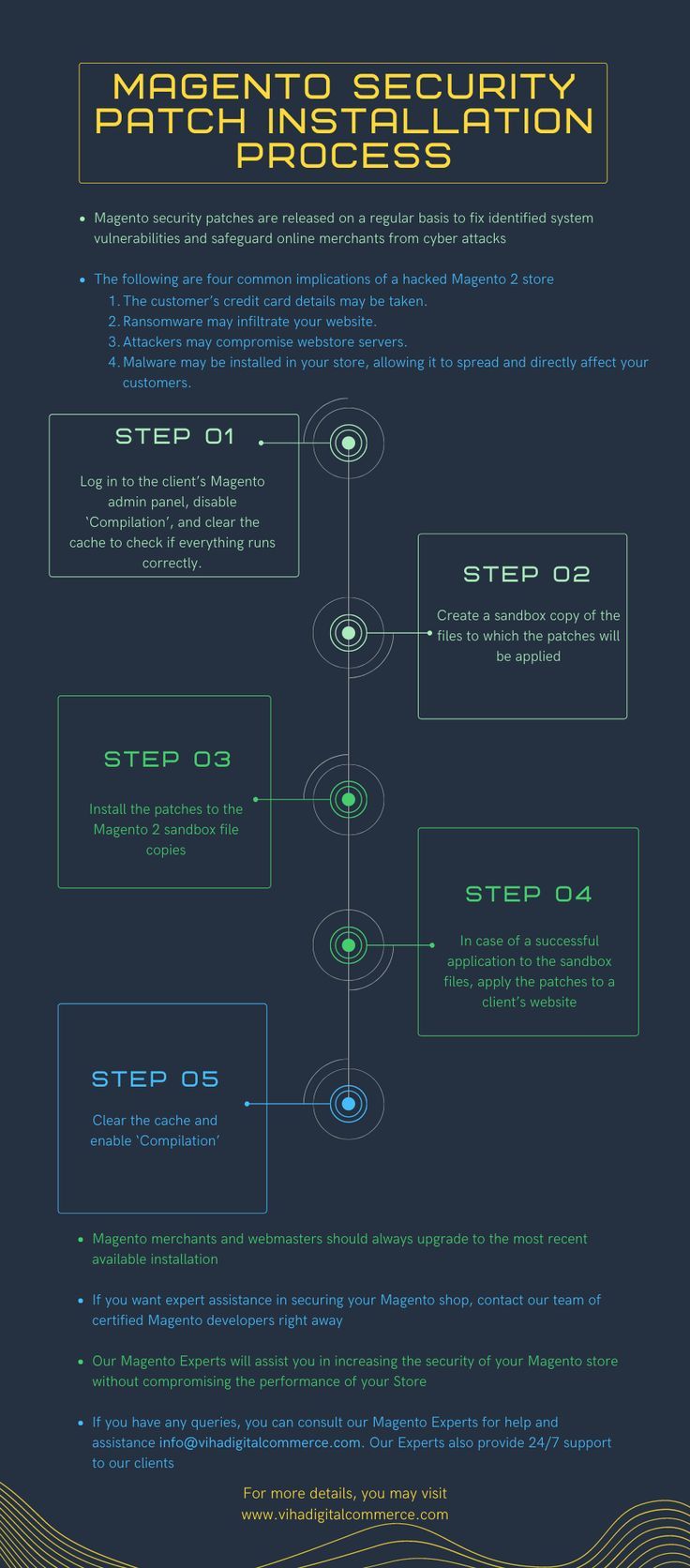 Why Magento 2 security fixes are required?
Every Magento store should also apply Magento Security Patches to protect against malicious hackers. If not, it signifies that your website is vulnerable, and potential attackers may easily enter your website's admin panel and hijack your eCommerce business at any moment. The consequences of failing to apply security fixes are highly serious. The following are four common implications of a hacked Magento 2 store.
The customer's credit card details may be taken.

Ransomware may infiltrate your website.

Attackers may compromise website servers.

Malware may be installed in your store, allowing it to spread and directly affect your customers.
The Vulnerabilities
If you do not upgrade your Magento installation to the most recent version available, your Magento store is vulnerable to the following vulnerabilities.
| | | | | |
| --- | --- | --- | --- | --- |
| Vulnerability Category | Vulnerability Impact | Severity | Magento Bug ID | CVE Numbers |
| Stored cross-site scripting | Sensitive information disclosure | Important | PRODSECBUG-2543 | CVE-2020-3715 |
| Stored cross-site scripting | Sensitive information disclosure | Important | PRODSECBUG-2599 | CVE-2020-3758 |
| Deserialization of untrusted data | Arbitrary code execution | Critical | PRODSECBUG-2579 | CVE-2020-3716 |
| Path traversal | Sensitive information disclosure | Important | PRODSECBUG-2632 | CVE-2020-3717 |
| Security bypass | Arbitrary code execution | Critical | PRODSECBUG-2633 | CVE-2020-3718 |
| SQL injection | Sensitive information disclosure | Critical | PRODSECBUG-2660 | CVE-2020-3719 |
Source: Adobe
The Solution
Update your Magento installation to the most recent version available. The following are the most recent Magento versions that are currently available.
Magento Commerce 2.3.4


Magento Open Source 2.3.4

Magento Commerce 2.2.11

Magento Open Source 2.2.11

Magento Enterprise Edition 1.14.4.4

Magento Community Edition 1.9.4.4
These Magento updates include functional fixes to the core product, security enhancements, platform upgrades, significant security modifications, and several other improvements.
Magento Security Patch Installation:
Magento security patch installation is a time-consuming process. To successfully safeguard Magento stores with appropriate patch installation, experience and specific information are required.
This is why online Magento store owners contact and seek skilled Magento Security Patches Installation Service. Viha Digital Commerce Ltd has a solid track record in Security Updates Installation with Magento Upgrade Service with delighted clients worldwide who have trusted and successfully installed security patches in a timely manner.
Why choose Vihadigital Commerce limited for Magento Patch Installation Service
Viha Digital's Magento development company will save you time and effort when it comes to implementing security fixes to your online business. We can assist you in securing your online business by deploying the most recent Magento 2 security patch.
Installing the most recent Magento security updates can help to mitigate security concerns for your online business, but they can also risk its integrity if not done correctly. We are Magento experts you can rely on to apply security fixes quickly and accurately.
We make certain that your store is completely safe from hackers and vulnerabilities.

To avoid data loss or other concerns, our professionals carefully install security patches.

We rigorously test them to guarantee their stability and the level of protection they provide.

We make certain that the customer receives authentic security fixes for their businesses.

We remind them to apply the most recent important security fixes.
Our Security Patch Installation Process:
Our professional and Certified Magento Developers guarantee that these fixes are implemented quickly and effectively, without compromising with the store's functionality. We also keep up with the current trends and releases, and we update the client's stores as soon as a new patch is available.
Check out our Magento Security Patch installation Process
STEP 01
Log in to the client's Magento admin panel, disable 'Compilation', and clear the cache to check if everything runs correctly.
STEP 02
Create a sandbox copy of the files to which the patches will be applied
STEP 03
Install the patches to the Magento 2 sandbox file copies
STEP 04
In case of a successful application to the sandbox files, apply the patches to a client's website.
STEP 05
Clear the cache and enable 'Compilation'
Final Words
Magento merchants and webmasters should always upgrade to the most recent available installation. So that your Magento store may receive the most recent security upgrades and avoid potential threats such as data theft, admin takeover, cardholder data leaks, and other issues.
If you want expert assistance in securing your Magento shop, contact our team of Magento Adobe Commerce developers right away and get a Free Trial for 8 hours. Our Magento Experts will assist you in increasing the security of your Magento store without compromising the performance of your Store.
If you have any queries, you can consult our Magento Experts for help and assistance at info@vihadigitalcommerce.com. Our Experts also provide 24/7 support to our clients.