Viha Digital Commerce is a leading Indian information and communication technology company that offers a full range of e-commerce products, store development, and online solutions. The team has more than 25 consultants in customer support in more than 25 countries.
The company uses their experience and years of data collected to shape the future of retail medium and enterprise business by helping them adopt ICT and sell more. Due to their excellent services, more than 75% of their clients have repeatedly hired them for ongoing work and dedicated development. GoodFirms team had an opportunity to interview Mr. Krunal Padmashali, CEO of Viha Digital Commerce. During the interview, Krunal shared the story behind starting the company and described how its services provide value to its clients.
Talking about the inspiration to start the company, Krunal mentions that being an experienced web/mobile app developer, he always wanted to start a company. The main reason to start Viha Digital Commerce is to create an in-house team capable of providing excellent eCommerce development services to clients.
The team provides practical and scalable solutions for their client's e-commerce web store development. Their process begins with gathering all the information about the client's business and completing training and support. The team of developers and designers stay up-to-date with the latest trends in the e-commerce industry so that they can keep their customers stay ahead of the competitors and deliver an unmatched user experience.
In addition to this, the CEO is proud to share that Viha's developers have passed the exam and become certified Magento developers. Viha Digital Commerce is now fully dedicated to providing customers with crucial data available at their fingertips.
The following review confirms the quality website developed by Viha Digital Commerce.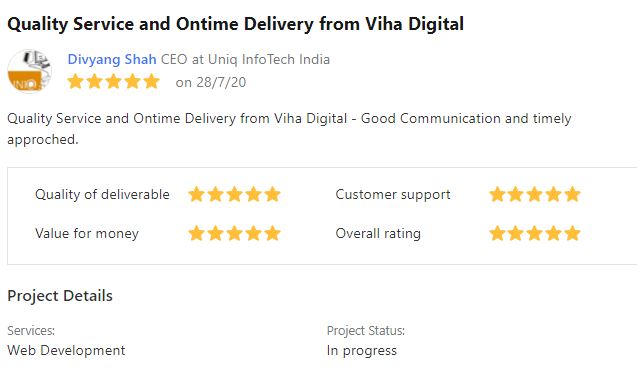 The in-house team at Viha Digital Commerce performs thorough research of the current market trends and website development to provide effective e-commerce websites to their clients.
Moreover, the company believes that transparency with its clients enables them to build responsive web stores that provide digital and surreal shopping experiences. They provide solutions in both B2B as well as B2C verticals. They have kept their reputation for a robust e-commerce development partner in the market by keeping their word and delivering the projects on the due date. The team is also proficient in designing, developing, and delivering designs for e-commerce stores that satisfy the local needs of the consumers.
Viha Digital Commerce developers, apart from building e-commerce online stores, also provide development for corporate websites, event websites, educational portals, and landing pages. The team also provides clients with the maintenance and support of website redesign, performance optimization, mobile solutions, and tools for email marketing.
Taking utmost care of the client's business, Viha Digital Commerce serves them with extraordinary products and services. They have made their unique position in the field of e-commerce development by helping their clients achieve an eminent image. The team also suggests the client's way to improve their website rankings with the SEO, PPC, and SMM services that will also help them provide a search-friendly website.
Viha Digital Commerce designs eCommerce solutions and ensures that engagement of more and more users is possible due to their achievements; the company is listed among the top e-commerce development companies in Ahmedabad at GoodFirms.
Thus, having read the excerpt from Krunal's interview, one can also go through the detailed interview at GoodFirms.
About GoodFirms
Washington, D.C.-based GoodFirms is an innovative B2B Research and Reviews Company that extensively combes the market to find web development, e-commerce development, and digital marketing services agencies amongst many other technology firms that offer the best services to their customers. GoodFirms' extensive research process ranks the companies, boosts their online reputation and helps service seekers pick the right technology partner that meets their business needs.
About the Author
Working as a Content Writer at GoodFirms, Anna Stark bridges the gap between service seekers and service providers. Anna's dominant role is to figure out company achievements and critical attributes and put them into words. She strongly believes in the charm of words and leverages new approaches that work, including new concepts that enhance the firm's identity.