Earlier it was really difficult to hire and co-ordinate with a remote team with no timely interaction. Earlier the only medium for communication was through emails and calls.  Nowadays, there is a variety of communication ways to co-ordinate and you can easily get in touch with anyone. You can connect through chat, video calls, social media, WhatsApp, emails, etc which help you interact with the remote team you hire to work on your Magento store development project.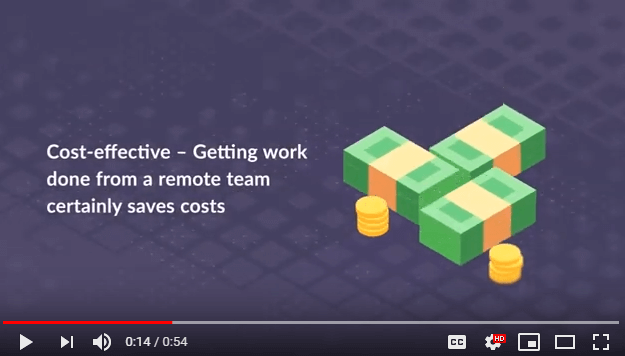 With the help of cloud medium, you can easily share the project-related files with the remote development team and they too can share their files with you.
It is still not easy as it seems to hire a remote team and get work done smoothly so make sure you consider certain factors before hiring any Magento solution partner to work your Magento store development project.
Factors to be Considered
Hiring any Remote Team for eCommerce Website Development 
Expertise
This is the very first and important factor you need to consider as to know whether Magento remote developers you are planning to hire are experts in their field.
There are professional Magento development company who have only certified developers in their team having vast experience in Magento development. With years of experience in developing hundreds of websites, they understand your requirements well.
So, ensure that the eCommerce web development team you are planning to hire holds vast experience in the development of even complex Magento stores.
Timely Communication
Also, the most important thing that you cannot ignore is how the Magento remote company communication skills are. Are they able to communicate properly in English? Are they able to understand your requirements and are you able to understand their way of working and communicating?
Deadlines
The crucial factor which needs to be considered on a priority basis is whether the Magento experts can live up to their promises and fulfill their commitments.
They need to meet their deadlines and should never compromise on missing on any aspect to be delivered on time. If you find you're your remote team follows deadlines without fail then certainly you got the right Magento development team.
Versatility in Expertise
Apart from the core Magento development skills, you should check with the remote team whether they have members in their team who possess different expertise.
This factor will help you find all solutions under one roof like designing, graphics work, SEO, etc that are equally important for your site and you don't need to hire multiple agencies to work on other expertise.
Getting all services from one company will help you get your project done smoothly and successfully.
Cost of the Project Cost
This factor certainly plays an important role as
What are the charges and are the charges for Magento development affordable and reasonable?
In case you have a 100% defined project scope then for one-time project charges. One time cost would not lead to any unexpected costs at the end.
As some agencies might come up with hidden charges later at the end of the project, so make sure you just do not hire agencies that try to grab projects by quoting cheaper rates.
Of course, a professional remote team may charge you a little higher, but they offer quality services at the end.
Detailed Reports
When you hire a trusted Magento development agency, they should send detailed reports on the progress of the project on a weekly/biweekly & monthly basis.
Hiring a Remote Magento Team Comes with Benefits
Cost-effective – Getting work done from a remote team certainly saves costs.
Reduced stress – It is always stressful to manage a project through the office environment while taking care of the in-house team as compared to outsourcing it to a remote team.
Improved Efficiency – It is believed that the remote team understands their responsibilities and project requirements better than the in-house team.
Can focus on core business – You can outsource the project to a remote team and invest time in concentrating on your core business. It will save you time and you don't need to manage the development team
Tips to Manage Remote Developers
You need to be patient with a remote team as it may take a little longer than you expect. For that make sure you develop a good communication pattern, motivate the developer to be in touch with you frequently and try to solve their queries ASAP.
Give them a clear picture of milestones to be achieved and the deadlines with actual dates.
Make sure you convey your expectations continuously to make the team understand what is expected from them.
Test the work done properly and from scratch.
You need to trust your decision as with the remote team you will not be able to sense their way of working and response personally as it happens with in house team. You may not be able to know the frustration that the developer shows at times and by the time you can make out, it will be a delay in your project. Make sure you keep a check on signs of less involvement, tiredness, etc from the team
Make sure that any developer from the remote team engages in resolving a problem without giving a time limit.
Make sure you do not fall in the trap of hidden costs. Try to alter requirements or expectations, or just cancel development in case you find the schedule falling on a crucial milestone
Check the documentation and code you get from a remote team. In case you do not have the knowledge of programming, then let the first project details sent by the remote team checked by another programmer whom you trust and is an expert.
Conclusion
Hiring a remote team is a common trend in development now that cannot be ignored. It certainly saves costs and time and helps you complete your store development project smoothly and successfully provided you consider the above-given factors.