Magento is equipped with powerful features that enable merchants to create profitable and personalized online stores. It is popular because it is open-source and highly flexible in terms of functionalities, features, plans, and architecture.
Magento merchants can benefit from specialized agencies' assistance in developing and managing their Magento eCommerce store. Hiring Adobe Commerce developers from the agency helps you to get professional results for your eCommerce Business.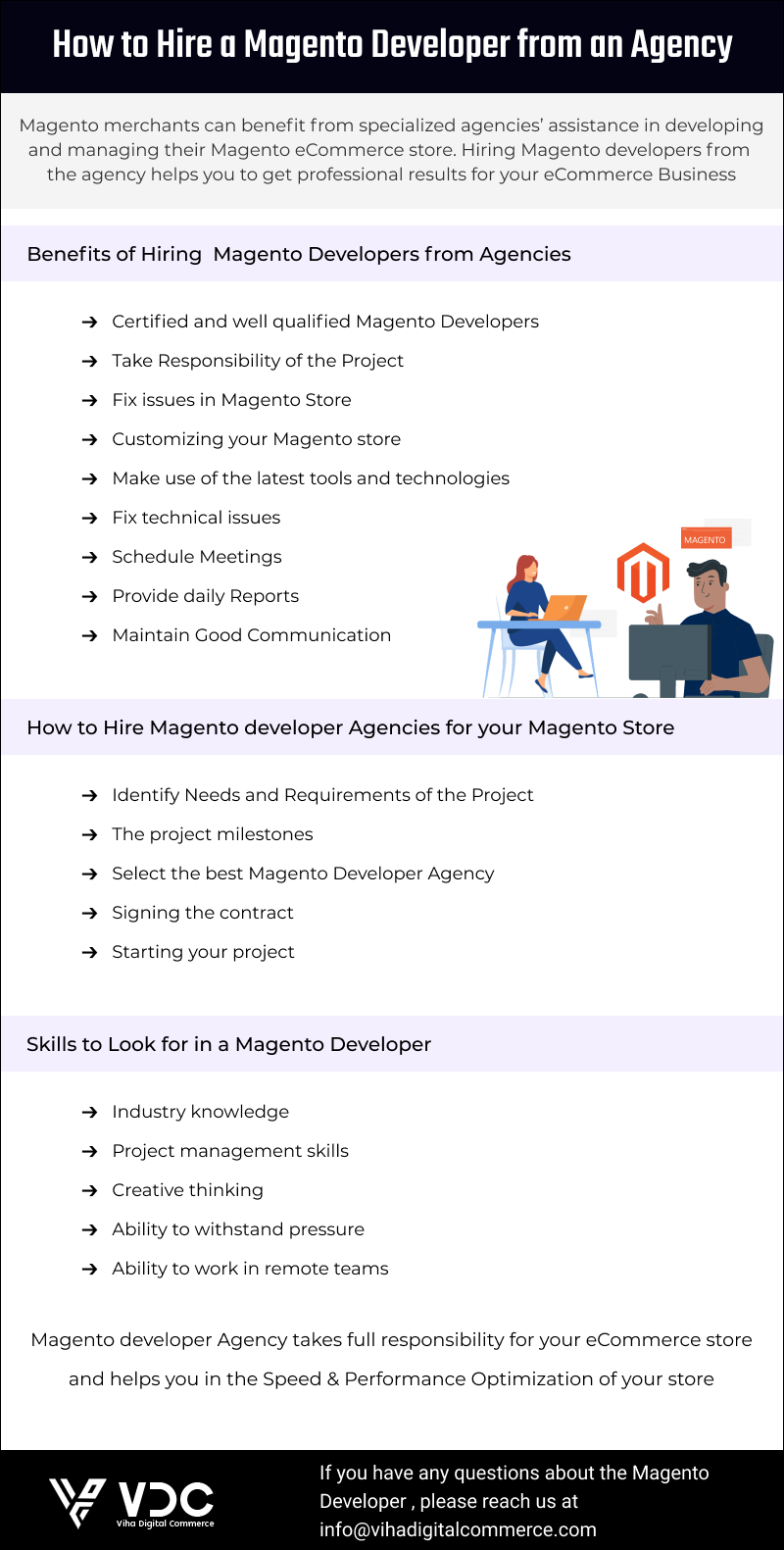 Hiring an agency to develop a Magento store has a number of advantages. The list is as follows:
Benefits of Hiring Magento Developers from Agencies
Certified & Qualified Developer Team

Fix issues in Magento Store

Customizing your Magento store

Make use of the latest tools and technologies

Fix technical issues
Certified and well-qualified Magento Developers:
By Hiring agencies, You can avail of the services of the highly qualified and certified Magento experts team for developing your Magento store.
Take Responsibility for the Project
:
Magento developers hired from various agencies are fully responsible for the development operations. They ensure that project operations are not disrupted and that the project is completed on time.
Fix issues in Magento Store:
Magento developers hired from agencies are quite experienced and can troubleshoot any kind of problem in your Magento store.
Customizing your Magento store:
Magento developers hired from agencies can help you to customize your store according to your needs and requirements.
Make use of the latest tools and technologies:
Magento development agencies make use of the latest technologies and tools in order to increase the performance of the store.
Fix technical issues:
Magento developers can help you in fixing any type of technical issue in your Magento store. After-sales services: Magento developer agencies do offer technical support even after the Magento store is developed.
Scheduled Meetings:
Magento development agencies provide better services to their clients and schedule meetings as needed. The main goal of scheduling meetings is to identify the client's needs and requirements so that the Magento store can be customized accordingly. These meetings can be held online or over the phone, depending on the client's preferences
Provide daily Reports:
Magento developer agencies provide professional services and provide regular reports to their clients. As a result, Magento owners can monitor the status of their project operations.
Maintain Good Communication:
Magento agencies maintain good communication with their clients, so by hiring such companies, you can easily communicate your project requirements and changes. Most effective communication channels, such as Skype, Slack, Google Meet, and others, are used by agencies to communicate with their clients.
How to Hire Magento developer Agencies for your Magento Store:
Identify Needs and Requirements of the Project:
You should write down all of your project requirements before hiring an agency to develop a Magento Ecommerce Store. This could be advantageous because your developer agency can examine the timeline, work, and quotes. Magento development companies can also provide hourly services. As a result, you can choose the developer's hourly rate based on your project requirements.
The project milestones
When working with an agency's Magento developer team, set a rough timeline and break down your e-commerce project into smaller milestones. This aids the developers in determining your project's expectations and requirements.
Select the best Magento Developer Agency :
Magento solutions are available from a variety of companies. After considering the project's needs and requirements, you should choose the best one. Before hiring a Magento agency for your store, you should look at the reviews and ratings of the Magento agencies online. You can also hire agencies based on recommendations to help you develop your Magento store effectively.
Signing the contract
It is the most crucial step in selecting a development firm for your store. By signing a contract, the agencies agree to provide the services specified in the contract. You should enter into a contract with the agencies to ensure that services are not disrupted.
Starting your project
The next step in working with an e-commerce agency is to give them an overview of the project and your goals. You should also introduce the newly hired agency developer to the in-house team member. This will enable them to work together more effectively.
Skills to Look for in a Magento Developer
The technical skill requirements in the front-end, back-end, and full-stack sections are shown below. But these are not the only skills required of a Magento developer. Other, less tangible skills are also necessary for a successful project.
These skills include:
Industry knowledge,

Project management skills,

Creative thinking,

Ability to withstand pressure,

Ability to work in remote teams.
Industry knowledge
Websites and online stores need to work with current browsers, use modern design standards, efficient database schemas, and more. So before hiring the developer from the agency, make sure they possess the required industry knowledge.
Project management skills
Developers with project management skills can more effectively integrate into larger projects or manage smaller ones. You can assess the developer's project management skills by referring to previous projects completed by the developer.
Creative thinking
This is another soft skill that can be just as important as PHP or CSS. Make sure that the developer is creative enough and has a positive attitude towards your project.
Ability to withstand pressure
Even the best-planned and executed projects can go wrong, go over budget, or start late. In such cases, if the developer is unable to keep up, your project may fail. As a result, it is critical to determine whether the developer is capable of dealing with a variety of challenges.
Ability to work in remote teams
The ability to work professionally with strangers and quick adaptation are essential skills in the modern world. Make sure that the developer has a good attitude towards the in-house team and has the ability to work in teams.
To Sum Up:
The Magento developer Team from the Agency provides the optimal performance solution for Magento stores through their experience and expertise.

Adobe Commerce Agency

takes full responsibility for your eCommerce store and helps you in the

Magento Speed Optimization of your store. Hire us and get a Free Trial of Magento Developer For 8 Hours. Try Now!

Despite the fact that agencies or dedicated teams will generally do a better job than freelance Magento developers, the cost of hiring them will undoubtedly be higher.

As a result, if you have a larger budget, you should hire the best Magento agency. But if you have a lower budget, then you can opt for a freelancer Magento Developer.