Magento is a complex platform and so if it is not managed efficiently, then it can result in a disaster. So highly skilled Adobe Commerce developer is required to manage the platform in an efficient manner.
Effective Management of Magento Store:
The team of Dedicated Adobe Commerce agency will be highly skilled, and when you hire them, they take complete responsibility for the development process. This will allow you to focus on other important business activities such as branding, promotions, marketing, and so on.
Extensive Technical Expertise:
Dedicated developers are tech-savvy and aware of the latest technologies. As a result, you can take advantage of cutting-edge technology by leveraging their extensive technical knowledge.
Hiring dedicated developers can lower your operational costs because you can hire developers from any country based on your needs at a lower cost. You only need to pay the salary based on the number of hours worked by them.
Take full responsibility for the Project:
Hiring a dedicated developer will relieve you of the burden of maintaining your online store. This is due to the fact that dedicated developers take full responsibility for the project and contribute to an overall improvement in the store's performance.
Maintain Effective Communication:
Dedicated Magento developers maintain effective communication with the clients by utilizing diverse communication means such as Face to Face communication, voice calls, or video calls through skype, slack, and google meets.
Work Updates are provided through Regular reports:
By hiring dedicated developers, you can ensure that your store operations are not interrupted as regular work updates are provided by them.
Five simple steps to hiring a dedicated Magento developer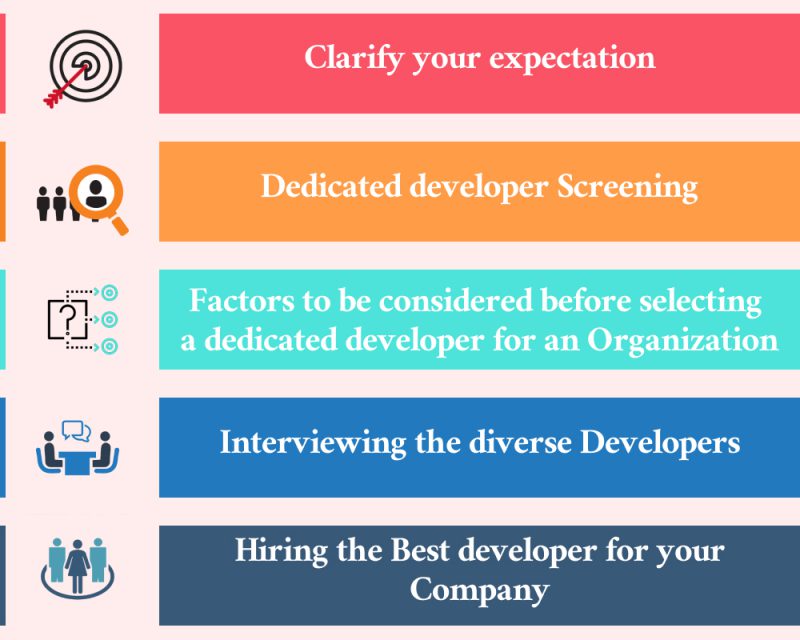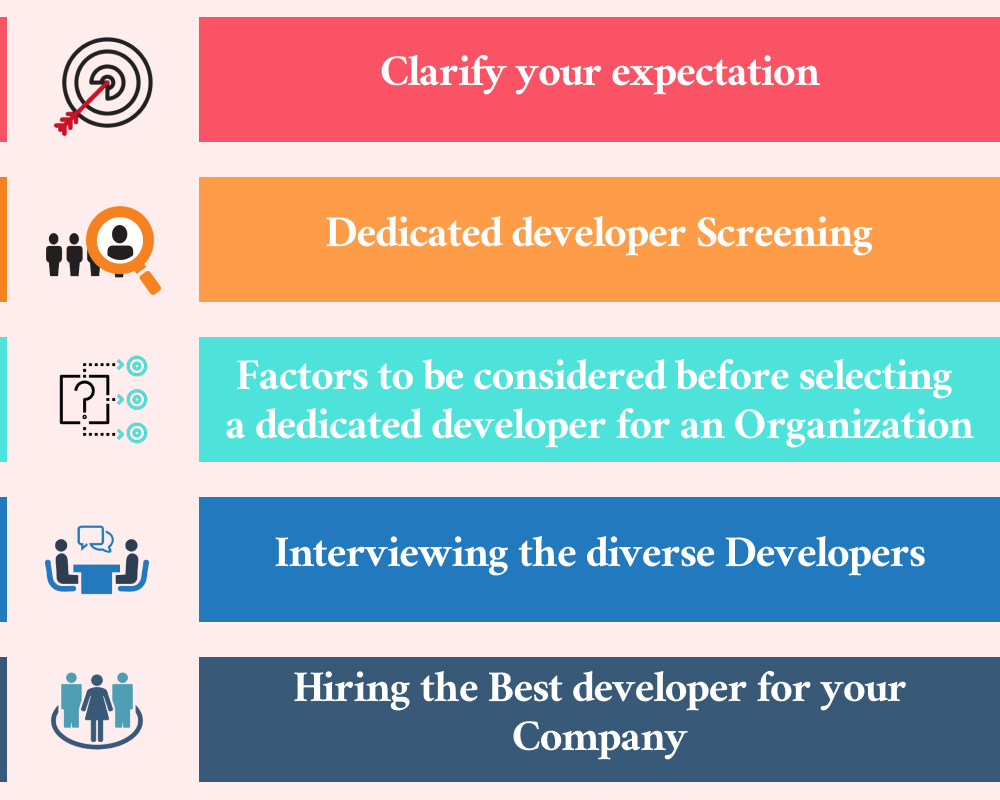 It takes time and money to hire skilled developers on a long-term basis. Dedicated developers, on the other hand, eliminate all of the hidden costs associated with hiring skilled developers.
All you have to do to meet the best Dedicated adobe commerce developer for your company is to identify your needs, interview a variety of developers, and hire the best developer who can meet them.
Let's take a look at the five steps to hiring a dedicated developer for your business.
Step 1: Clarify your expectation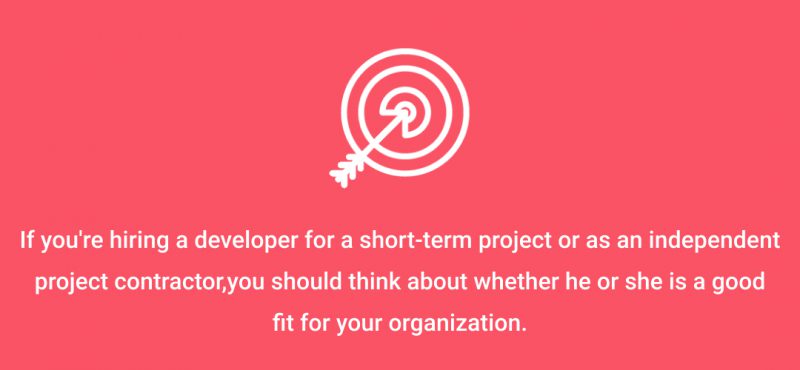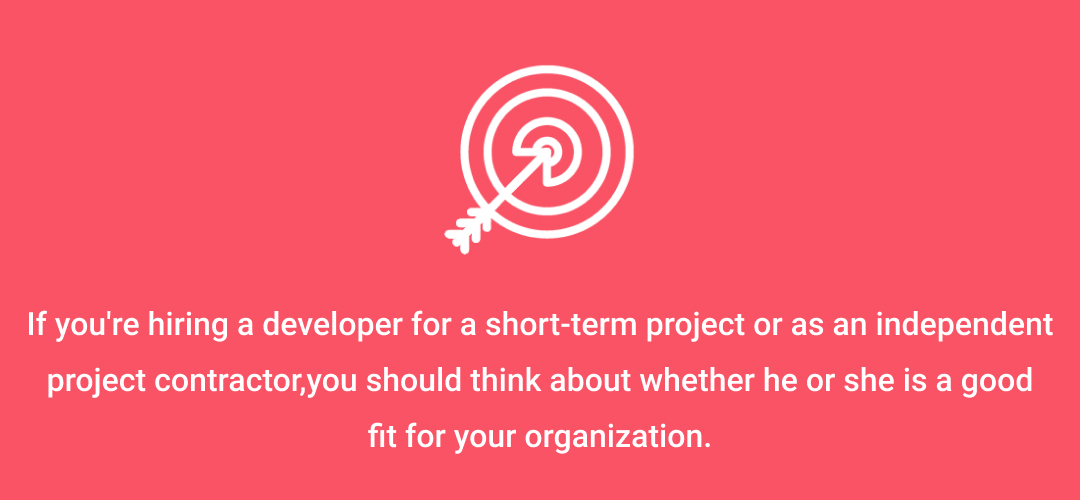 First and foremost, you should identify your company's goals, as well as the skills, qualifications, and expertise required to achieve those goals. This can be accomplished by creating a checklist of your expectations from the dedicated developer.
Once you've determined what your company's needs are and how you want your expectations met, you'll be able to attract developers who are more excited about working with your company.
Step 2: Dedicated developer Screening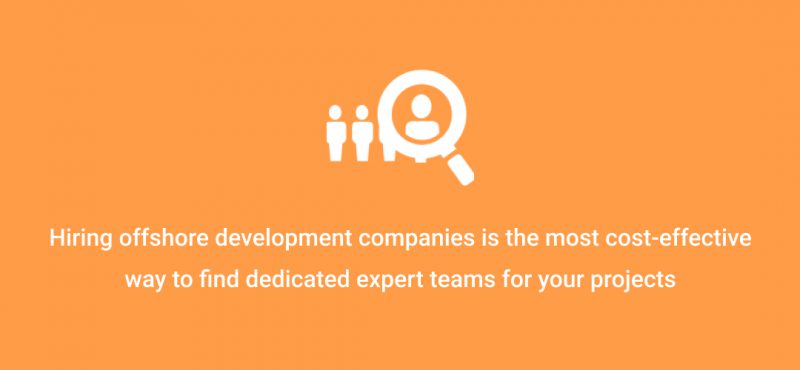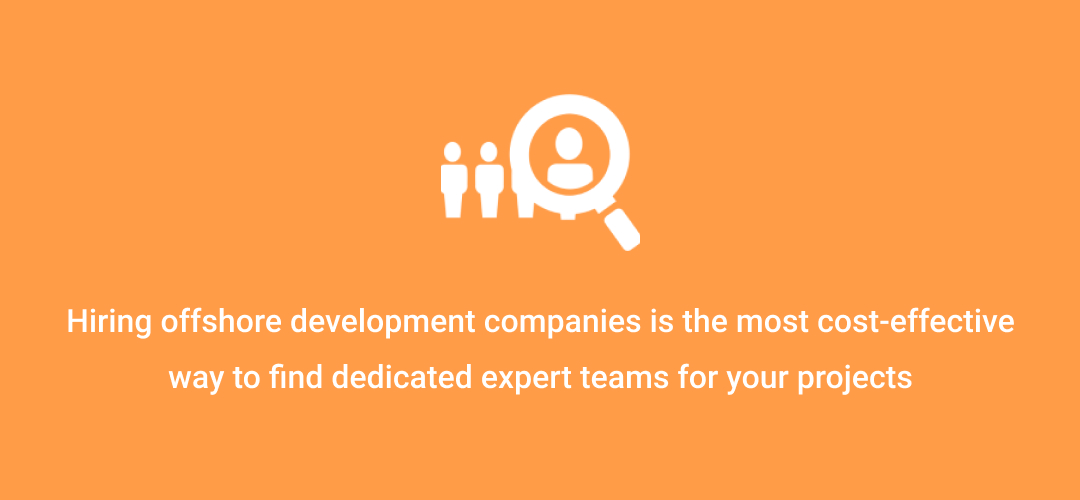 You can search for the best dedicated Magento 2 developer for your Magento store in the following ways:
Search Engines:
Diverse search engines, such as Google and others, can help you find dedicated Magento 2 developers. It is preferable if you consider Google ratings and reviews before hiring developers for your company.
Job Boards or Bidding websites:
Another option for screening developers for your organization is to post your needs on job boards or bidding websites. These websites can assist you in locating various developer outsourcing companies from various countries.
offshore development companies:
Hiring offshore development companies is the most cost-effective way to find dedicated expert teams for your projects. The advantage of hiring companies is that they already have experience in software development, so there are fewer chances of error or mistakes. Furthermore, these companies have skilled and experienced development teams that can resolve any type of development issue.
Recommendations:
There must be businesses nearby that have recently hired dedicated development teams. It would be fantastic if you took their recommendations and also inquired about their experiences. However, you must consider the types of projects for which the teams were hired and determine whether or not they meet your requirements.
Step 3: Factors to be considered before selecting a dedicated Magento 2 developer for an Organization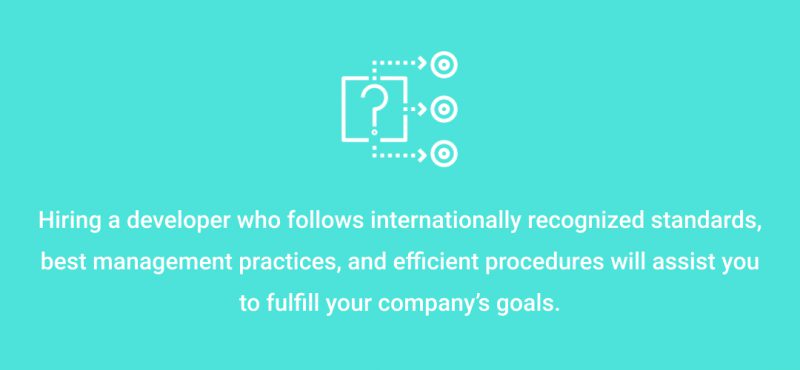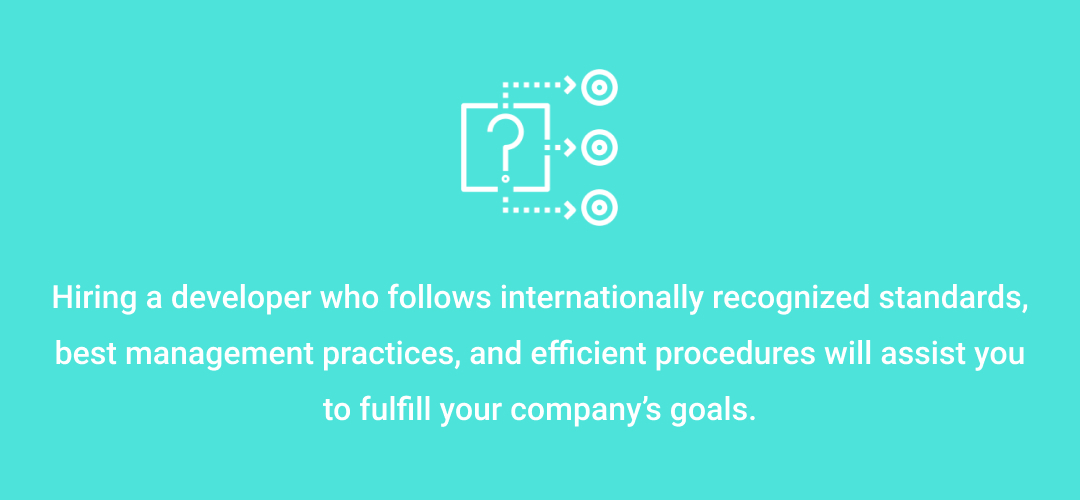 It firm's success or failure depends upon its development team. And so it is quite critical for an organization to select the best dedicated Magento 2 developer for the company, who is capable of fulfilling all the requirements of the development project. When employing developers for the company, there are a few critical factors that need to be considered by an organization.
Make sure the developer can provide a better communication channel. This is due to the fact that the quality of developer services is highly dependent on the communication process.
Expertise and domain knowledge:
Expertise in technology, tools, and programming languages is required to create a good product, but it is never sufficient to create a great one. So it is vital to check out the developer's website, case studies, and client testimonials to ensure that they understand your industry and can provide you with proven expertise.
Hiring a developer who follows internationally recognized standards, best management practices, and efficient procedures will assist you to fulfill your company's goals. When weighing your options, consider certificates, acknowledgments, and appraisals such as ISO and CMM.
Step 4: Interviewing the diverse Developers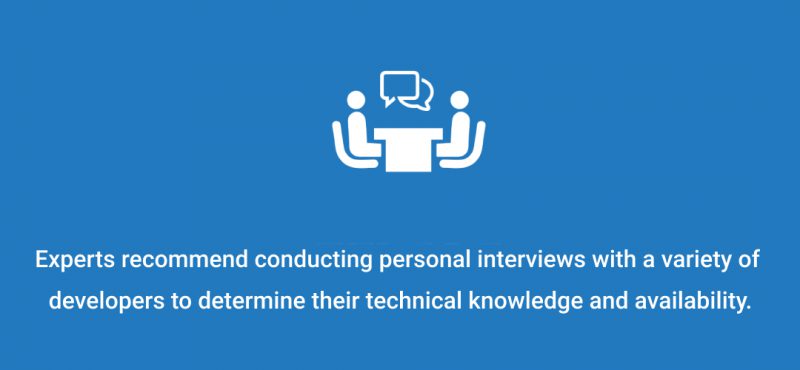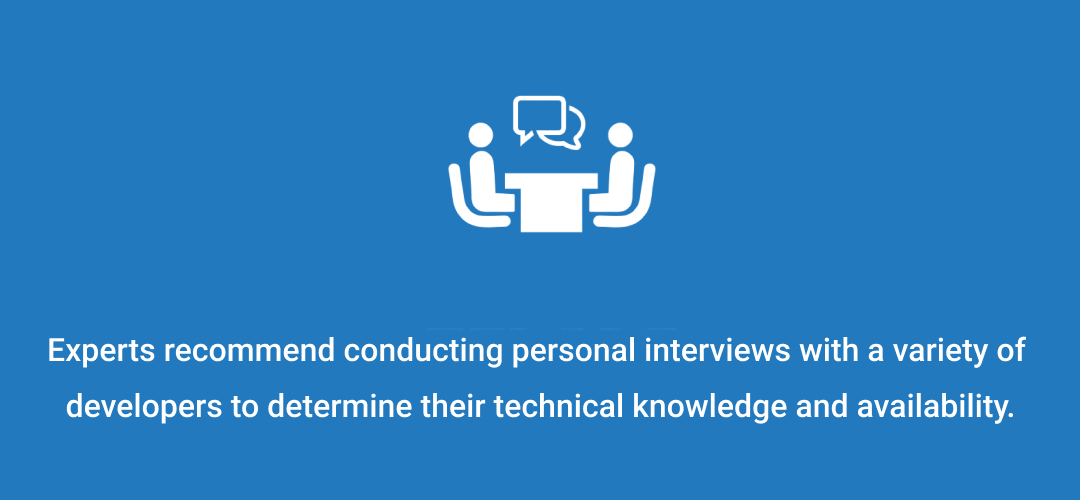 With the help of developer screening, you will be able to compile a list of developers who provide exceptional services and are well-suited to meet the requirements of your project. Experts recommend conducting personal interviews with a variety of developers to determine their technical knowledge and availability.
Convenient means to conduct an interview:
Interviews can be conducted in person, over the phone, or via video call. For conducting the interviews, the most convenient method should be used.
Characteristics of the candidate must be known:
During the developer interview, ensure that both the personal and professional characteristics of the candidate are known. You should also ensure that the developer is technically competent enough to complete the project's requirements.
Conduct Personality Tests:
You should also conduct a personality test on the developer to see if he or she has a positive attitude toward work. You should also ensure that the developer will be able to collaborate with the company's in-house team members.
Step 5: Hiring the Best developer for your Company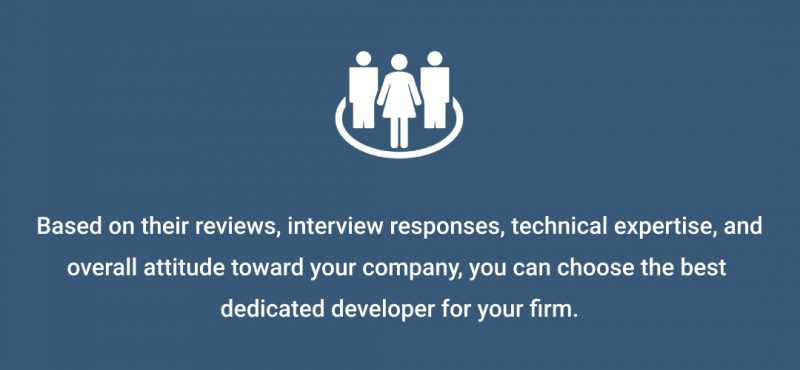 Finally, based on their reviews, interview responses, technical expertise, and overall attitude toward your company, you can choose the best-dedicated developer for your firm. After hiring new employees for your business, you should provide the following information to make the process go as smoothly as possible.
Convey your expectations to the selected Magento dedicated developer:
Layout all of your expectations for your new hires to avoid surprises or misunderstandings.
Provide a list of available tools for development:
Provide ahead of time a list of tools and all necessary access for your new developers' work. Create step-by-step instructions for configuring your development environment.
Set up a team meeting to welcome your new dedicated developers and explain their roles and responsibilities on the project to their coworkers.
Ensure the Developer is aware of the goals of the company:
Ensure that your new team members are up to date on the status of the project. Verify that they understand the objectives and have access to all current documents.
If you are searching Adobe Commerce Developer, to build your store or recreate it, you can consider the above points and make your store successful.
Hire us and get a Free Trial of Magento Developer For 8 Hours. Try Now!