The latest news that comes from Adobe in the year 2019 is its newest updates for Magento. In order to reach out to small businesses efficiently and offer them a great experience with Magento, Adobe has added Amazon & Google integrations to Magento.
How it is going to changes things for you as a customer?
Many customers use its Experience Cloud service which is a transparent marketing platform that assembles different aspects like sales, marketing, services, and analytics to provide an incredible experience to the customer. After connecting Magento with Cloud, Adobe designed complete service that helps the customers begin using online marketing tools and then complete the transaction in one place.
A new addition from Adobe
Post purchasing Magento, Adobe brought in Adobe Commerce Cloud – which is basically the cloud version of Magento platform. It was a complete package of latest features along with an Amazon integration that helps merchants take charge of their Amazon account directly through Commerce Cloud.
On the other hand, Experience Cloud is quite expensive and not an affordable option for many businesses and they had the fear that Adobe would completely focus on their database of large enterprises. With the launch of the latest integrations made for Magento platform worked to reduce these worries and improve current Magento experience.
When it comes to different brands or merchants it is certainly not an easy task to create an Amazon storefront. They face a lot of challenges related to operations.
Of course, they need to bring in the new platform which should be understood by your team in terms of operation, management, and maintenance.  In case the in house team is already overloaded then you need to hire more staff to do the job.
Why do you need Magento integrations with Amazon & Google?
As discussed above, the Magento integration with Amazon was accessible only to the users who used Commerce Cloud. Recently, Adobe launched the free extension especially for Magento users that enables them to manage Amazon store easily right from Magento backend.
You will find a set of amazing features that consists of
Set up pricing rules for Amazon Sales Channel
Multiple Amazon accounts management
Access product data of Amazon
Basically, the main objective behind the development of this integration was to let merchants set as well as manage their respective Amazon marketplace seamlessly in a simple way thereby saving time with the use of simple tools.
With the integration of Magento store with different Amazon regions, regions, merchants users can make their Magento Admin the prime spot to carry out all important activities of Amazon marketplace which directly helps them reduce piles of data, eliminate traction of operations, removing added costs of integration, etc.,
Yet another update is – free native Google integration. It helps Magento users control the campaigns for Google marketing & Google Merchant Center accounts straight from the Magento dashboard.
The major advantage is all about these extensions carries full synchronization among the platforms. These integrations erase the need to shift from one service to another rather it connects them all in a flawless and without any hassles. It lets you save time and money and also the money that you would otherwise invest in the development of 3rd party integration.
Progressive Web Application (PWA) Studio
Adobe recently launched the Progressive Web Application (PWA) Studio that enables expert Magento users to create app-based online stores. It also aids PayPal's Braintree as a secure payment gateway option.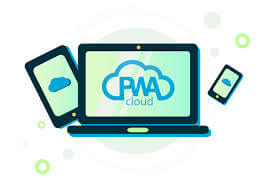 As both the Google and Amazon extension from Adobe is free to use the users can get a perfect experience. Once these extensions are installed the store owners can easily monitor their Google Ads or Google campaigns right through their Magento site. Adobe claimed that these extensions will let merchants enhance their business efficiently. A lot of merchants know what Amazon is and integrating Amazon extension can help them a lot in their business. Adobe has helped the merchants simplify the entire process of managing their Amazon and Google Accounts. The merchants will now enjoy managing their business solely without any hassles. They can keep track of their site performance constantly and improve on areas that need to be to take their business to the next level.